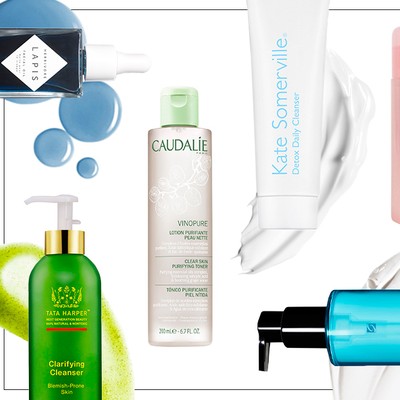 The Best Products For Oily Skin

For those with oilier complexions, it can be an uphill struggle to keep shine under control. Powder and blotting papers can obviously help, but at the root cause is often an imbalance resulting in an overproduction of sebum. Armed with the right products and a scrupulous skincare routine you can help subdue excess sebum, decongest, refine and prevent breakouts. Dr Selena Langdon, Berkshire Aesthetics explains...

What causes oily skin?
Oily skin which can appear greasy, is caused by excess sebum production, the skin's own natural oil. Contributing factors include genetics, hormones, chemicals - even humid weather can cause overactive sebaceous glands. Some people have naturally oily skin, but sebum production may also increase at certain times, such as during your menstrual cycle and when you're physically or emotionally stressed. Another big cause is using the wrong products for your skin type.

What are the most common misconceptions of oily skin?
I often see patients using harsh cleansers and toners to try and strip away the excess oil - at the other extreme, people avoid moisturising altogether. What I tell my patients is healthy skin has to have the right balance which comes from a good skincare regime. The correct cleanser is one that will clear away impurities without being too stringent, while a light moisturiser is necessary to retain moisture levels.

What are the best ingredients to use?
The use of acids is an important step in any skincare regime and an exfoliant containing Beta Hydroxy Acid (BHA) is ideal for those with oily skin as they work on the skin's surface and get inside the pores. BHA, commonly known as Salicylic acid, is oil soluble so can pass through the sebum and help to clear the skin, preventing bumps, blemishes, and enlarged pores. It also has antibacterial properties making it especially helpful for those with active acne.
 
When moisturising, chose one which contains Hyaluronic Acid. It is lightweight but has high water retaining properties and plumps up the skin.

What should you avoid?
Alpha Hydroxy Acids (AHAs - Citric acid, Lactic acid and Glycolic acid) which are commonly used in cosmetics can irritate the skin. AHAs are water soluble so only act on the surface of the skin and are better for those with dry and sun damaged skin. If you are looking to exfoliate then choose one which contains Lactic acid as it the gentlest of the AHAs and will cause less irritation.
Another ingredient to be avoided is Oleic Acid which is found in many of the heavier moisturisers. Oleic Acid is comedogenic, meaning it blocks the pores leading to blackheads and breakouts.
Denatured Alcohol, Ethanol and Isopropyl Alcohol should also be avoided as they strip the skin.

What foundation works best for oily skin?
The best foundations are oil-free and ideally contain an SPF. A mattifying product in areas of oiliness such as the T-zone and around the nose can help and will counter any shiny or greasy appearance of the skin. Light pressed, or finely milled loose mineral-based powder make-up is great for skin prone to excess oiliness. Powders are non-comedogenic and absorb oil instantly, helping to prevent shine build up throughout the day.
Physical Exfoliator
Nuxe Micro-Exfoliating Purifying Gel Daily Aquabella
A hard working gel formula infused with natural microbeads and hyaluronic acid, you'll find this clarifies without stripping or drying. Massage onto damp skin and rinse, you'll see an improvement in a matter of weeks.
Face Oil
Lapis Balancing Face Oil
This face oil is nothing short of a miracle when it comes to oily and spot prone skins. Combining blue tansy and anti-bacterial azulene, it restores equilibrium, brings down redness and rebalances your complexion. Squeeze 5 drops in your hand, then press into clean skin in place of your moisturiser.
Moistursier
La Roche Posay Effaclar Mat
Forgoing your moisturiser is counterproductive as your skin will need hydration, however a rich formula only adds to the problem. Consider La Roche Posay's offering – created for oilier complexions, the multitasking, anti-shine moisturiser doesn't suffocate the skin, instead Sebolyse shrinks pores and micro-powders absorb oil, giving you a gleam-free finish.
 
Cream Cleanser
Kate Somerville Detox Daily Cleanser
Alongside your exfoliator you'll need a hard-working daily cleanser to extract dirt and maintain equilibrium. We recommend Kate Somerville's Detox Cleanser; whilst suitable for all skin types it's deeply detoxifying, making it a cleanser of choice for oily/combination skin. Vitamin B and aloe ensure that it clarifies without stripping or drying the skin.
Gel Cleanser
Tata Harper Clarifying Cleanser
An all-natural, bioactive formula created for oilier skin types, this gel transforms into a light foam, which clarifies, soothes and removes congestion. It also contains mild exfoliant lactic acid, which boosts the skins ability to regenerate, leaving the skin feeling softer, smoother and more even-toned. 
Cleanser For Sensitive Skin
SkinCeuticals Simply Clean Cleanser
Oily complexions often tend to be more sensitive than other skin types, so it's important to be using a daily cleanser that doesn't irritate or disrupt the skin's barrier. Look to SkinCeuticals for effective, science driven formulas that deliver; this refining formula uses botanical extracts, like aloe vera and chamomile to help rid the skin of impurities in the gentlest way possible.
Toner
Caudalie Vinopure Clear Skin Purifying Toner
Don't miss out this step in your routine – it's vital for those battling surplus sebum and enlarged pores. Your toner doesn't have to be especially strong, in fact a gentler formula works just as well without leaving your face feeling tight. For sensitive skins, this is the holy grail. Infused with moisturising organic grape water, salicylic acid and essential oils, apply post cleanse using a cotton pad to minimize pores and refresh oily skin.
Face Mask
Sand And Sky pink Clay Mask
Clay is one of nature's best ingredients for controlling sebum. Hailing from Australia, this mask owes its incredible results to pink clay and a credible concoction of other natural elements, including Kakadu plum, mangosteen, aloe vera and pomegranate. Spread over clean skin using the brush provided and leave to dry for ten minutes, you can expect to feel a tingling sensation while the mask gets to work. Use a warm towel to remove and revel at your newfound radiance.
 
Liquid Exfoliator
DCL Multi Action Peel Pads
Pads have the added bonus of being convenient and mess free. These are packed full of five acids that stimulate cell turnover, sloughing off sluggish skin to reveal skin with improved texture and tone. Sweep over your face and neck and leave for 5 minutes, then rinse off with cool water.
 
DISCLAIMER: We endeavour to always credit the correct original source of every image we use. If you think a credit may be incorrect, please contact us at info@sheerluxe.com.