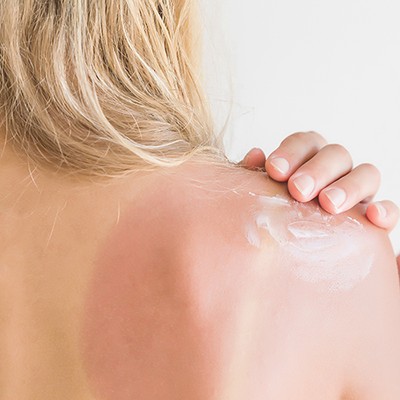 How To Soothe & Heal Sunburn Fast

This summer has seen some of the hottest temperatures on record in the UK, and with the heatwave set to continue throughout August, it's never been more vital to keep your skin safe in the sun. If you've slipped up with your SPF, you'll need SL's guide to treating sunburn – from how to speed up the healing process to the soothing after-sun products we love for face, body and scalp…

So you're sunburnt – what should you do first?
Firstly, it's important to get out of the sun as soon as possible – either head indoors or to a shady area. And no, it's not a wise idea simply to put a cover-up on if you're burnt. As Nuffield Health's Consultant Dermatologist Dr Walayat Hussain explains, a lot of fabrics don't protect you from the sun's rays.
"Lighter fabrics, which are more popular in sunny months typically have a lower UPF rating (a rating of sun protection for clothing and other fabrics), and are less protective than heavier fabrics," he says.

How can you relieve the symptoms?
After you've sought refuge from the sun, the NHS advises cooling down your skin straight away by having a cold bath or shower, sponging yourself with cold water or holding a cool flannel to the affected area. Once you're done, doctors also advise applying an aloe vera-based body lotion to soothe and moisturise your skin, helping you to avoid or speed up the dreaded 'peeling' phase.
SL's top tip? Squeeze aloe vera gel into ice cube trays and keep in the freezer for sunburn emergencies – not only does it help to reduce inflammation and swelling, it also instantly dials down any soreness.
If you're in a lot of pain, the NHS also recommends taking painkillers, such as ibuprofen or paracetamol, and drinking plenty of fluids to cool you down and prevent dehydration.

When should you seek medical help?
Contact your GP, go to your nearest NHS walk-in centre, or call NHS 111 if you feel unwell or you're concerned about your sunburn – particularly if you're sunburnt over a large area. You should also see your GP if a young child or baby has sunburn as their skin is particularly sensitive.
Special burn cream and burn dressings may be needed for severe sunburn, and occasionally treatment in hospital. According to the NHS, signs of severe sunburn can include:
Blistering or swelling of the skin
Chills
A high temperature of 38C or above
Symptoms of heat exhaustion such as dizziness, headaches and feeling sick:
Any more dos and don'ts?
DO: Drink plenty of fluids to cool yourself down and prevent dehydration.
DON'T: Expose yourself to the sun again until your sunburn has healed.
DO: Keep an eye on your freckles and moles, and seek medical advice if you notice any unusual changes (find out what to look for here.
DON'T: Forget to protect yourself next time with suitable clothing, a hat and a strong SPF, and ensure you don't miss any areas – the nose, eyes, ears, scalp and back of the neck can often get overlooked.
DO: Try an over-the-counter hydrocortisone (steroid) cream on any sore areas if you've got a big event – according to consultant dermatologist Dr Sharon Wong, this will help reduce the inflammation even faster.
DON'T: Use fragrance on your skin if it's severely burnt, including fragranced skincare products. Dr Wong says this is because sunburn tends to make skin more sensitive, and could lead to further irritation.
 
Shop SL's edit of the best after-sun products on the beauty shelves below…
 
DISCLAIMER: We endeavour to always credit the correct original source of every image we use. If you think a credit may be incorrect, please contact us at info@sheerluxe.com.