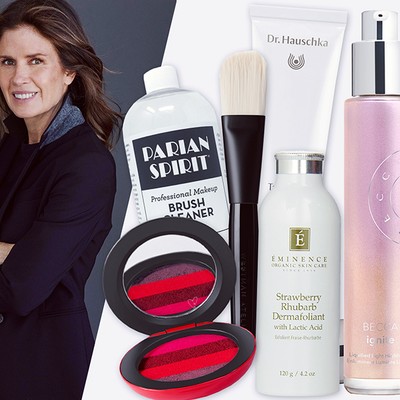 Make-Up Artist Gucci Westman Shares Her Beauty Rules

One of the world's most sought-after make-up artists, Gucci Westman is a big name in the beauty world. Responsible for countless red carpet looks, she's best known for her signature, dewy glow – an aesthetic reflected in her own brand, Westman Atelier. From regular exfoliation to refining your make up technique, here are the beauty rules she swears by…

Clean Your Tools Daily
It's so important your tools are clean – I can't stress this enough and it's a rule I've religiously followed throughout my whole career. Products and tools can harbour bacteria and even pollution – you don't want that touching your skin, trust me. At the bare minimum, clean them every week, but a quick wipe down daily will help your tools perform better and keep your skin clear. As we speak, I am cleaning mine – it's essential. Try Parian's Spirit for cleaning your brushes. It's really effective at melting away grime, affordable and has a light citrus scent that doesn't irritate the skin.
Hit Refresh On Your Make-Up Bag
I used to have this horrible habit that every time my make-up bag got dirty, I'd just go and look for a new one to dump everything into – it's really not what you want to be doing. Instead, empty it out and give it a good, thorough wipe down. Then, go through your products and get rid of anything that's old or starting to congeal and separate. It feels so good and productive. Keeping it streamlined makes it easier to get ready, but it also lets you see what's inside, which means you're more likely to use each product, too.
Don't Be Afraid Of Lipstick 
As a make-up artist, you never want to get stuck doing the same thing over and over. I believe this should be the same for everyone else, too. Shake things up, experiment and be playful – after all, make-up is a powerful tool that can just be wiped off if it's not right for you. Many people have never worn a red lip out of fear it won't suit them – but there's something for everyone. Experiment with different shades against luminous, clear skin – this will give you a good idea of what tones work with your complexion. You can ease yourself into everything with make-up, especially with lipstick. Use your fingers to press colour onto your lips for a softer, diffused edge that's not so harsh. Once you've found a colour you love, add shape and definition and apply with a lip brush. Beauty should never be a chore – just pure fun.
Force Your Make-Up To Multi-Task
We all forget that products can do multiple things, especially nowadays with newer formulations. You don't have to think in an old-school way where everything is part of a certain step. Try sweeping your blusher across your eyelids and lips, or tap your lip colour onto your cheeks. Even dabbing your highlighter across eyelids sounds simple, but it's effective and a great way of ensuring your products work harder. I love being able to throw one of my blush sticks into my bag knowing I can give myself a full-face touch-up when I need to. 
Don't Underestimate Exfoliation 
Exfoliation is one of my favourite steps in my skincare routine. It helps to create a glowing base for make-up, yet people often neglect it. Eminence makes a Strawberry Rhubarb Dermafoliant that's very gentle but effective at removing dead cells with little-to-no redness. Use it in the shower to speed things up. Never forget your lips either – they still need exfoliating just like the rest of your skin, and should always be buffed before you apply colour. If you've not got an exfoliator dedicated to lips, use a warm cloth with a little balm and gently rub it over your lips – it gets all the dead skin off every single time. 
Switch Up Your Moisturisers 
You want to switch up your moisturisers regularly so your skin continues to respond to the active ingredients, otherwise it will reach a plateau and no longer absorb things properly. It's something I do often, since I have rosacea and can never be sure what I'm in for come morning time. Two of my tried and true favourites are Dr. Hauschka's Rose Day Cream and Augustinus Bader The Rich Cream – both work wonders for dry, combination skin, without ever causing irritation.
Always Use Brushes 
Ask any expert – good brushes are a true extension of a make-up artist, as well as flawless skin. Good quality brushes enhance and polish your look, much more so than warm fingers. They're also essential for blending your products seamlessly for a smooth, even finish. Trust me, if you're yet to invest in good brushes, you'll notice the difference when you do – your whole look will be much more refined.
Highlight The Right Way 
A lot of people think highlighter should be a final step, but for the most ethereal, natural glow, I like to layer it as a base pre-foundation. Before I apply any other make-up, I'll glide my Lit Up Highlighter Stick over the areas of the face that naturally catch the light – think cheekbones, the nose and brow bone – before sweeping on my Vital Skin Foundation. It's an easy step and gives you such a fresh 'I-just-got-a-facial-glow'. Try it, you'll never look back.
Remember Rules Don't Apply 
My final piece of advice is to remember there are no rules when it comes to make-up. Beauty comes from your own personal traits – kindness, passion, empathy, generosity and confidence. It sounds so cliché, but make-up can't wear you, you must make it work for you. At the end of the day, you know your preferences and your own skin, so you are your best judge. Be yourself and do what makes you happy.
DISCLAIMER: We endeavour to always credit the correct original source of every image we use. If you think a credit may be incorrect, please contact us at info@sheerluxe.com.