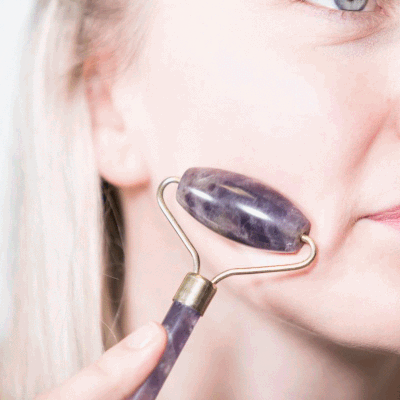 What Is Face Rolling & Does It Really Work?

From increasing blood flow to stimulating lymphatic drainage, jade rollers promise a lot. But do they live up to their hype? And if so, how should we use them? Abigail James, celebrity facialist and skincare expert, explains…

What is facial rolling's purpose in skincare? 
From a physical point of view, jade rollers have a smooth, solid surface that you can push into the skin. It therefore enables you to get deeper into the skin, working the muscles while helping with the drainage of the skin. This in turn gives a lift and sculpting effect, even if it is temporary, you will notice a difference.

Do jade rollers really give effective results? Or are they just Instagram-friendly? 
Yes. From a medical point of view, jade rollers are not going to stimulate your elastin or reduce your pores, but they are a worthwhile addition to add to your routine from a holistic point of view and for their skin-boosting benefits.

So, what are the actual benefits of using them?
It is a drug-free, non-invasive way of benefiting your skin. They increase circulation; allowing the body to pump more oxygen and nutrients into tissues. They also stimulate the flow of lymph - the body's natural defence system – which in turn helps to reduce puffiness and speed up general detoxification of the skin while giving skin an instant glow and lift.

Is there a correct way to use them on the skin? 
While some people put their jade roller in the fridge, once you put it against your skin it will immediately cool down, so will not be as effective. Personally, I like using a bowl of water and filling it with a handful of ice cubes and dip my roller in it as I go, so it is constantly cold. The  freshness of the cold  constricts the muscle and stimulates blood flow.

Should I be using a moisturiser with my jade roller?
You can use a jade roller alone and let it slide onto the surface of the skin. If you have sensitive skin, you don't need a product to use jade rollers, nor if you have oily skin. If you do use product, I would recommend a small amount of coconut oil or argan oil. Coconut oil is incredibly nourishing and super-hydrating, so particularly good for dry skin. Argan oil contains high levels of vitamin E and sterols, which make it soothing and good for healing skin and reducing inflammation.

And finally, how often should we be incorporating a jade roller into our regime?
It all depends on your lifestyle. You could do it once a day in the evening after you have removed your make-up or, if you have time, in the morning after you cleanse. It's completely up to you, there's no hard and fast rules here.
 

Shop Our Favourite Rollers Below...
DISCLAIMER: We endeavour to always credit the correct original source of every image we use. If you think a credit may be incorrect, please contact us at info@sheerluxe.com.