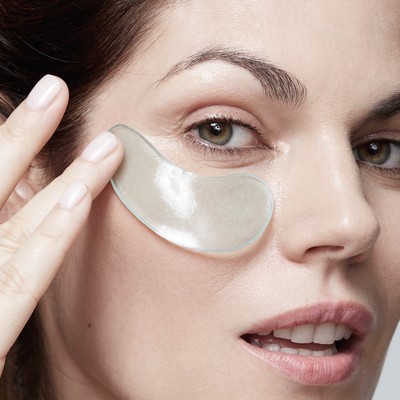 The Steps To Take For Younger-Looking Eyes

The skin around your eyes is five times thinner than the rest of your face, making it one of the first areas to show signs of ageing. Thankfully, there are ways – both immediate and long-term –to counteract the problem. From clever make-up hacks to skincare that actually works – and the treatments worth trying – here's what the beauty pros recommend…

All products on this page have been selected by our editorial team, however we may make commission on some products.
SKINCARE THAT WORKS
Always Apply SPF
"If under eye puffiness or dullness is your issue, then SPF is essential," explains skincare specialist Dr Kemi Fab. "As you may already know, the skin here is incredibly thin, lacking in both collagen and elastin fibres, so your entire eye area is more susceptible to UV damage. Look for eye creams (or serums) that use retinols and apply them with your ring finger. This is the gentlest way to apply any product under your eyes. The reason retinol-based eye creams are so worthwhile is they're the only ones with proven clinical efficacy, whereas others on the market can cause a build-up of product and in turn, an outbreak of milia (small, white calcium bumps). The rest of your face can benefit hugely from good quality serums. They deliver ingredients deep into the dermis and are a useful addition to any routine. Not only do they layer up well, they target specific issues, like puffiness and inflammation. Use vitamin C, too, which promotes collagen, brightens and prevents further damage to delicate skin tissue."
Invest In Good Quality Serums
"A serum is essentially a light, fluid consistency, which can deliver ingredients deep down into the dermis – but it's the actual ingredient in the serum that really counts," says dermatologist and skincare expert, Dr. Sam Bunting. "They're a useful addition to any skincare routine because they layer up so well and target areas like puffiness efficiently. Vitamin C formulations are great, too. They work to assemble collagen and brighten, while preventing further damage to the delicate tissue in the eye area. I also rate niacinamide as it brightens and stimulates ceramide production, which in turn, helps to build collagen – all the things you need in this delicate eye area."
Remember, Hydration Is Key
"Clients often ask how essential and effective eye creams are," continues Sam. "In short, it depends on your individual skin type and needs. Generally, the eye area benefits from most of the ingredients that the rest of your face does, but the main consideration is this delicate section can be much drier and more sensitive than the rest of your skin. So, while you don't have to use a dedicated eye cream, they are useful if your skin is oily or dry. You'll find you benefit from targeted, richer hydration in this instance. The same goes for those with sensitivity – a soothing formula may be helpful. Whatever you choose, the more hydration the better, as dryness will accentuate fine lines and darkness. Look for ingredients like shea butter, glycerine and hyaluronic acid if you do invest, as all of these work to hydrate. Caffeine is great too, as it reduces puffiness, while a mild retinol (if tolerated) will help diffuse fine lines and wrinkles."
Look Out For Vitamin K
"It can really work to treat dullness and dark circles – but only if swelling has occurred due to broken blood vessels. It's a remedy many surgeons use post-surgery because vitamin K is known for its ability down bruising," says clinical facialist, Kate Kerr. "However, if your bags are from the result of a lack of volume or thin skin, products and creams won't work as well. No skincare buy can physically replace density. It's important to find out what causes your dark circles, then find a treatment – always take advice from a skincare professional first."
MAKE-UP HACKS FOR BRIGHTNESS
Be Strategic With Concealer
"Concealer is designed to cover, brighten and even out skin tone," says make-up master, Cher Webb. "Most of us can agree it's our secret beauty weapon – especially for the eyes – and it can deliver fast, brightening results. The best way to use it is to have a look at your face and be strategic with your application – less is always more and it can always be built up. Look to serum-style concealers as these are best for your under-eye area – not only do they conceal, they add a speedy hit of hydration, too." 
Make It Multi-Task
"The under eye sometimes requires a little boost, as the skin here is very thin and delicate, so naturally, it gets quite shadow-y," explains Cher. "There are other areas of the eye that require attention, though. With this in mind, try targeting the inner part of the eye which holds a lot of shadow. Using a small amount can make the world of difference, instantly opening the eye for a fresher and more awake look. Apply a small amount on your eyelids, as well. This not only protects the lids, but evens out skin tone, creating a smooth base for any eyeshadow that follows. Bobbi Brown's Intensive Skin Serum Corrector is a must-try. It's silky, lightweight and sits beautifully around the eye without ever cracking or flaking."
Avoid Black Liner 
"Instead, try gently lining your lashes in rich brown, grey or navy. Bobbi Brown's Long-Wear Eye Pencil is a fail safe," suggests make-up artist Amanda Clarke. "This natural eye make-up look will define the eye shape and create a subtle lift in the outer corners." Also, consider adding a pale peach or white eyeliner to your lower lash line to neutralise redness and make the white of your eye appear whiter.
TWEAKMENTS TO TRY
Try Laser With Caution
"Many people seek out laser treatments to treat dark circles, but this isn't always advised," adds Kate. "This is because dark circles are sometimes caused by pigmentation, which is often too deep down for laser therapy to reach. If density and lack of collagen is your issue, far better to seek out small amounts of well-administered filler. This will create a little bit of cushioning between the skin and the blood vessels underneath your eyes, temporarily hiding any darkness. It's really the only way to plump up the area when you've lost density there as the fat pads slip and become smaller with age."
Take A Preventative Approach
"If signs of ageing around the eyes are really bothering you, dermal fillers remain the best treatment on the market," advises aesthetic doctor Dr Richard Sibthorpe. "It helps to boost volume in areas that can begin to look hollow and sallow, while botox works to minimise the appearance of crow's feet and small wrinkles around the eyes. That said, in order to get this right, you need to ensure you're doing your research and seeing the best in the business. Make sure you're seeing someone – ideally – that's a member of BCAM, the British College of Aesthetic Doctors. Find someone who has experience and good reviews, and perhaps better still, find someone they've done work on before, so you can physically see the results." 
Seek Out Less Invasive Options, Too
"Botox and fillers aside, there are some less invasive options worth considering, too," continues Dr Sibthorpe. "Both Carboy Therapy and Caci come with impressive results. That said, they don't last as long as botox and you will require quite a few treatments. However, these are both worth investigating if botox isn't your bag. Likewise, creams with peptides, growth factors and retinol will help to reinstate some collagen around your eyes, but you will need to be using these daily to see solid results."
 
TRY: Dr Richard Sibthorpe at The Smart Clinics; Dr Stefanie Williams at Eudelo; Dr Bibi Ghalaie at 10 Harley Street  
DISCLAIMER: We endeavour to always credit the correct original source of every image we use. If you think a credit may be incorrect, please contact us at info@sheerluxe.com.