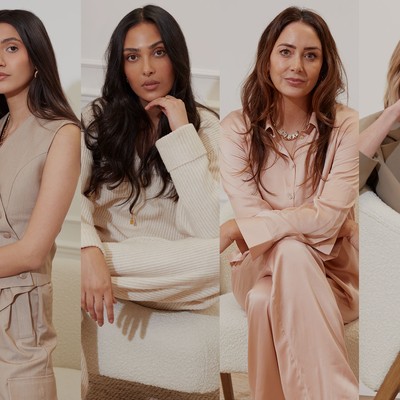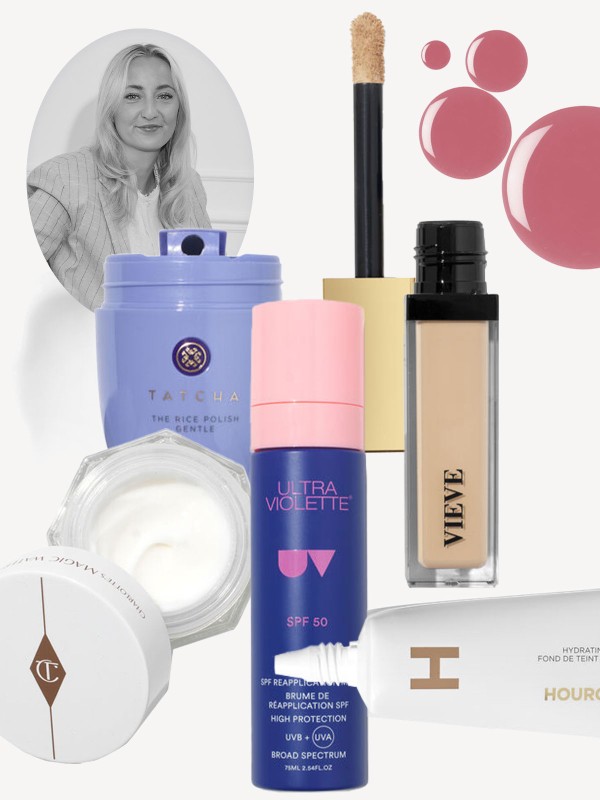 The Beauty Team's Top Picks At Space NK, Plus, 20% OFF

Whether you're after a new set of brushes, the perfect red lipstick or just want to update your beauty bag with some new-season bits, Space NK is the place to go. Home to some of the best brands and products out there, it's also offering 20% OFF almost everything sitewide and in store – so there's never been a better time to stock up. To point you in the right direction, we asked the beauty team and contributors to share their top picks, from Becky's favourite hair strengthening mask to Rafeeka's go-to skin tint.

Created in partnership with Space NK
1. Charlotte Tilbury's Magic Water Cream, £79
I've been loving this new hydrator from Charlotte Tilbury. It has a gel-like consistency, so it instantly cools and quenches skin, giving it a plump, dewy quality that looks fresh-from-a-facial. If you suffer with dryness, or your skin is feeling parched after lots of summer sunshine, you'll love the benefits this offers. Added niacinamide helps quell redness and even out skin tone, too. Plus, a little goes a very long way, so you'll find one tub lasts you for months. Mixed with foundation, you'll get the healthiest-looking coverage.
2. NARS Afterglow Liquid Blush, £30.50
There's a reason the NARS Orgasm Blush is a classic: it's incredibly flattering and quickly livens up a dull complexion. This new formula promises all the same benefits as before, but with better hydration, thanks to added collagen and hyaluronate – both of which pump the skin full of moisture for better luminosity and glow. Just one pump of this liquid formula gives you a youthful colour that never settles into any creases. For a more natural finish, I recommend applying it with your fingertips, or buffing in with a kabuki brush to sculpt and shape.
3. Kate Somerville ExfoliKate Resurfacing Body Scrub, £48
I would go as far as to say this is the best body scrub I've ever used. Don't be put off by the green, gritty texture. This works hard to break down red bumps, ingrown hairs and any breakouts on your body. I love massaging it into dry skin, then stepping into the shower or bath to rinse it away. Combining physical, chemical and enzyme exfoliators, the results are impressive – not only does skin feel softer, but it also looks fresher and more even in tone. It's also the perfect prep step for any fake tan.
4. K18 Leave-In Repair Hair Mask, £70
Few products have transformed my hair quite like this. It's completely renewed my bleached, dry strands and given them new lease of life – specifically better softness and bounce. That's thanks to the peptide-rich formula which helps repair broken hair fibres for a smoother, healthier finish. It also strengthens hair over time, so snapping and split ends become fewer and far between. I love how easy it is to use, too – apply after shampoo, leave it on and style as normal. After four to six washes, you'll start to see a difference.
---
1. Sunday Riley Blue Moon Tranquillity Cleansing Balm, £46
To me, this is the perfect consistency for a cleansing balm. It's silky-smooth and allows you to incorporate facial massage into your routine with ease. The balm acts like a magnet, drawing out all impurities in your skin for a thorough, deep cleanse. It feels so good too.
2. Paula's Choice Skin Perfecting 2% BHA Liquid Exfoliant, £35
This is a staple product in my routine, but I also recommend it for younger skin types too. It's the best for stimulating cell regeneration and in turn, helping to reduce congestion and breakouts, as well as boosting collagen and suppleness. It's great for all skin types but especially those prone to oiliness.
3. Medik8 C-Tetra Lipid C Radiance Serum, £39
If you want to overhaul your skin's tone, texture and brightness, this Medik8 solution is great. It gives skin a gentle boost of vitamin C without disrupting barrier function – in other words, it's potent, but it doesn't cause redness or sensitivity. I've been using it for years and still consider itc one of my favourite skincare finds of all time.
4. Hourglass No28 Lip Treatment Oil, £50
I love these lip treatment oils – the texture is so comforting. It has a handy applicator that's great for on-the-go, while the oily consistency helps maintain soft and supple lips throughout the day. It offers a light, glossy finish with just a sheer hint of colour. They la
1. Tatcha The Rice Polish: Gentle, £64
If you have dry, tight skin, you'll love this gentle rice polish. I often say a physical exfoliant is essential for keeping your complexion bright and smooth and this one ticks all the boxes. The results are instantly gratifying and any products you apply afterwards absorb so nicely. It's a must-try for anyone looking to overhaul texture and tone.
2. Augustinus Bader The Body Cream, £140
Now we're moving into autumn, I intend on using some heavier-duty body creams, like this one from Augustinus Bader. It's thick and buttery, but never greasy. It quickly soaks up dry patches of skin and leaves your body feeling smooth and supple. I am a huge fan of the brand's trademark TFC8 formula – it really does work.
3. Ultra Violette Fave Fluid SPF50, £37
This is the one constant in my routine – regardless of the time of year. It's light in consistency, sits well underneath other products and offers factor 50 protection. Like other products in the same range, it's never sticky or tacky and has none of that tell-tale white cast.
4. Hourglass Veil Hydrating Skin Tint in Shade 11, £49
I've been obsessed with this skin tint since it launched in July. It's sheer and lightweight but provides a decent amount of coverage, giving skin the type of healthy, even glow we all crave. I'll be snapping another up so I'm never without.
---
1. Emma Lewisham Supernatural Face Crème, £90
I always have a jar of this in my kit. Offering 72 hours of hydration, it's often saved the day for me, and it always transforms exhausted, dehydrated skin into glowing perfection. I've been loving it post-summer too – the nourishment it offers is unrivalled. The scent is heavenly, too.
2. Elemis Pro-Collagen Cleansing Balm, £48
This is the gentlest cleanser I've ever used, yet it's so effective at dissolving all make-up – including stubborn, waterproof mascara and SPF. I find it preps my skin nicely for make-up too, leaving behind a silky-smooth canvas that's satisfying to the touch. Plus, it gives great glow.
3. Ultra Violette Preen Screen SPF Reapplication Mist, £32
I love this brand. Each of its formulas are full of skincare benefits, but the textures never feel heavy or overbearing. I constantly reapply my facial SPF, which is why I swear by this mist. It's great for keeping in my handbag for touch-ups throughout the day. The texture is thin too, so it never interferes with make-up or causes any pilling or rolling of product.
---
1. Hourglass Veil Hydrating Skin Tint in 15, £49
Just like Rafeeka, I can't recommend this Skin Tint enough. It's the definition of multi-tasking. Not only does it provide great coverage it also hydrates. Hands down, it's one of the best skin tints I've ever tried when it comes to smoothing and evening out my complexion. A must-try if you want that natural, radiant look.
2. NARS Light Reflecting Eye Brightener in Sunfire, £26
 An essential for tired-looking eyes, this illuminating formula conceals dark circles while simultaneously brightening up the entire area. It's the ultimate quick-fix and the answer to looking more refreshed when time is of the essence. You can apply concealer on top, but you may find this is enough on its own.
3. Tatcha Dewy Skin Cream, £67
I absolutely swear by this cream. It has a luxurious texture that really lives up to its hype and offers instant hydration. It leaves my skin feeling so soft and looking really radiant – I always reach for it when my complexion needs reiving. It's satisfying to apply, too – I can't get enough of it.
4. Sunday Riley C.E.O. Vitamin C Brightening Serum, £100
I often describe this as a burst of sunshine for my skin. It's full of potent vitamin C, which works hard to tackle dark spots and dullness to create more luminous and even-toned skin. If you want a skincare product that promises radiance – and quickly – this is the one to invest in. Unlike some vitamin C formulas, it's never abrasive or aggravating and is well-tolerated by all skin types.
1. Vieve Skin Nova Primer, £29
This is the one make-up product I buy on repeat. It creates such a healthy, natural-looking glow – with or without base make-up on top – and helps any other products I use sit better, too. You only need a couple of pumps to get a soft sheen. Great for no make-up days when you just want to look brighter.
2. 111SKIN Cryo De-Puffing Facial Mask, £95
When my skin feels dehydrated and in need of a hefty dose of moisture, I rely on these sheet masks. They are the best I've ever tried and the effect is immediate – think fresher, plumper-looking skin. I love the cooling benefits, too, which really help me switch off and unwind.
3. NARS Orgasm Four Play Blush Quad, £45
There are four flattering shades to choose from in this palette, but I love dusting my brush over them all at once, then buffing all the shades onto my face. Instantly, it adds a bit of depth and colour with a soft, dewy highlight I can't get enough of.
4. Maison Margiela Lazy Sunday Morning Eau De Toilette, £115
Though we're moving into autumn, I'm still eking out the last drops of this addictive scent from Replica. It's soft and fresh without being too much and really helps me hold onto that summer feeling – so I'll definitely be snapping up another bottle.
---
A luxe bath oil is always top of my list, simply because I think it's the easiest way to transform something as perfunctory as washing into a relaxing ritual. This one from Olverum combines everything I love in one simple and chic product; earthy green essential oils like fir, eucalyptus and rosemary which soothe me to my very bones and offer calm and clarity after a busy day – not to mention a texture that moisturises skin but doesn't leave any greasy residue on your skin or your tub.
2. Vieve Modern Radiance Concealer, £24
The entire Vieve range is exceptional, and I love both Skin Nova and the new Modern Radiance Bronzer but this creamy, full coverage concealer just about pips them both to the post. I recommend it to everyone I know as there isn't a skin type out there that doesn't suit, plus the shade range is great. It's creamy and infinitely blendable without ever feeling heavy or cakey, so it can be used to cover under eye circles as well as blemishes and imperfections. I often use it in place of foundation, just where I need it, because I love how well it melts into the skin.
3. JVN Complete Blowout Styling Milk, £25
This heat protecting styling lotion has been a staple in my kit since it launched last year. It gives the perfect amount of swish and shine but never weighs my hair down and the de-frizzing results last until my next wash. As well as giving my hair extra bounce, my stands somehow feel stronger and more resilient too. The fact that every time I reach for it, I hear JVN say 'Yasss Queen!' is just a bonus.
DISCLAIMER: We endeavour to always credit the correct original source of every image we use. If you think a credit may be incorrect, please contact us at info@sheerluxe.com.