The Top Five Blonde Hair Shades For A/W21

Many people like to go blonde for summer, but it seems lighter tones are here to stay. Case in point, searches for dark hair with highlights has soared by +140%, while more and more of us are looking to go a warmer blonde (up to +120% of us) for autumn. If you're looking to make the switch, make sure you seek out the expertise of a salon to nail the shades that are standout for this season. From honeyed balayage to bright platinum and hints of copper, these are the colour trends to know about this autumn/winter.

CREATED IN PARTNERSHIP WITH L'OREAL PROFESSIONAL PRODUCTS DIVISON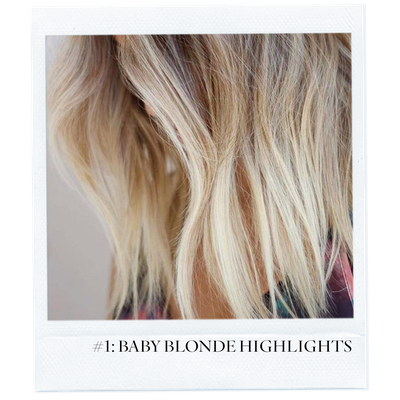 Why It's A Trend:
This is the kind of colour you see young toddlers with – a stark, white tone that's icy and fresh-looking. Typically, it shows up as a pale, platinum blonde, but new colour techniques mean stylists can give this shade and your hair dimension and a more natural feel. Think soft baby blonde tones woven in throughout the hair for a balayage effect which reveals both light and shadow. You can also opt for it all over if you want a more dramatic transition. Or simply try a few blonde strands through the front sections of hair to brighten everything up. 
What The Pros Say:
"This year we've seen a rise in clients asking for this statement colour, with brighter and bolder pieces that are striking in appearance," explains Redken's Harriet Muldoon. "Bright, bright tones have made a fierce comeback as they're strong and bold, but with a modern twist. The multi-dimensional colour technique and products we use now make sure hair is kept in top condition, while the colour is as powerful as it can be, so that you can take your blonde to whatever level you'd like. Keep your blonde bright with Redken's Acidic Bonding Concentrate. It's ideal for nourishing hair and improving its strength and resilience after using bleach, thanks to the protective coating it leaves behind post-use."
Ask For:
If you're keen to give the shade a go, look to the likes of Anya Taylor-Joy and Miley Cyrus as inspiration. Miley, especially, is on trend thanks to the shag mullet she's paired her colour with – Redken UK & Ireland ambassador and celebrity hairdresser Larry King explains: "After the past 18 months, we've seen so many clients wanting a big change, and both a bright blonde and dramatic cut (like a mullet) are a great way of making that noticeable switch up. It's choppy, edgy and cool – plus the sharpness of the cut is a great way to show off the intensity of the blonde." 
Maintain The Baby Blonde Trend With…
#BUTTERY, CHAMPAGNE BLONDE
Why It's A Trend:
Dubbed the 'film star blonde', this colour is set to be hugely popular this autumn/winter. A trend born out of the pandemic, with more us wanting to seek something dramatic and impactful, it's different to 'Baby Blonde'. This trend has slightly yellower tones for a buttery, warm glow that's guaranteed to brighten up any look, and suit almost all complexions. 
What The Pros Say:
"I sometimes like to call this the 'Goldilocks' of blondes," explains Adam Reed, Editorial Ambassador at L'Oréal Professionnel Paris. "It's not too warm, not too cool, just bright. It's a nod to those classic blonde superstars, nostalgic, but the newest iteration is still beautifully toned, clean and super-bright."
Ask For:
The likes of Billie Eilish and Margot Robbie are prime examples of this new, warm tone that's soft, golden and light all at once – use either as a reference if you're looking to take on this new hue.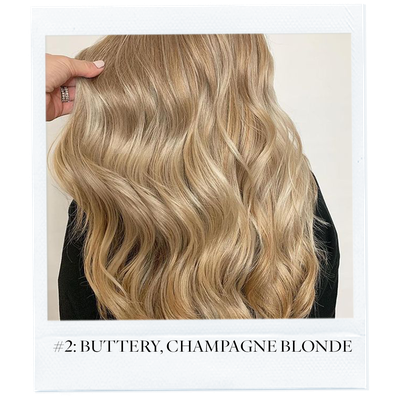 Maintain The Champagne Blonde Trend With…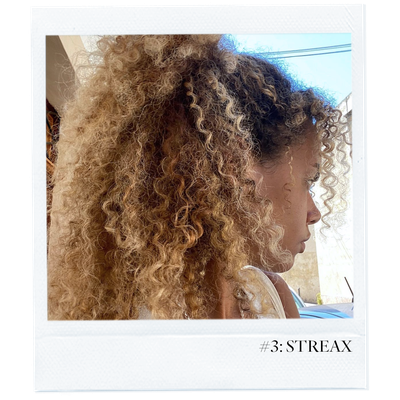 Why It's A Trend:
Newer techniques in the hands of the experts mean its never been easier for those with curly, wavy or textured hair to try balyage and blonde highlights that don't look too precise or blocky. Cue 'Streax', an intricate highlighting method that's had up to 80% higher searches recently for its ability to lighten hair without doing away with natural movement. It catches the light beautifully with hints of blonde to frame the face and it gives a cooler, more natural effect. It can be tailored to each client, too – focusing on the tightness and shape of curls for the best individual result. 
What The Pro's Say:
"People have a huge desire to experiment right now, so it's no wonder 'Streax' is proving to be so sought after," explains Luke Hersheson, CEO of Hershseons Salons. "To bring the colour to life, try having a cut done that enhances it, like the 'Glam Shag.' This is a cut that brings out the natural texture of your curls and subtly enhances them with better bounce. Anyone can try it – we can tweak styles to work on different people and to shape their faces. Enhance the shine and condition of your curls with Kerastase's Crème De Jour Leave-In-Cream for extra hydration and a glossier appearance."
Ask For:
Make sure you do your research if you're looking to go for the 'Streax' trend. You'll need an expert who understands textured hair and the best way to enhance colour at both the root and tips. Look to top influencers like @OceanLewis for inspiration and varying looks for experimenting with the trend. 
Maintain The Streax Trend With…
Why It's A Trend:
A hybrid between red and blonde hair, searches for strawberry blonde colour are on the rise. Best for those with fair, cool or neutral skin tones, it uses both light and warm shades of red to counteract any coolness within your complexion. Just bear in mind it's important to get yourself an expert consultation before opting for this tone. At your next salon appointment, make sure you get prescriptive advice as it's a trend that moulds to your individuality. A colourist will be able to work with you, as well as your skin tone to help discover a shade that's bespoke and tailored for the best results. 
What The Pro's Say:
Strawberry blonde has been a trend for a while, but now more than ever people are turning to it for a change, with a 70% increase of searches in the past few months. Experts recommend keeping it slick, and pairing it with an on-trend cut to enhance the tones: "Layers are making a real comeback, and I recommend having some chopped in to show up the definition of your strawberry tones," adds Larry. "They are wearable and so easy to adapt for all hair lengths and textures. Likewise, if you want to change up your look without going too far or losing any length, try a fringe to add to your new colour and bring about some subtle change." 
Ask For:
The newest version of strawberry blonde is all about subtle copper tones that catch the light well. Look to the likes of Jessica Chastain and Christina Hendricks for inspiration, but also January Jones whose tone embraces warmer – almost pink-y – shades of blonde.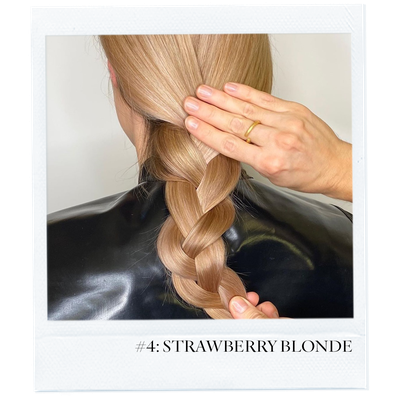 Maintain The Strawberry Blonde Trend With…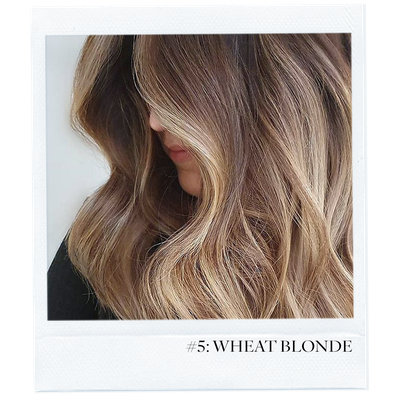 Why It's A Trend:
Wheat blonde is a great way to tone down full-on brightness and add a little more neutrality for the cooler months. Better blended and diffused than other colours on this list, you can expect it to look expensive and effortless. 
What The Pros Say:
"Balayage is the easiest way to create this soft look," explains Adam. "Balayage is a technique that came from Paris, and it's a great way of creating beautiful, luminous, healthy and completely effortless-looking hair. That said, it takes a huge amount of skill to blend the colour this seamlessly – it's something that's only available in a salon with a professional, so don't attempt it with any DIY kits. Any hair type can give it a try – it can be dialled up or down, so it's easy to personalise it to your own needs." 
Ask For:
Inspiration for wheat blonde tones can be found everywhere – a great example is influencer Laura Byrnes whose platinum tones blend seamlessly with darker ones. If you want to take things even warmer, celebrities like Rosie Huntington-Whiteley and Suki Waterhouse are great references for your next salon appointment.
Maintain The Wheat Blonde Trend With…
DISCLAIMER: We endeavour to always credit the correct original source of every image we use. If you think a credit may be incorrect, please contact us at info@sheerluxe.com.