14 Hidden Spots In London (That Tourists Don't Know About)

Spending time travelling around the sights of London can be a blast but if the thought of long queues, fully-booked restaurants and crowded tourist spots makes you despair, check out our favourite spots and activities in the capital that the locals really don't want you to know about. Here are 14 hidden gems to try…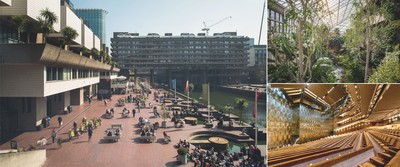 The Barbican
So much more than just a cinema, the Barbican is London's epicentre for modern art, theatre and film. Stop by this brutalist giant of a building for a taste of the latest cinema, a browse around the most recent design exhibitions or take part in many a workshop, which vary most days.
Visit Barbican.org.uk to find out what's on.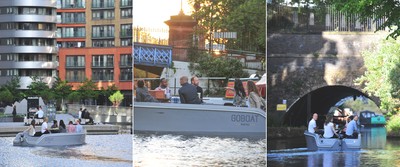 Private Boats
Instead of piling onto one of the popular tourist boats which cruise up and down the River Thames, why not opt for your own private electric boat which you can take for a leisurely sail down Regent's Canal? Controlled by you, the boats seat up to eight passengers, are hired by the hour and you are even allowed to bring your own picnic on with you – including champers. All aboard!
Visit GoBoat.co.uk to book your trip.
The Thames Path
Got time to spare and a burning desire to walk instead of getting the tube? Explore London by foot as you meander alongside the second longest river in the UK. No, we're not suggesting you walk the entire length of the River Thames (that would take several days) but plan ahead and choose a section of the Thames Path walking route that suits you.  Along the way, you'll spot Big Ben, the Tower of London and the London Eye as well as plenty of landmarks you may have missed, had you opted for the underground.
Visit NationaltRail.co.uk to plan your route.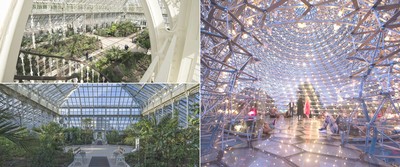 Kew Gardens
Arguably one of the most extraordinary botanical gardens in the entire world, Kew is – literally - a breath of fresh air in this busy city and is perfect to visit by yourself, with the kids or as part of a group. Despite being 250 years in age, Kew Gardens is at the heart of cutting-edge research as the gardens are home to two research centres. From the Victorian glasshouses to the towering Chinese pagoda, there's plenty to see – and lunch at the Orangery is essential whilst you're there. 
Visit Kew.org to book tickets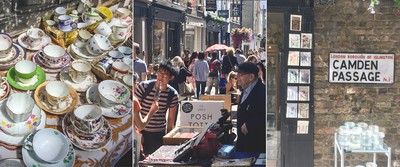 Camden Passage
Not be confused with the extremely busy Camden Market, this hidden passage of cafés and shops is situated just off Islington's buzzy Upper Street. Follow the cobbles and browse a treasure trove of antique and vintage wonders – from contemporary jewellery to modern art, this off-the-beaten-path wonder has it all. And while you're in the Islington area, why not make the most of the local arts scene is rife in Islington – there are comedy clubs, theatres and live music venues galore (our favourite haunts include Union Chapel and The Old Queen's Head)
Visit CamdenPassageIslington.co.uk to find out more.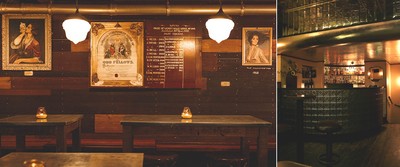 Secret Bars
London is arguably home to some of the best bars in the world, however all that hype comes at a cost – come 6pm and seemingly every watering hole in the city is filled the brim with patrons, leaving you standing awkwardly clutching your glass searching for a space. For comfy feet and a guaranteed place to sit, head to one of London's many secret bars. The entry system often works via password or hidden buzzer, so do your research beforehand. We love a late-night cocktail at The Mayor of Scaredy Cat Town or sipping on a premium G&T at Milk & Honey.
Visit TheMayorOfScaredyCatTown.com and MLKHNY.com to book tables.
The 'Fake' 10 Downing Street
Fancy getting a snap of yourself outside the Prime Minister's pad? Ha, think again. Much to the dismay of tourists, the most famous front door in Britain – 10 Downing Street – is completely closed off to the public. The best glance you'll get of the front door is through a cast iron fence surrounded by armed police offices. Take a stroll 800 metres down the road. however and you'll come across 10 Adam Street, which bears an uncanny resemblance to 10 Downing Street. This front door (which is actually home to a series of serviced offices) would be quite easily mistaken for the PM's pad. Great for your Instagram snaps.
Visit Google/Maps to pin the location.
Queen Elizabeth Roof Garden
 Is one of London's many rooftop bars on your must-visit list? With one of the most impressive city skylines in the world, it comes as no real surprise the capital's rooftop scene is an impressive one. But with the excitement of longer days and hot weather, rooftop bars tend to get crowded quickly in summer. Head to one of London's quieter terraces instead – the Queen Elizabeth Roof Garden at the Southbank Centre boasts striking views of the River Thames and a less pretentious vibe.
Visit SouthBankCentre.co.uk for more information.
Maltby Street Market
As much as we love a trip to Borough Market, admittedly it can get crowded at times with hundreds of tourists dropping by every day for Instagram snaps of cheese toasties and market traders hard at work. For a quieter scene, head to nearby Maltby Street market (dubbed 'Borough Market's little sister') – discover the vendors tucked underneath brickwork railway arches, and chow down on some delicious artisan produce. We can't resist a gooey treat from Bad Brownie or enjoy a cocktail from local distillery, Little Bird Gin.
Visit Maltby.St to find out more
Commons
London is home to many a glorious park (often referred to as a common or heath). Take a break from the bustling Underground and avoid packed pavements by setting up in a common for the afternoon. If you're a local in London, an enjoyable Saturday afternoon in summer often entails a group outing to Clapham Common or London Fields with a bunch of friends, a DIY barbecue and – most importantly – a bottle (or two) of fizz. Take a bat and ball, a picnic blanket and go see what all the fuss is about.
Visit LondonGardensTrust.org to find a park near you.
Neighbourhoods to explore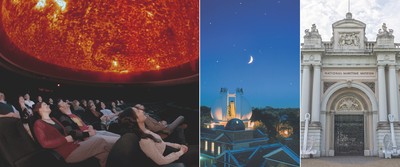 Greenwich
Known as the 'home of time', Greenwich – the area where Eastern and Western hemispheres cross paths – is a borough situated on the banks of the River Thames. Get there via tube or by riding the Thames Clipper, a boat service which connects Londoners across the water. Once you make it to this beautiful part of town, climb aboard the Cutty Sark ship, pick up some quirky gifts in Greenwich Market, or visit the Royal Observatory and place a foot on either side of the hemisphere.
Visit VisitGreenwich.org.uk to plan your trip, and check out SL's guide to Greenwich here Sheerluxe.com.
Stoke Newington
Further out than hipster favourite Hackney, you're far more likely to find a table for brunch here on a sunny summer day. The closest you'll get to a village in north east London, Church Street has every kind of café, restaurant, gastropub and gourmet grocer you could dream of – of course, it has its own Whole Foods store – as well as a selection of secondhand bookshops, trendy furniture stores, independent fashion boutiques and hipster indie boozers. Plus, it boasts one of the best pizza joints in London – L'Antica Pizzeria – that serves up traditional stone-baked pizzas, Naples-style. There's a farmer's market every Saturday, and Clissold Park has plenty of space to spread out with friends or family, on a lazy Saturday afternoon.
Visit Visitlondon.com to see what's on in the area.
Hampstead
Being a short tube ride from the city centre, often tourists don't quite fancy the trip to Hampstead, making it a relatively quiet haven for those seeking a relaxing day out. Spend just five minutes in this picturesque village and you'll soon discover why Hampstead is often referred to as London's prettiest borough. With an array of quaint cafés, restaurants and pubs, you'll be spoilt for choice for all-day grazing, or if scenery's your bag, spend some time exploring hidden streets and leafy alleyways to discover some of the loveliest doorways and houses in all of London. For a green scene, head to Hampstead Heath where you'll find families picnicking, dogs frolicking and (if the sun is out) people splashing in the local lido.
Visit HampsteadVillageLondon.com to plan your day out.
 
DISCLAIMER: We endeavour to always credit the correct original source of every image we use. If you think a credit may be incorrect, please contact us at info@sheerluxe.com.