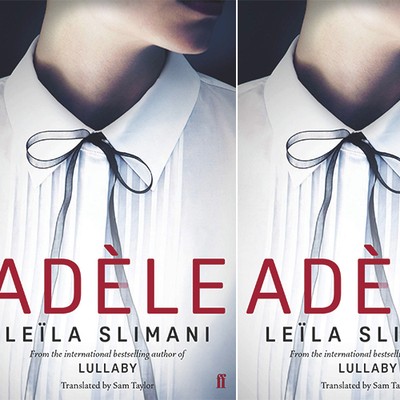 Book Review: Adèle

SheerLuxe contributor Ann-Maria McCarthy tells all on the novel that's going to be the hot choice at book clubs this year.

Leïla Slimani, the glamorous French-Moroccan novelist is as fêted by Vogue magazine as she is by the French President, Emmanuel Macron. (In fact, he wanted her to become his Minister of Culture, but she turned him down.) Slimani previously won the Prix Goncourt, France's most prestigious literary prize, for her novel Lullaby, which was one of the most highly praised books of 2018 and has since been translated into more than 40 languages. Adèle is the second novel by Slimani to be published in the UK and centres on the life of a 35-year-old wife, mother and journalist, Adèle Robinson. The same Parisian bourgeoisie who featured in Lullaby appear in Adèle; their petty snobbery, not-so-subtle racism, and comfortable ennui are highlighted throughout the novel. And that's not the only recurrent theme that presents itself in Slimani's sophomore novel...
The Ultimate Taboo: Female Nymphomania 
Adèle is detached from those around her as she has a very dark secret: she is a nymphomaniac. From the first page, the destructive nature of her addiction is made clear to the reader: "As soon as she shuts her eyes she hears the noises: sighs, screams, blows. A naked man panting, a woman coming. She wishes she were just an object in the midst of a horde. She wants to be devoured, sucked, swallowed whole." 
Make No Mistake – This Is No 50 Shades Of Grey 
There are moments that are sensual and erotic, but many of Adèle's encounters with men only serve to show us how isolated she is. There is no intimacy and no trust. She will walk to a man's apartment, wake him up and immediately have sex with him – but then feel too embarrassed to dress in front of him. One poignant section has Adèle reflecting on all the strange ceilings she has stared up at whilst having sex with men, who are little more than strangers to her, beautifully conveying the acute loneliness Adèle feels when she's not alone.  
Motherhood Is Complicated
As in Lullaby, motherhood is discussed at length. Adèle feels strengthened by motherhood, enjoying the air of respectability it gives her. But during her pregnancy with her son, Lucien, she also admits to a sense of loss for her past self: "She knew something inside her was dying." The power dynamic within her marriage causes the care for her son Lucien to fall solely on Adèle, since her husband Richard rarely involves himself. It is Adèle only who sacrifices part of her identity to be a parent.  
There's Parts Of All Of Us Reflected In Adèle's Story 
Slimani has spoken in past interviews about her fascination with the animal part of human beings, the part that is not logical. However, what separates us from every other animal is our need to feel we are really living, to soak up everything from the one life that we have. Adèle has an addiction, one she is willing to sacrifice many things to feed. She does this in order to feel something. It is empathy Adèle ultimately arouses, as her quest is one we all struggle with – the very human search for meaning.  
DISCLAIMER: We endeavour to always credit the correct original source of every image we use. If you think a credit may be incorrect, please contact us at info@sheerluxe.com.