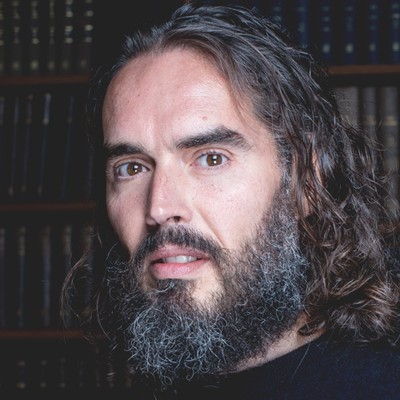 What We've Learnt From Russell Brand's New Book

From children's tales to his Booky Wooks, Russell Brand is no stranger to telling stories, both fiction and non. But his new book, Mentors: How To Help & Be Helped, strikes a more serious and benevolent tone. Mentors is essentially a love letter to those who have helped him over the years and shows the reader how to accept a mentor into our own lives if we're feeling lost. Here are five lessons we took away from his new book…

He's Still A Fan Of The 12-Step Programme
As is well known, Brand has been in recovery from a multitude of different vices, from heroin and crack to sex and food from as early as 2002. He attributes his success at staying sober to the 12 Step program, designed to help people overcome addiction (steps include admitting you have a problem and asking for help). Having seen it work in the context of recovery, this book sees him question why the same principle can't be applied to all challenges in life. "When you enter a 12 Step program, you have to ask someone else to guide you through the steps. In undertaking this we accept that our previous methods have failed… In the three months that I was in treatment I was given written tasks to complete that were formulated around the first three of the 12 Steps: 1. Admit you have a problem; 2. Believe in the possibility of change; 3. Ask for help and follow suggestion… Nearly 16 years later I use this formula when dealing with less critical problems of my own, and when mentoring other people." Essentially, he feels as though we all have wisdom from past experiences that we can pass down to someone else.

You Can Have More Thank One Mentor, For More Than One Thing
Over the course of his book, Brand recalls all of his mentors, from a jiu-jitsu coach to an acupuncturist, a glamorous therapist and a middle-aged 'Merlin' named Bruce.  Each one has taught him something different: coaching him through his relationships to quelling his mid-life anxiety to allowing him to be open and honest about his feelings. "Mentorship has been the most successful in my life when I was simultaneously awakened to my need to change, willing to learn and there was an explicit and consensual method to pursue. Chip Somers: I needed to get off drugs, he knew how to get off drugs using the 12 Step method. Or Chris Clere, I wanted to learn Jiu-Jitsu, he is a black belt in Jiu Jitsu… When you have the method and the master, your own willingness and surrender is all that is required for progress."

He Now Mentors People, Too
Brand currently mentors three boys: Max, a young guy who got clean and the relapsed due to his unhealthy relationship; Stan, a "giant charismatic and adorable man who I instinctively liken to Omar, one of the four caliphs to succeed The Prophet"; and Marco, a sex addict. "There is nothing negative about being a mentor," he writes. "Even the fact that it requires me to give my time to others is hugely positive for a person like me whose tendency unguided can be towards selfish and obsessed. If I can be the figure I am in the lives of these young men, then I am better set to be a good husband to my wife and a good father to my daughters. It is the remedy to having lived a life where I'd only hear my own voice whining or screaming, now I hear it calmly offering solutions to sometimes very difficult problems."

He And His Wife Regularly See A Counsellor
While some may be horrified at the thought of regularly seeing a marriage counsellor, Brand sees it as a point of strength in his relationship – it's the way they maintain a positive and loving marriage. In fact, whilst most people go for dinner on their second date, he took now-wife Laura (Gallacher, lifestyle blogger and sister of Sky Sports presenter Kirsty) to see Manya, his therapist. The two had dated over a decade ago when he was at the height of his sex addiction, but now they were back together and more mature, they had a 'cut to the chase' mentality. "[Manya] was able to point out where we were defaulting to fear-based attitudes, where we were being incommunicative. Importantly, she encouraged us to assess our unspoken intentions."

Knowing Your Mentors Are Flawed, Is Crucial
You can't have a mentor who is perfect in every way. Jimmy, a mentor that Brand already knew from working in television, gave him guidance when he had broken up with a girlfriend after a particularly disastrous holiday: "I didn't want to live in the house I lived in, do the work I did, hang with the people I was working with or even wear my clothes anymore." Jimmy was unfazed by this, telling Brand it was normal, and necessary, at the midpoint of your life to question the direction of the journey. Jimmy had been in this position himself, which gave his advice more weight – because he had already lived it: "While it was tempting to idealise him, due mostly to the authenticity of our communication but also because I'm not 12, that he is flawed and complicated and imperfect. This is important… You aren't trying to become your mentor but using them to access dormant feelings that you wouldn't know you had without them."
 
DISCLAIMER: We endeavour to always credit the correct original source of every image we use. If you think a credit may be incorrect, please contact us at info@sheerluxe.com.