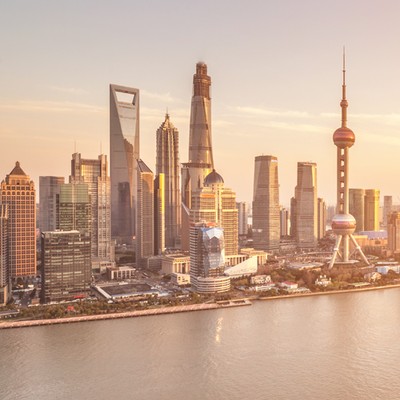 Why Shanghai Is The Next Best City Break & Where To Stay

Shanghai is described as the showpiece of mainland China. Yes, it's China's largest commercial and financial centre, yet it offers much more. Here SheerLuxe travel columnist Charlotte Sinclair explores the intoxicating blend of Eastern and Western cultures and a vibrant modern city that is richly diverse.

Shanghai is a city best understood at night, several floors up, from a window of a suite in the new Edition Shanghai perhaps, or the terraces of one of the numerous bars lining the Bund. Up here, the dark is punctured by the Bladerunner skyscrapers of Lujiazui's financial district. Neon boats glitter across the curling Huangpu river, lights pulse and shimmer, Chinese characters blink on silvered surfaces. It's a scene electric with the energy that enlivens this hypercity of twenty million plus inhabitants. 
 Sure, Shanghai is a town that straddles past and present, but it's not much interested in anything except the future. It's The Future with which it – and the country itself – is most ecstatically engaged, racing onwards, outwards, upwards, towards more, more, more. Hundreds of cranes dip their heads across the skyline, bulldozers swarm. Apartment towers in growing clusters room thousands of inhabitants, humanity reduced to ant colonies. Everything is to the maximum. The high-speed train to the airport. The hotel buried 90 metres down into a disused quarry. The art galleries all the size of the Tate Modern. I once went there to interview the billionaire owners of a raft of new private contemporary art museums – enormous spaces, several aircraft hanger's worth at a time, filled with a king's ransom of art – but I wasn't allowed to mention who else I was interviewing, such is the fragile ego of the super duper rich who are carving this new world.
 
Which is not to say there isn't anything old here. The reason Shanghai appeals is it's one of the few cities in China where history has been preserved. From the 1830s the city became the base for the British East India Company, trading tea, silk, opium. American and European merchants flooded the city, governing several concessions of the city where, with typically murky Colonial principles, Chinese natives were prohibited to enter. By the 1920s and 30s Shanghai was known as the 'Paris of the East, the New York of the West' – the remnants of this history are contained in the former banks, insurance houses, customhouses and foreign consulates on the Bund, the old centre of power now dwarfed by the skyscrapers over the river.
But, look, it's China, so naturally there are behemoth apartment blocks where there were once rows of traditional houses. But elsewhere there has been sensitive restoration and clever use of the city's historical nooks, updating their purpose to drive new interest to the areas. For instance, in the French Concession where London Plane trees line the quiet streets (trees are such a rarity in Shanghai it took me a while, walking around, to figure out why the area felt so different), and the buildings are low-rise, including much traditional architecture. Head to Tianzifang – it's touristy but charming - where shikumen lane houses have been converted into art studios, restaurants, bars and design emporiums, telephone wires hanging low overhead.  Also in the French Concession, on Xinle Lu, Ferguson Lane, or Changle Lu, for instance, you find fantastic boutiques selling the work of local fashion designers or, indeed 'shrinkage' from the Chinese factories that produce wear for the likes of Prada, Celine, and Burberry. (Quan, with several outposts in the concession, is a good place to start.) Shopping is worth the trip alone. It is really exceptional. Don't miss Uma Wang's boutiques – Wang, who sells in Paris and London is known for loosely draped tailoring in delicious colours.
 
The future, right now, looks good in Shanghai.  Where once the city's ethos was all glitz and conspicuous consumption, for a new generation the city has become a test ground for ideas on contemporary living, shopping and eating, with an accompanying hipster scene to rival Shoreditch or Brooklyn. At Shanghai Sanctum bookstore an architecturally designed space is supposed to evoke a 'map of the human psyche' – whatever, it looks great. Tingtai Teahouse is a café with floating tearooms occupying a converted warehouse, while Hemu, a local clothing brand, has created a minimalist concept store in concrete and wood in a restored sixties building. Coffee shop by day, cocktail spot by night, Bar Lotus is all swooping arched corridors, travertine floors and emerald green plaster walls, an object lesson in now design for a country that never feels anything less than future perfect.
Where to stay:
(Take a business card from wherever you're staying to show cab drivers the address – very few speak English.)
 
- Shanghai Edition; 199 Nanjing Road East, Huangpu, Shanghai; +86 21 5368 9999; EDITIONHotels.com
 
- The Middle House; No. 366 Shi Men Yi Road, Jing'an District, Shanghai 200041; +86 21 3216 8199; TheMiddleHouseHotel.com
 
- Puli; Changde Rd, JingAnSi, Jingan Qu, Shanghai, 200040; +86 21 3203 9999; ThePuli.com
 
- Waterhouse; 1-3 Maojiayuan Rd, Huangpu Qu, Shanghai Shi, China, 200010;  +86 21 6080 2988; WaterhouseShanghai.com
 
- Capella Shanghai; 480 West Jianguo Road, Xuhui District, Shanghai 200031; +86 21 5466 6688; CapellaHotels.com
 
- Bulgari; 33 North Henan Road, Shanghai, 200085; +85 21 3606 7788; BulgariHotels.com

Where to eat and drink:
- Speak Low; 579 Fuxing Middle Rd, Huangpu Qu, Shanghai, 200020; +86 21 6416 0133.
 
- Oji Whiskey and Cocktail; 3/F, Zhang Court, 99 Taixing Lu, by Wujiang Lu, Shanghai; +86 31 6277 3450
 
- Bar Lotus; 1/F, 758 Julu Lu, near Fumin Lu, Shanghai; +85 59 0088 2459
 
- Bar Module; 416-1 Xianxia Lu, by Furongjiang Lu, Shanghai; +85 21 6219 4489
 
- Mr & Mrs Bund; 18 Zhongshan Dong Yi Road, Huangpu, Shanghai 20002; +86 21 6323 9898; MMBbund.com
 
- Jeju Izakaya; 1095 Yuyuan Lu, near Fenggang Lu, Shanghai – no phone number. Get your hotel to organise a reservation.
 
- Lost Heaven; No.38, Gao You Road, Shanghai; +86 021-6433-5126; LostHeaven.com.cn
 
- Yong Xing Canting, No 1, Lane 626, Fuxing Lu, near Ruijin Lu; +86 21 6473 3780
 
Since going freelance, ex-Vogue and Harper's Bazaar staffer Charlotte Sinclair has written for the FT, Condé Nast Traveller, Departures and How to Spend It. In-between assignments she has also written two design books. You can find her posting on location at her instagram: @charlottesincs
DISCLAIMER: We endeavour to always credit the correct original source of every image we use. If you think a credit may be incorrect, please contact us at info@sheerluxe.com.