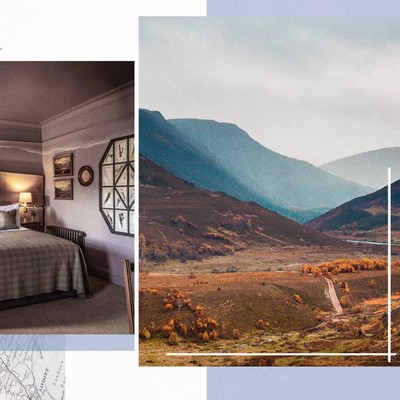 Travel Notes: The Scottish Highlands

Isn't it strange how one place can conjure up a thousand memories? For SL contributor Charlotte Sinclair, that place is Scotland. From the small streets and gothic structures in Fife to the remoteness of the highlands, here she tells us why every corner of the country holds a special place in her heart – and where to stay if you want a taste of true Scottish hospitality.

While talking to a friend recently I realized the writing across her Christopher Kane jumper read 'Scotland'. "Scotland is my place," she whispered in that way we use to describe the quarters of the world that feel so precisely made for us that we corner them, jealously, as our own. "Oh," I replied, "But Scotland is my place."  
I am Scottish by blood, I told her; both my parents are Scottish. On my father's side, the Sinclair clan, 19th century ancestors include a family of sheep farmers on Islay.  My childhood holidays were spent north of the border where the air is higher and colder, caravanning with my grandparents, driving into the Cairngorms or to remote Highlands lochs where the water was as cold as marble and castles stood lonely over the lake, places dense in mystery – and midges. It was Scotland as viewed from a car window mostly, everything in shades of grey and green, pine forests, rock, mountains, glens, tin-roofed crofts abandoned in the middle of nowhere, everything lit by a fickle sun, the light in the sky hovering past midnight. Deer nibbled the grass beneath the caravan windows at dawn. Something must have done the trick, since after school I spent four years completing a Masters at St Andrews in Fife. It is a beautiful place. If you go – and you should - you will marvel at the young people who spend four years in a tiny town of four main streets and no nightclubs surrounded by the North Sea and nothing, apart from golf, in the way of local activity.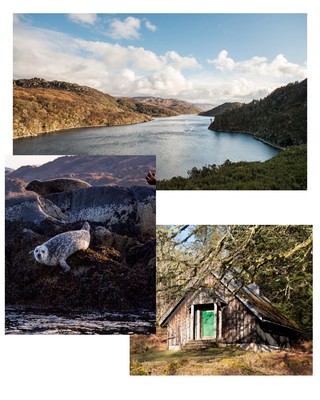 The haar rolls off the sea in winter to lock the town in a vertiginous fog, adding to the feeling created by the turreted buildings and the ruined cathedral and castle, the town resembling something drawn by Arthur Rackham by way of Edgar Alan Poe. (A more contemporary descriptor would be Hogwartian, but I'm more Poe than Potter.) Studying a book like James Hogg's The Private Memoirs and Confessions of a Justified Sinner - in which the protagonist is tempted by the devil - in winter, in St Andrews, makes for an indelible experience.  
St Andrews, and by extension Scotland too, and the Highlands especially, has a seam of magic that lives very close to the surface. As first year students, my friend Fran and I took classes in the philosophy department which sat high on cliffs, (more turrets), the sea crashing below – a setting that, as we sat in seminars on euthanasia or suicide, seemed a little heavy on the symbolism. The building had two adjacent entrances, one for philosophers of logic, the other for philosophers of metaphysics: it was said you would be struck by lightning if you chanced to step through the wrong door. Which, obviously, we tested on every visit and yet remained disappointingly un-singed.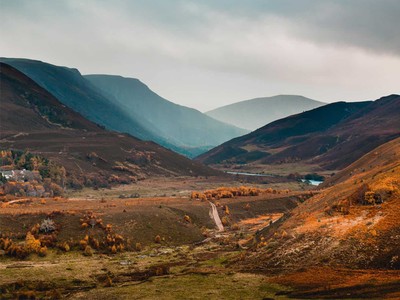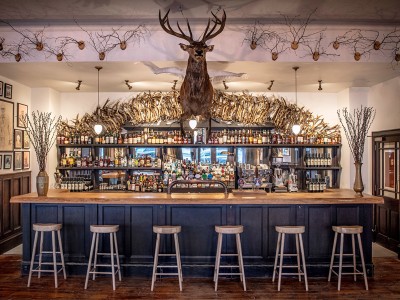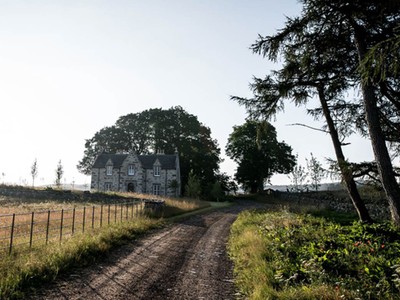 A few years ago, it struck me that having written about wildernesses and the specific peace and luminous state of mind that they affect in us, I had forgotten that I did not have to fly to Patagonia to summon this, but merely Inverness. Thus, we spent a recent Christmas on the Cawdor estate, the snow starting to fall as we drove across the moor and down through a pine forest to Fisherman's Cottage, a simple rental where the River Findhorn flows in front and thick forest rises up the hill behind. Every evening after dinner we would put on our coats and boots and stand outside in the freezing cold looking up at the stars.  
For travellers to the Highlands, the issue has not been a lack of charm or atmosphere but of decent places to stay. Enter a Danish billionaire, Anders Holch Povlsen, who some years ago began buying up Scottish estates, making himself the largest private landowner in Scotland in the process. Under the aegis of his landscape-scale conservation company Wildland Ltd he is intent on restoring the Scottish Highlands to their true wildness, a 200-year mission. In order to engage the outside world with the project, he and his wife Anne have set about restoring houses on these estates for guests, including the very wonderful Killiehuntly Farmhouse near Glenfeshie. At Killiehuntly, Scandinavian design meets Scottish cosiness in an aesthetic style Anne has dubbed Scandi-Scot. It works. Her latest project is a renovated stone cottage called Kyle House on the far north coast of Sutherland, a gem of a place, oak panelled and picture windowed, with views onto the water and the hills.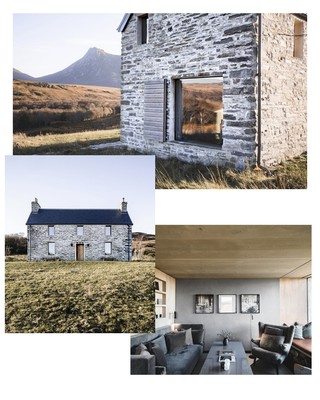 The Fife Arms in Braemar is another fresh draw for the Highlands. Opened just before Christmas, it is a multi-million-pound restoration of a Victorian coaching inn not far from the Queen's estate at Balmoral. The passion project of gallerists Manuela and Iwan Wirth, who keep a home nearby, there's a Picasso in the drawing room, and contemporary pieces by Subodh Gupta and Bharti Kher to enliven the tartan and tweed. Interiors have been faithfully reimagined by Russell Sage with hand-painted wallpaper, antiques and swagged four posters. One room is devoted to the nature writer Nan Shepherd whose book, The Living Mountain, should be your essential Cairngorms companion. 
There are more delights to be explored. On my list is the off-grid Shepherd's Cottage on Vanessa Branson's island of Eilean Shona. And Skye – where a photogenic rental called The Crofter's House has caught my eye. Shore Cottage on the Carskiey Estate looks special, as do the guest bothies at the fantastic Inver restaurant on idyllic Loch Fyne. Not to mention Alladale, where the owner has a dream of re-introducing wolves and bears to his estate.  Wolves and bears? Oh my. A dose of Highlands magic in four-legged, four-pawed form. 
Where to Stay: 
The Fife Arms; Mar Road, Braemar, Aberdeenshire, AB35 5YN; TheFifeArms.com  
Kyle House; Tongue, Lairg, Sutherland, IV27 4YL; Kyle.scot 
Killiehuntly; By Kingussie, Highland, PH21 1NZ; KillieHuntly.scot 
Fisherman's Cottage; Cawdor, Nairn, IV12 5RE; Cawdor.com 
Eilean Shona; EileanShona.com 
Shore Cottage; Campbeltown, PA28 6RU; Carskiey.com 
Inver; Strachur, Cairndow, PA27 8BU; InverRestaurant.co.uk 
Alladale; Alladale Wilderness Reserve, Ardgay, IV24 3BS; Alladale.com 
DISCLAIMER: We endeavour to always credit the correct original source of every image we use. If you think a credit may be incorrect, please contact us at info@sheerluxe.com.