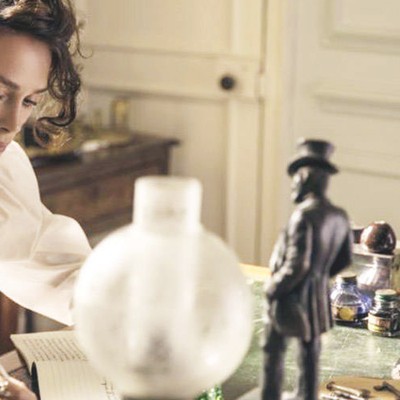 Everyone's Talking About Keira Knightley's New Film: Colette

Set in the Belle Epoque era, Colette is a beautifully shot snapshot of one woman's battle to claim her place in society. Featuring Keira Knightley's best performance to date, there's much more to this Paris-set film than covetable costumes and a tumultuous husband and wife narrative…

What's the premise?
We first meet Sidonie-Gabrielle Colette – affectionately known as Gabrielle – at her parents' house in the French countryside. Youthful and excited by life, we learn that she's being primed for an engagement to charismatic talk-of-Paris Willy, a much older author and critic. Sitting around the family table – Willy one side, and Gabrielle the other – talk feels stilted and Gabrielle appears shy. Only after is the audience let in on a secret, as we witness her meet Willy in a nearby barn for a not-so-awkward roll in the hay. It appears this reserved teenager is anything but.
After moving to Paris, Gabrielle agrees to ghost write a semi-autobiographical novel for her husband. We learn that Willy is no author at all – just wealthy and willing to pay a 'factory' of promising young writers to do the hard work for him. Claudine At School goes on to become an overnight success. Unfortunately, because Willy convinced her to write under his name, she doesn't get any of the credit – or money – for the phenomenon her creation becomes.
Physically forced to write two follow ups – Willy locks her in a room so she'll write the first, and encourages her to partake in various lesbian relationships so she has source material to titillate readers for the second – Gabrielle, who now goes by the name of Colette, and her husband's adventures become the talk of Paris. But when she becomes close to androgynous marquis Mathilde De Morny (Missy), Colette is inspired to defy everyone to get her name on the books she writes and overcome the societal constraints of the early 20th century.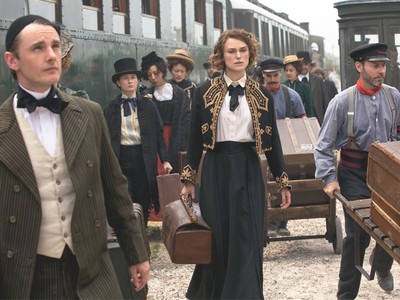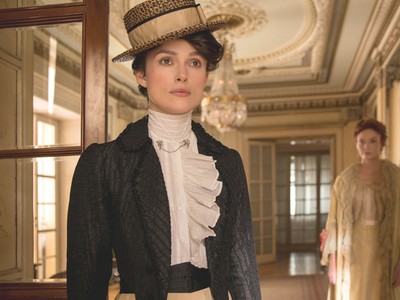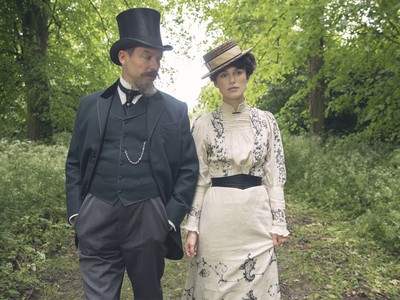 Who stars?
First up is Keira Knightley, as our eponymous lead. It's almost a shame this year's seen such strong performances across the board (we're looking at you, Olivia Colman, Viola Davis, Emma Stone, Rachel Weisz and Lady Gaga), as Knightley well deserves to be among this season's best actress nominees. As the coquettish Colette, Knightley excels in playing both a shy teenager, new to city and married life, and the feisty tuxedo-wearing woman who's just as defiant of her affairs as her philandering husband is. It's her best performance to date.
Meanwhile Willy is played gleefully by an increasingly rotund Dominic West (the costume department must have had a riot). He also has two roles to play: one the charmer and life of the party that Colette – and most of Paris – falls for. The other a gambling, controlling husband who lies about his talents, is abusive to his wife and makes his multiple young mistresses dress as his 'masterwork', schoolgirl Claudine. West plays both with ease, seamlessly switching between creepy and calculating, and jovial. One scene where he accidentally passes wind, and effortlessly breezes through any embarrassment, demonstrates his wife's simultaneous disgust and admiration to delightful effect.
But most impressive is Denise Gough as the androgynous Missy. Currently best-known for her roles in The Fall and Robin Hood, this week Gough was confirmed for the just-announced Game of Thrones prequel. It's easy to see how the HBO monolith was struck by her – in this gender-defying role Gough is measured, seductive and best of all funny. It's easy to see how Colette falls for 'his' charms.
Elsewhere, there are performances from Poldark's Eleanor Tomlinson, who suits the role of a marriage-meddling femme fatale (once you get past her awful Louisianan accent). The always-brilliant Fiona Shaw (Killing Eve, True Blood) plays Colette's mother with her trademark steeliness (at one stage, she encourages divorce – surely frowned upon at the time), and Line of Duty's Aiysha Hart is Polaire, a beautiful actress who takes on the part of Claudine in a theatre adaptation, quickly becoming a muse and object of affection for both Colette and Willy. Finally, we were impressed by Shannon Tarbet. Most known for her role in last year's Bafta-nominated Beast, she rises to the role of simpering fan/Willy's mistress Meg with conviction.
Will I like it?
Directed by Wash Westmoreland (the director behind the powerful Still Alice), this is a sensitive look at the making of one of France's most prominent female authors. This is no typical period piece, either. Colette's husband might be manipulative, but she's in on the joke and will go out of her way to reclaim what's rightfully hers – her name. It's risqué, too. In this film sex is always fun for the women concerned – not always the case in Hollywood.
The film couldn't come at a better time. Whether it's exploring gender, the politics of male vs. female fidelity, female relationships or the fact that women should earn their own money, Colette makes a powerful statement in an understated way. In fact, Colette herself makes asserting yourself as a woman and fighting for equality seem effortless and, dare we say it, fun – particularly when she's running off with friends to perform in a music hall troupe. It's inspiring stuff.
Finally, we couldn't sign off our review of this must-see film without mentioning the costumes. From androgynous, sharp-cut suits through to billowing blouses and chic boater hats, Knightley epitomises Belle Epoque Paris. We left the cinema dreaming of ornate brooches, lace sleeves and dramatic high-necked tailoring, as well as the powerful messages that resonate as the credits rolled. Beauty and brains? Colette is a winner.
Colette is in cinemas now
DISCLAIMER: We endeavour to always credit the correct original source of every image we use. If you think a credit may be incorrect, please contact us at info@sheerluxe.com.