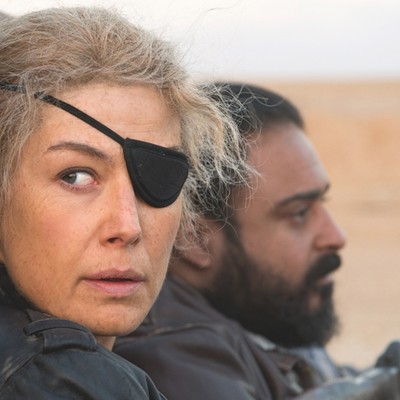 The Film You Need To Watch This Weekend: A Private War

Inspired by a 2012 Vanity Fair article 'Marie Colvin's Private War,' Rosamund Pike takes the leading role of a war reporter in Matthew Heineman's new film. SheerLuxe contributor Susan Griffin takes a look…

Despite the physical and psychological scars Marie Colvin accrued through her work as a war correspondent, she was never deterred in her pursuit of the truth to the day she was killed in Syria seven years ago. Now a new film called A Private War details her determination to shine a spotlight on the human suffering caused by war and the personal toll it took.
"For me, A Private War is a love letter to journalism and an homage to Marie who risked her life time and time again fighting to tell hard truths," says Matthew Heineman, the Oscar nominated documentary-maker making his feature film debut. "Marie wanted the world to care about unspeakable atrocities as much as she did. But, in doing so, she was deeply affected by the horrors she documented, and her personal life slowly began to spiral out of control."
 
Inspired by Marie Brenner's 2012 Vanity Fair article 'Marie Colvin's Private War,' the film follows the Sunday Times' war reporter for the last decade of her life, including the attack in Sri Lanka when she lost the sight in her left eye and began wearing her trademark eye patch to the fatal attack in Syria on February 22, 2012 when Marie, then 56, was killed by an artillery strike.
 
In preparation, Matthew spent a year researching his subject. He flew to London, Marie's adopted home, met with her friends and colleagues, and poured over reports and interviews.
Rosamund Pike, who portrays Marie, was also meticulous in her groundwork. "Marie had an extraordinary physicality. I worked with a dancer called Scarlett Mackmin and it allowed the character to enter me with gait and posture," says Rosamund, 40. "I actually shrank by a centimetre-and-a-half while doing the film because Marie held herself in a way that she was prepared for attack." Rosamund also worked with a dialect coach to replicate Marie's distinct vowels. "She has such a cool voice. Everybody talked about it. She had a smoker's voice, which I don't have, and such power. It's a Long Island accent but mixed in with having lived in London. She was a great raconteur."
 
Rosamund first heard about the script when making 2016's A United Kingdom but the archetypal English rose admits she had some "convincing to do". "I don't look much like Marie. I'm younger than her, I'm not American. There was a lot going against me, but I really wanted it," she explains. "She entered my soul somehow when I first read that article. I don't know why. I don't have the desire to serve like she did. I don't have the courage. But I do understand about having a vocation that takes you suddenly out of your own daily life and then drops you back in. The disjunction between the two can be troubling."
 
Paul Conroy, the soldier turned photojournalist who was seriously injured in the Syrian attack that killed his close friend, was sceptical when he first encountered the willowy Rosamund.
"When I first met Ros, out of makeup, I was like, 'Really?' But she was like a sponge," he says. "I saw her for the first time in costume on set in Jordan, and I was like, 'Wow'. It wasn't just her hair, makeup and patch, it was the mannerisms, the way she walked, the way she held herself. The first time I heard her speak, I was at the monitors with the headphones on, and the hairs on the back of my neck went up."
 
Paul was a regular on set, which was initially daunting for Jamie Dornan, the actor tasked with depicting him. "In the early days, I struggled a wee bit because it's tough to embody someone who's just out of your eyeline," says Jamie, 36. "But once we started to get to know one another, I loved having him there. I could go up to him and say, 'Would you react like this?' Or 'Why did you react like this?' Paul was impressed with Jamie's transformation although recalls some advice he shared with him at the beginning of the shoot. "I noticed early on he was holding back a bit," explains Paul. "I said, 'Look, if you're in a situation where mass graves are being uncovered, that's your reason for being there. Don't be shy about pushing people out of the way. You can apologise later'."
 
Filming was tough. Jordan was used to depict Sri Lanka, Iraq, Libya, Afghanistan and Syria and Matthew cast non-actors who were real refugees living in the country as extras. "I wanted to surround Rosamund and Jamie and the other actors with people from those regions with real stories who shed real tears about real atrocities," he explains. "I think this was tough at first for them, but ultimately created a heightened, emotional environment that allowed real drama to unfold." But the scenes shot in London brought their own stresses. "It felt like we'd done all the harrowing stuff but actually, for Marie, the fallout from war zones happened when she was at home," notes Rosamund. "Matt wanted to make a film that's about the addiction to danger, the addiction to telling the truth, the addiction to living in a world where your stakes are life and death, and then the PTSD that can follow in the dark, private moments at home. It was in London I had to confront the cost as Marie paid for what she'd seen and the truths she told."
 
A Private War is released on Friday, February 15
 
DISCLAIMER: We endeavour to always credit the correct original source of every image we use. If you think a credit may be incorrect, please contact us at info@sheerluxe.com.