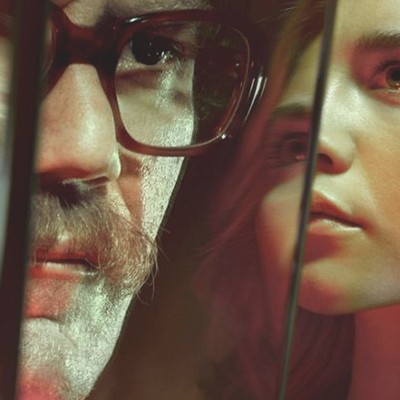 If You Like The Night Manager You Need To Watch This

The Night Manager, starring Tom Hiddleston in an unofficial Bond audition and the glorious Elizabeth Debicki, captured the country's imagination when it aired in 2016. The stylish, sun-drenched spy thriller based on the John le Carre novel was just what we needed to brighten winter nights. And – as SL contributor Susan Griffin reveals – after waiting patiently for two years, we finally get to dive into another adaptation: based on his novel The Little Drummer Girl…

"We'd been looking for another distinctly singular, cinematic book that, on the one hand would fit into the richness and depth of characterisation, similar to the scale of The Night Manager, but we also wanted something quite individual and separate," executive producer, Stephen Cornwell, said of the new six-part series. "Ideally it had to be one from within the le Carre canon that gave us a female protagonist, and a resonance in the present."
 
They chose his literary masterpiece, The Little Drummer Girl, a riveting tale set in 1979 against the Palestinian-Israeli conflict. The story follows Charlie, a pugnacious, struggling actress who meets the mysterious and monosyllabic Becker (Big Little Lies' Alexander Skarsgard) while on holiday in Greece. Their encounter entangles her in a complex plot devised by the spy mastermind Kurtz (The Shape of Water's Michael Shannon). Taking on the role of a lifetime, Charlie finds herself drawn into a dangerous world of duplicity, counter-terrorism and compromised humanity.
 
Making his television debut, the South Korean director Park Chan-wook only had one name in mind for the female lead – the Bafta-nominated Florence Pugh. "A friend of mine recommended I should see [BBC Two's] Lady Macbeth, and that I would fall in love with the lead actress. I happened to be in London for the promotion of The Handmaiden, watched a screening and was immediately taken with Florence's performance," Park said. "After having a breakfast meeting with her I was even more taken but it wasn't as though I had a specific project in mind for her. Not long after, I discovered The Little Drummer Girl so it's fate!"
 
It was Charlie's normality that excited 22-year-old Pugh. "For the first time in my career, I didn't have to put on a mask. She's quite a normal girl; a loud, annoying, argumentative and talented being," she said, explaining she related to her character, Charlie. "I grew up in a very loud family where you had to fight to get your voice heard, in a good way. I loved growing up like that and I think there's an essence in Charlie that's the same. She's so bolshie and hates being told she's wrong. I think you're always attracted by characters that are the worst parts of you."
 
John le Carre's literary masterpiece, The Little Drummer Girl, is a riveting spy tale set in 1979 against the Palestinian-Israeli conflict.
Pugh worked closely with hair, make-up and costume to create a silhouette that captured the period and conveyed the duplicitous nature of Charlie's work. "We agreed I was going to have the 1979 bangs and short hair. We wanted it to be strawberry blonde and we wanted her to have body hair," she said. "Then the costume was like a whole other being because she is two, three different characters. She's Charlie, she's the girlfriend and then she's the spy. She's given these clothes and shoes to wear and maybe feels a little uncomfortable in them. We see her at the beginning in DMs, denim skirt and ripped tights and then she's a girlfriend wearing these long, silky slip dresses and all this make-up. That was really fun."
One of Pugh's favourite scenes to shoot was an interrogation with Shannon, who she calls an "amazing" man. "I don't think I could do it, but he loves staying in character," she said.  Another highlight was filming at the Acropolis in Athens with Skarsgard: "We filmed at night-time when no one else was there, which hasn't been done before. The coolest thing was Park wanted to film our real reactions. He stood me at the front of the Acropolis before Alex and I saw all of it and the face on camera is the exact face I made, it was natural."
 
But Pugh revealed she was tentative about how the love story between Charlie and Becker might be portrayed: "I found my old notebook the other day and I'd written down, 'I really don't want her to do this just because she's falling for him'. I didn't want her to go through this whole escapade just because she fancied the guy. That's not the story I wanted to tell, and Alex felt that too."
 
Skarsgard – who first rose to fame as the vampire Eric in True Blood – also spoke of the "genuine human connection" between their two characters. "He's quite mesmerised by her and I think that's Becker's internal struggle. He's trying to fight that because he's a soldier, a professional and he knows if you open up you're vulnerable and that's the last thing he wants to be," he said.
 
A sex scene between Tom Hiddleston and Elizabeth Debicki in The Night Manager got everyone talking, not least for Hiddleston's derriere making a prominent appearance, but while there's plenty of passion in The Little Drummer Girl, there was a strict nudity ban this time round. "America is quite scared of bums and nipples," Pugh recently told Radio Times.
 
There might not be breasts and backsides but there's plenty of 70s cool. "When we stepped onto every single set, it was like nothing I'd ever seen. The colours were incredible, all burnt oranges, blues or lime greens. There's nothing typical about it," Pugh said, crediting Chan-wook for his vision.
 
"Park's a very peaceful emperor," she said. "Like in his past life he did something really magical but doesn't like boasting about it. It was amazing to work with him because he considered every single beat in the series and there is a reason for everything."
 
The Little Drummer Girl begins on BBC One on Sunday 28th October, with new episodes airing at the same time weekly
DISCLAIMER: We endeavour to always credit the correct original source of every image we use. If you think a credit may be incorrect, please contact us at info@sheerluxe.com.