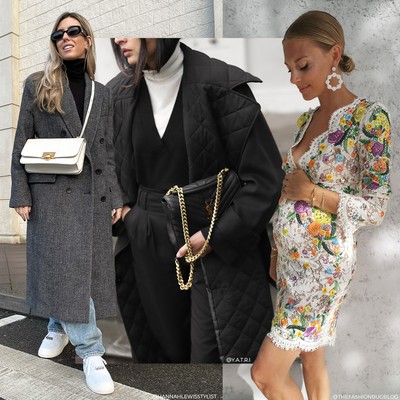 8 Stylish Women On Their Favourite Fashion Purchase

Whether it's a classic bag or a killer blazer, we all have that one thing in our wardrobe we'd save in an emergency. We asked eight stylish women for theirs – from impulse buys to sentimental pieces, here's the story behind their most treasured purchases…

A favourite piece in my wardrobe has to be a 2015 Pucci piece I wore as my second wedding dress in 2016 – I fell in love with it the moment I saw pictures of it on the runway. Every few weeks from then on, I would call the Pucci store in London – as well as every retailer I thought might stock it – to try and track it down. I eventually managed to get my hands on one, which was lucky as there were only a limited number made. I had it altered it to fit me perfectly and I changed into it after our first dance at our wedding. But I've also worn it on several holidays since, and it even fit over my 12-week baby bump when my husband and I renewed our vows in Ibiza last summer. It just holds the happiest memories for me and is something I will keep forever.
Follow @TheFashionBugBlog
My favourite purchase is Bottega Veneta's Classic Leather Shoulder Bag. I thought very long and hard about it (for around three months in fact), – I was really torn between this one, Bottega's Casette and Jodie bags and a Chanel classic flap bag. After weighing up all the pros and cons, however, I finally took the plunge in November. I adore its timeless, classic and minimalist structure, plus it's the perfect size for everyday use. It also goes with almost everything in my wardrobe – I use it cross-body for the daytime, as it sits well over big coats, or as a shoulder bag in the evening. Right now, I'm only using it to run to Sainsbury's and back but I love the way it instantly elevates any outfit – even if it's just my sweats and trainers.
Follow @HannahLewisStylist
My favourite purchase happens to be one of my most recent ones – a Balenciaga Hourglass blazer. Of course, a blazer is a wardrobe staple, but I love the way this one nips in at the waist, which makes it feel more feminine. I dreamed of buying this piece for such a long time, but it's pretty expensive, so I was really pleased to find one second hand on Vinted for three times less than full price. Plus – buying second hand is better for the environment, so it was a win-win. This piece really deserves to be worn for a special occasion, but as there are no events right now, I wear it whenever I want. For now, it's great just with jeans, but I'm looking forward to wearing it with a black dress and heels in the future.
Follow @LinaOse
My favourite purchase has to be a SEA NY coat from last season. I'd seen it pop up on my Instagram feed a few times and immediately loved it, but it was sold out everywhere and as we all know, nothing makes you want something more than seeing it's sold out! I had resigned myself to never having it, until I was browsing MATCHESFASHION and to my surprise, they had one in stock. I quickly bought it and panicked about whether I needed it, would wear it or could afford it, but I just love the fun colours and print – plus, the shape and fabric makes it really unique. I usually style it with simple pieces like jeans and a t-shirt, because it's such a statement piece. While it's not something I wear all the time, I know it was worth it. 
Follow @EmmaRoseStyle
Robyn Kotze - @Robyn_Kotze
I can't resist a striped shirt, so this one by Shushu Tong is one of my favourite pieces in my wardrobe. It's an interesting take on a classic – to me, it's Wall Street tailoring with a twist, plus, it's just as easily styled for the day as it is for night. I usually pair it with jeans by Acne or Totême and then come the evening, I'll just slip into a pair of silk trousers by Joseph or La Perla. Simple, versatile and effortlessly chic. 
Follow @Robyn_Kotze
This was a difficult decision, but I think my favourite piece has to be my Saint Laurent College bag, which I only purchased a couple of weeks ago. I'm very particular when it comes to bags, as I like them to be functional, as well as timeless. In my opinion, the College bag encompasses both these aspects. I thought about it for a good couple of years before buying it, and despite looking at others, no other bag quite had what I wanted – this one has all the features of a practical, everyday bag and its shape is one I know I'll wear season after season. Versatility is really important to me, and the College looks good with anything in my wardrobe. I've really been enjoying it with my big winter coats and chunky boots, and I can't wait to style it with pretty dresses come spring and summer.
Follow @Y.A.T.R.I
For my mum's 70th birthday, I threw her a party at my house with all her family and friends, so as the host, I felt pressure to wear something fabulous but that didn't detract from my mum's special night. I'd been eyeing up this Victoria Beckham dress for months but didn't think I had an occasion to wear it. Then, from the moment I saw actor Jenna Coleman in the pale lemon version, I was on a mission. I mentioned it to a friend in passing and a few days later she sent me a link to the same dress in navy on a fashion resale site – heavily discounted, never worn and in my size... it was meant to be. I've only worn it twice, but both times I felt a million dollars; it's so chic and sophisticated. While it's quite different to my usual style, all I need to add is my navy satin Louboutins and a pair of simple earrings to feel amazing.
Follow @GayleRinkoff
Sometimes, the best purchases are the ones you stumble across, and this green and red checked jacket is one of those for me. I bought it last year in a small vintage store in Paris for €20, but it feels far more expensive – it was one of the best bargains I've ever found and I snapped it up immediately. Every time I wear it, I get countless questions about where it's from, which makes it feels all the more special. From the dynamic combination of red and green to the golden buttons, it's just the perfect piece for all occasions, whether at the office or having a cocktail after work. I love wearing it with blue jeans and a colourful blouse underneath.
Follow @TessHell