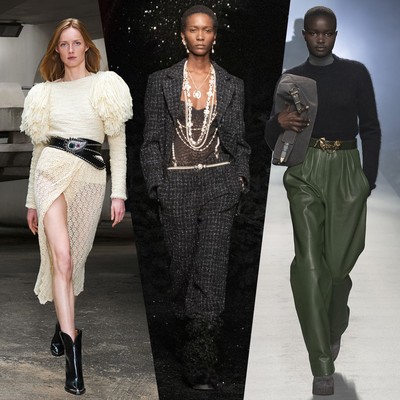 Anna Bromilow Shares Her Fashion Month Highlights

Former Tatler fashion director and revered stylist Anna Bromilow has been to plenty of Fashion Weeks and seen multiple runway shows – and yet, the AW21 previews aren't likely to be something she'll forget in a hurry. With designers and fashion houses forced to debut new collections in innovative – and mostly virtual – ways, that doesn't mean next season's pieces are any less desirable. Here, in the latest instalment of her SL column, she reveals what stood out the most to her…

Another Fashion Month is over. Paris has just drawn to a close, leaving the best until last – as usual. Even so, it's difficult to get used to this virtual unveiling – I hope some kind of normality resumes by September. Without its glamorous stage, exclusive guest list and all-round excitement, it's pretty impossible to generate the same buzz. Like the art world, fashion is suffering in the virtual age – a 3D spectacle is reduced to a 2D screen, and as a stylist or buyer, it's difficult to get a feel for the collection when you can't, actually, feel it. 
It explains why this latest Fashion Week hasn't been the easiest for designers to navigate. Many opted to play it safe and appeal to a less trend-led, more lifestyle-oriented crowd – after all, who wants to invest in clothes that aren't relevant behind closed doors right now? For others, waiting to press life's play button has prompted a burst of creativity – believe me, when real life resumes, it'll be time to let rip with volume, colour and texture. For example, Erdem still produced his majestic, printed dresses and Roksanda delivered her usual interpretation of colour and volume. If you ask me, there was still much to covet and plenty to feel inspired by.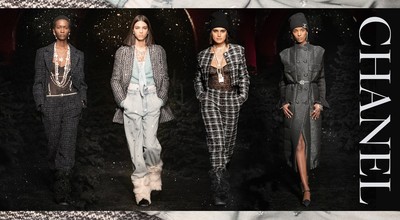 THE BRAND: Chanel
This season, the luxury brand was forced to relocate in light of ongoing renovations at the Grand Palais. Artistic director Virginie Viard chose a left bank nightclub to show her AW21 collection, taking the opportunity to revel in a more intimate venue. "Karl was always telling me about the shows he staged in the 70s, with the girls getting dressed on their own in a restaurant in Paris," she said. To see Chanel's dark and simple stage was a moment in itself. Yes, the usual magnificence and spectacle was missing, but this intimacy made the models and the clothes feel more accessible, and everything more visible. Plus, the line-up of pieces felt like things you could immediately incorporate into your own wardrobe.
Many designers have included denim in their latest collections (Louis Vuitton, Victoria Beckham, Dior) – even if it's just a single pair of jeans – and Chanel was no exception. Of course, theirs had double Cs emblazoned all over – pale in wash, slouchy in style, and worn on the runway with a relaxed tweed blazer, it was the dream look. Also, prepare yourselves for a long and lean approach to outerwear next season. Tweed coats, khaki army jackets, and puffas are all heading south, below the knee, while a textured charcoal long gilet – which was belted, layered with a jacket and accessorised with a monogramed beanie – is what I'd like to don right now if I could. Like many other collections, there was also a mix of life-affirming bright colours, in this case cherry and fuchsia. But for me, Chanel will always be about that signature monochrome style, and a pearl fringed jacket cardigan jacket is destined to be one of Viard's most covetable items come the autumn.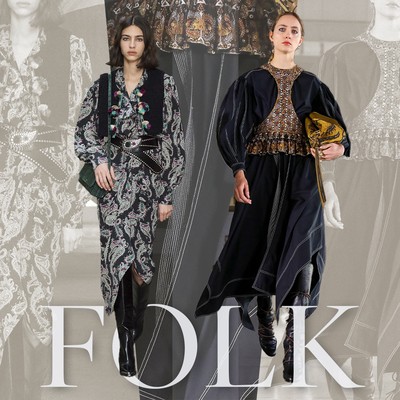 ISABEL MARANT/SIPA/SHUTTERSTOCK; COURTESY/SIPA/SHUTTERSTOCK
THE TREND: Folk
A trend which always seems to be around in some way or another, the boho look is usually based on hippy detailing, easy silhouettes, rich colour and texture – not only is it flattering and wearable for most women, it's also pretty relevant amid the current circumstances. It might not have been Isabel Marant's strongest collection, but she pulled out an array of the usual polished separates. One stand-out look was a dark paisley print dress styled with a pompom embellished cropped gilet. Decorative sleeveless jackets which work well for layering are often hard to come by, but Marant had a variety – from shearling styles to sequin embroidered velvet.
Ulla Johnson produced her usual magic, too, this time in the form of a rich and voluminous collection full of autumnal hues – think mustard and burnt orange. It's always hard to pick a favourite, as her collections work so beautifully together, but a black dress with an inverted embellished bodice encompassed a more modern attitude. Gabriella Hearst was a surprise hit, too. For a brand synonymous with clean, minimalist lines, her colourful ruanas (ponchos and capes are a major tend for next autumn/winter) are made by the Manos de Uraguay in her native country. It illustrated just how apt artisan-inspired clothing feels right now.
Altuzurra also diverted from his usual ladylike approach and veered into folk territory, reviving popular decades-old tie-dye frocks and turning them into more wearable versions in deeply rich tones. From a sustainability point of view, boho pieces often feel like a wise investment – they don't date, and they're also the ideal pieces to dress up and down.
THE PIECE: Knitted Dresses
Hopefully, once memories of the pandemic's trademark matching sweats are resigned to the history books, the knitted dress will emerge to reign supreme. Nanushka had its own moment in 2020, and a flurry of designers have since followed suit. Only this autumn/winter, it's had an update – think lean silhouettes, a (mainly) cream colour palette, and experimental proportions in the shape of belts (an easy styling trick to add new dimensions to a dress) and puff sleeves. 
Ulla Johnson's cable knit style was a stand-out. With a side slit and a tonally matching skirt layered underneath, it was structured, but cosy, knitwear at its best. Meanwhile, Chloe's simpler version – which used its excessive length as its main feature – encapsulated all things cosy. Gabriella Hearst also used cable knit, among other textures, but she also added a waist accentuating belt to add a point of interest to her knitted look. For all those minimalists out there, The Row offered an effortlessly modern black version, synonymous with the brand's elegant and streamlined silhouettes.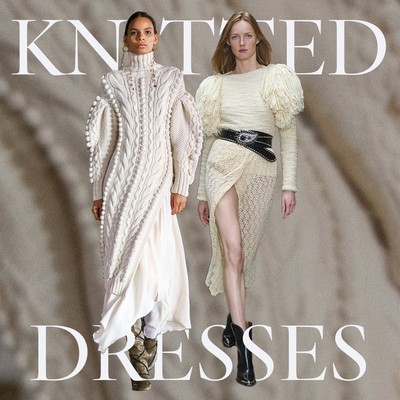 ISABEL MARANT/SIPA/SHUTTERSTOCK AND SIPA/SHUTTERSTOCK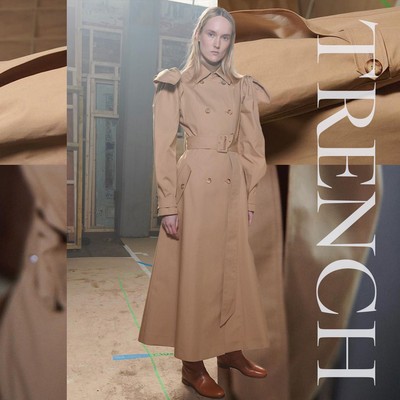 INSTAGRAM.COM/GABRIELAHEARST
THE STAPLE: Trenches
A trench coat is without doubt one of the hardest working pieces in any woman's wardrobe. Trans-seasonal, versatile, and usually washable, it's a universal symbol of chic – you just can't go wrong. 
It's no wonder, then, that designers have tended to rely on this iconic item during unpredictable times. Everyone from Adam Lippes to Alaïa spent time this season perfecting their proportions and finding new ways to style this classic piece. But the absolute stand out was Gabriela Hearst – again. Her bow sleeves added a feminine twist on the usual silhouette, while the painstakingly accurate proportions made it even more desirable. Tonal, simple styling ensured the look felt contemporary and unfussy, too.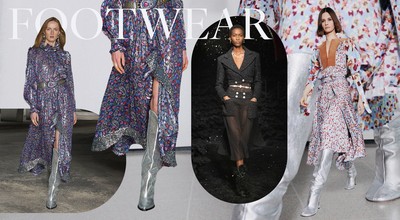 ISABEL MARANT; CHANEL & COURTESY /SIPA/SHUTTERSTOCK
THE SHOE: Furry Footwear
Slippers and sliders are still big trends, but if you do want a new pair of boots next season, both Chanel and Miu Miu chose to take a big, fashionable leap: put simply, the furrier, the better. Think après ski, Yeti-style; it's definitely a case of go big or go home.
At Chanel, shearling boots were styled with everything from pencil skirts to tweed suits, while Miu Miu went down as one of the stand-out shows of the season by cleverly photographing its latest collection against a snowy mountain-scape, complete with blue skies and panoramic views. It was a fun example of Muccia's one-step-ahead-of-the-crowd aesthetic, and a masterclass in modern layering (everything was heavy on padded quilting). Her knitted accessories and extreme footwear made me want to escape to the Alps, permanently.
If you're after something more glamorous, however, then it's good to hear the silver knee-length boot is back. Victoria Beckham, Jil Sander and Isabel Marant all went disco to make metallic footwear their shoe of the season.
THE TWIST: Feminine Leather
Building on its strong presence last autumn/winter, designers are still finding ways to embrace and reinterpret leather, both real and faux. For the season shead, that translated into more ladylike details and plenty of colour. Take Simone Rocha, who added volume and ruffles to a classic biker jacket and accentuated the waist to give it a more feminine shape. The result was a winning combination of hard and soft, pretty and tough.
At Altuzzura, a 50s flared coat and draped dress were the main highlights – think of them as clothes for the modern-day Hepburn that will stand the test of time. Ulla Johnson's green, wide-shouldered coat might not be the most practical piece, but it's the kind of 80s showstopper I'll not forget in a hurry. Finally, Isabel Marant and Alberta Ferretti both produced fluid leather trousers in beautifully rich shades, while Hermès added fringing to a covetable dropped shoulder gilet and dress.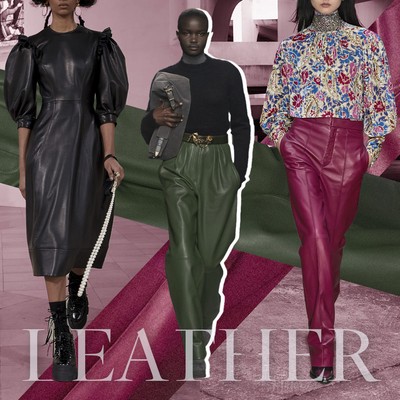 ISABEL MARANT/SIPA/SHUTTERSTOCK AND SIPA/SHUTTERSTOCK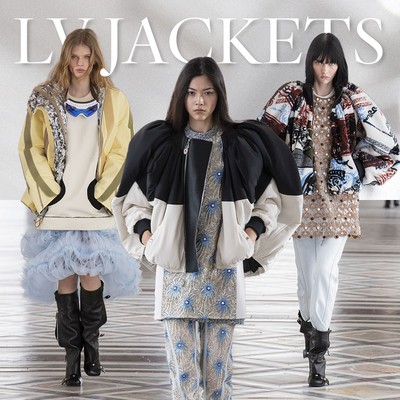 LOUIS VUITTON VI/SIPA/SHUTTERSTOCK
THE HIGHLIGHT: Louis Vuitton Jackets
I loved this collection by Nicolas Ghesquière – it was a real highlight. Optimistic, textural, and the perfect balance between high and low, the enigmatic designer provided plenty of moments for us to dream about more glamorous times ahead. It had drama and wearability, reality and fantasy… fashion for now and fashion for later. 
But what really resonated for me – and not just because I love coats, was the staggering array of jackets in this collection: a two-tone cocoon puffa; a pale-yellow parka with a silver foil lining; a double-breasted military jacket; tweed and camel oversized blazers… after months of only being able to socialise outdoors, it seems completely right to give over so much time to outerwear. Practical, but still with plenty of fashion appeal, for me it ticked all the major boxes.
Read More From Anna Bromilow
INSPIRATION CREDITS: CHANEL/SHUTTERSTOCK; ISABEL MARANT/SIPA/SHUTTERSTOCK; COURTESY/SIPA/SHUTTERSTOCK; SIPA/SHUTTERSTOCK; INSTAGRAM.COM/GABRIELAHEARST; LOUIS VUITTON VI/SIPA/SHUTTERSTOCK
DISCLAIMER: We endeavour to always credit the correct original source of every image we use. If you think a credit may be incorrect, please contact us at info@sheerluxe.com.