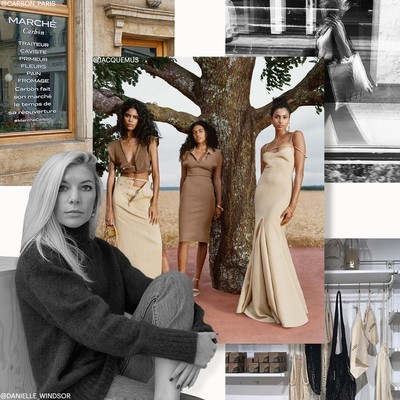 Danielle Windsor Shares Her Little Black Book

After studying in Milan and working for Viktor & Rolf, Matthew Williamson and Zara, Danielle Windsor launched her own luxury fashion brand, Yaitte, in 2017. It stands to reason, then, that she knows a thing or two about good shopping. Here, she shares some of her favourite retail destinations…

If I could only shop on one street, it would be Chiltern Street in Marylebone, for its independent, niche shops that combine fashion, art and lifestyle products. My favourites are Airmail News, Trunk Clothiers and Hamilton & Hare. The Deli also does great coffee and pastries.
The most unusual shop in the world is the Viktor Wynd Museum of Curiosities – The Last Tuesday Society. I live within walking distance of it. The pieces on display are obscure, but they show the wonders and horror of nature through illustrations and preserved jars, which really make you think.
The coolest piece I've found on my travels is a set of amber glass medicine bottles from Esceri flea market in Budapest. The seller was extremely passionate about this particular set because of their unique shape, which he said is very hard to achieve in blown glass. They take pride of place on an iroko shelf in my home installed by Retrovius.
The best boutique in the world was The Apartment by The Line in New York, which has now sadly closed. Tucked away in Soho, the space offered a beautiful mix of interior design, and some amazing brands like Khaite, Loewe and Proenza Schouler.
I really miss Colette in Paris, too. It was a beautiful boutique on Rue Saint-Honoré which sadly closed its doors in 2017. I especially miss it around this time of year, as we should be preparing for Premiere Vision, a twice yearly gathering of the six major industries which supply materials and services to the fashion industry. I also enjoyed visiting 10 Corso Como when I studied in Milan. 
The places to discover independent stores are Paris, Antwerp and Budapest. You can really get lost wandering the streets, stumbling upon countless beautiful stores along the way.
The best department store in the world is Lane Crawford, which has stores in China and Hong Kong. I love it because the choice isn't overwhelming – they just have a great edit of some key brands and concepts, which is much more appealing than hundreds of options.
The most unexpected destination for great fashion is Budapest. It really surprised me and I can't wait to go back. When I was there last, we stayed at Brody House hotel which is a feast for the senses, and the Nanushka store didn't disappoint either, despite the hype surrounding it. I'd recommend visiting vintage store Retrock too, as it had lots of reasonably priced goodies.
The under the radar label I love is Yaitte, of course. The brand is rooted in the idea of travel and exploration, with pieces that transcend seasons – I have big ambitions and intend to make it a full lifestyle brand one day. 
My perfect shopping day would involve waking up at Hotel Crayon in Paris and heading out early to the Vanves Flea Market. Then afterwards, heading across to the Marais to visit some of my favourite concept stores such as Merci and Tom Greyhound, before having lunch at Carbon. Then, during the late afternoon, wondering along the Champs Élysées. Finally, I'd enjoy a night cap at Le Meurice. 
The best spot for people watching is along the Naviglio Grande in Milan. I could easily spend hours sipping coffee or a large glass of wine there. 
The best resortwear brand is Jacquemus, it just feels so current. Simon Porte has such an innovative approach to classic silhouettes – his choice of colour palettes, print and fabric are very contemporary.
My favourite swimwear brand is Matteau – I love the cut and quality of the fabric and being fair skinned, I find their tones to be very flattering.
I can't pick one favourite vintage store, but you can usually find me in flea markets in and around Paris. I'm an avid collector of vintage shirts, all of which heavily influence my own designs. 
My favourite vintage purchase is a white Dior suit from the 80s. The blazer is double breasted with a satin lapel and covered buttons – I am always debating whether to bring the shoulders in or leave them where they are for a more statement look.
For handbag and shoe repairs, I go to a family run business in Newington Green called High Class Shoes. I'm also fortunate enough to work with some great seamstresses in London who tailor my clothes for me – I love wearing tailored trousers but at 5ft 4in tall, I always need the length taking up. 
If I could only wear one brand again it would be old Celine. I'm constantly refreshing Vestiaire Collective and trying to buy Phoebe Philo era pieces. 
The best fashion gift I've ever given to someone else was a pair of boots by Fairfax and Favour. I worked with a photographer who introduced me to the brand, and I bought their Trafalgar boots for my husband, which went down really well.
The best fashion gift I've ever received is a beautiful vintage houndstooth Aquascutum suit, given to me by my husband. I love wearing it as a two piece, but also separately.
 
Visit Yaitte.com and follow the Danielle on Instagram @Danielle_Windsor