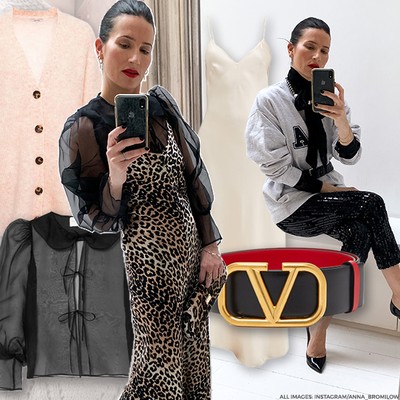 How To Do Layered Evening Wear According To A Fashion Editor

Former fashion director at Tatler and revered stylist Anna Bromilow knows how to make the most of her wardrobe. In the latest instalment of her fortnightly SL column, she reveals exactly how to maximise existing pieces for a night out…

With the idea of sustainability weighing heavily on my mind, I'm relying on my styling background to make the most of what I already own. Don't get me wrong - I'm not putting a halt to all purchases, but I'm certainly making considered choices, finding problem-solving items that will extend the use of my entire closet. It's easy to get bored looking at the same old items, so it's best to use clever combinations and styling tricks to open up a world of possibilities.
This is particularly true for evening wear, which is generally the most expensive aspect of anyone's wardrobe but often the least worn. Instead of feeling limited by the same set of dresses, layering can add extra dimension. Put aside a couple of hours at the weekend, and look at your wardrobe with a fresh set of eyes, converting what would have been shopping time into styling time. Once you've found formulas that work, you can revisit them instinctively.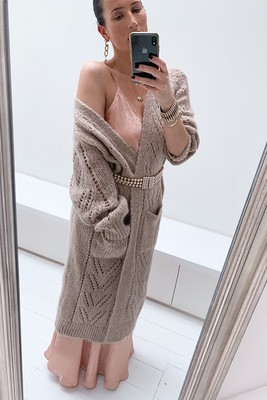 Night-time Knits
It's an old styling trick and reminds me heavily of Ralph Lauren, but a chunky cardigan is perfectly evening appropriate when belted over a slip dress and accessorized with the right jewellery. I adore the nonchalant, decadent feel of this look. Just try and keep a bit of flesh on show – delicate, lower necklines are preferable and ensure the knit is oversized and not worn buttoned up. Concentrate on contrasting fabrics - a silk dress is the best match - and opt for a neutral palette or matching tones. I normally wear my hair up to elevate the look one step further. Mules are also the ideal footwear – a naked heel just makes sense.
An Organza Blouse  
A great investment piece to give added dimension, look for an organza blouse with some kind of collar detailing - preferably high or peter pan. You can add this under dresses - even slip dresses - in a modern, just-walked-off-the-catwalk-way. It's also great if you want to cover up the tops of the arms and add a bit of detailing to the plainest of looks. Put under a fitted knit or a tweed jacket for Chanel-like precision. Go for a classic, versatile colour and play with necklaces to create an even more decadent look. If this feels too ladylike, opt for a simple striped shirt instead - it creates a nice masculine/feminine twist which feels more contemporary.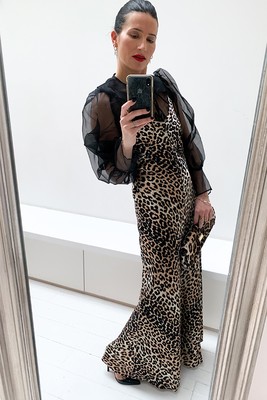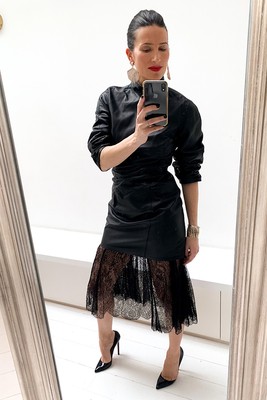 A Sheer Midi Under Skirt
The resurgence of the power mini was key to last year's eveningwear trends. The way to get more wear out of these shorter styles is to layer up with a lace or delicate midi skirt. I was reminded of a clever styling trick when looking at Anna Mason's new SS20 collection; she styled a lace body-forming mini with a chiffon pleated skirt to great effect. Make sure your dress has a tight, strong silhouette that sits snuggly over your additional layer, otherwise it's all too diaphanous and won't look purposeful. Finally, add a jewelled belt to define the waist.
Belted Sweatshirts
I can't stress enough how useful belts are when it comes to styling. I mainly use them to add a defined waist to knitwear or outerwear, creating a focal point to more voluminous creations. But a recent trick that feels right up to date is to belt sweatshirts, cinching them in at the waist to elevate them to evening. I adore jersey - particularly grey marl - and always feel effortless when wearing them. Just make sure your sweatshirt is long enough to belt it effectively. Paired with a high glamour piece, like a pencil skirt or sequins, feels runway-ready and the right mix of high/low.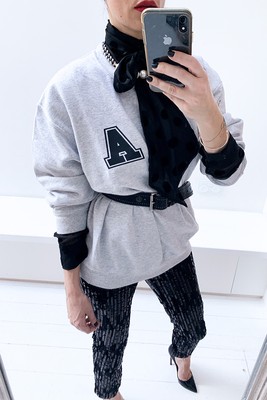 So, instead of just wearing a dress, or reaching for the same old suit, give your look a bit of direction and a chic twist with these sophisticated combinations. Remember, experimentation is everything – so really dive into your wardrobe and layer away.
Follow Anna @anna_bromilow
Read More From Anna Bromilow