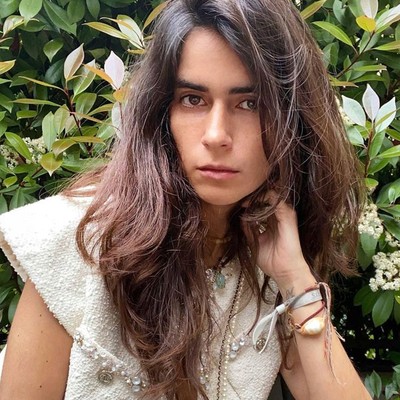 How I Got Here: Chiara Totire

Stylist and protégé of fashion icon Anna Dello Russo, Chiara Totire's career in fashion started after a brief stint in pharmacy. She went onto work for Vogue Japan for ten years, establishing herself as one of the most revered stylists in the industry. From iconic Chanel shows to the one jacket that changed her life, here she tells us how she made it.

I'd wanted to work in fashion since the age of 13. Before that I was a bit of a tomboy, but I started to become interested in my personal style in my teens. I grew up in Bari, in southern Italy, and the expectation was that I would work in a pharmacy (our family business), and my little brother would eventually take over as the owner. I stuck it out for a year but it was clear something more creative would make me happier. When I was 26, I moved to Milan, where I began working as an assistant for an Italian fashion magazine. 
After a couple of years, Anna Dello Russo asked me to join her team. We both come from the same town in Italy, so she was a role model long before we started working together. I remember my first shoot with her very well – at the time, I was an intern, so I knew I had to prove myself. It was awe-inspiring watching how Anna worked on set. Her presence is not something you can fully appreciate until you've been in the room with her – she's a force to be reckoned with. 
Anna taught me everything I know. I owe so much to her – I used to be quite unorganised but the way she commands a set has hugely influenced the way I work. I'm able to deal with setbacks far better, and everything is much more efficient. One of my proudest career moments came fairly early on, when Anna congratulated me on some styling work I'd done for Vogue Japan. She's not one to dish out praise but on this occasion, hearing the words "This looks amazing. Bravo." meant the world to me. We continue to work on projects together to this day. 
Being a stylist means I get to go to a lot of fashion shows. Paris is probably my favourite city to visit during fashion month and Chanel's shows are always a highlight. I'm sad to have missed the 90s Lagerfeld era, but I have been fortunate to attend a lot of Chanel shows over the years. Even today, they're such a spectacle – everything about them, from the music to the locations, is like being on a movie set. I also have a soft spot for Prada, especially the last few shows when Raf Simons has been creative director. The designs are so innovative. 
My personal style is best described as androgynous and effortless. I never try too hard and prefer to wear pieces that are oversized and relaxed. It depends on the season – during the summer I'll show a little more skin, but during autumn/winter I live in menswear blazers and straight leg jeans. I buy most of my jeans from Re/Done as they fit my body so well. One of my favourite pairs came from their collaboration with Cindy Crawford; they're the perfect wash and straight fit. I have so many favourite brands, but many of my top choices tend to be the contemporary names – right now I love Jacquemus and Australian designer Christopher Esber. His pieces are the perfect balance between masculine and feminine, and really reflect my own style. In terms of the big houses, Saint Laurent and Bottega Veneta are my go-tos. 
My style icons are Caroline De Maigret and Jane Birkin. Perhaps a little cliché, but the way they dress is so effortlessly cool. Even so, I wouldn't swap wardrobes with anyone – there are pieces in Anna's wardrobe I would love to steal, particularly her dresses, but the way I dress is very true to my own style. I always live by the phrase "less is more" – I can't remember who told me that, but it's great advice.
The top piece in my wardrobe is a Chloé dress from the 2014 show. It's hand painted with layers of fabric that make it look like a cloud – when I saw it come down the runway I instantly thought "I have to have that." It was prohibitively expensive, so I had to wait until it went into a Black Friday sale, where I eventually snapped it up. It's so delicate and I only wear it on very special occasions, but I will never part with it. 
A Miu Miu jacket changed my life. I'm serious – I picked up this biker jacket in an outlet while I was an intern, and there was something about it that street style photographers and people in the industry seemed to love. The photographs gave me a platform, which led to different doors opening that perhaps wouldn't have otherwise. Anna said she wanted me to work for her because she saw my photo in the paper. It taught me that making a statement when you're starting out is worth it – it's what will get you noticed. 
The best part of my job is being on set. For that day, you and the team become a family and create something together. The worst part is all the sample returns! We have four assistants to help but it's still not enough – it's a pain, and something always goes wrong. But it's part of the job and you can't have the good without the bad. 
If I could give my younger self any advice for starting out in the industry, I would let her know that it's not all glamour. A lot of hard work goes into everything behind the scenes, and you have to work incredibly hard to get to where you want to be. I would also tell her to push through the first few months when you're finding your feet – by proving yourself to your peers and senior managers, you'll achieve things you never thought you could.
 
Follow @ChiaraTotire on Instagram
DISCLAIMER: We endeavour to always credit the correct original source of every image we use. If you think a credit may be incorrect, please contact us at info@sheerluxe.com.