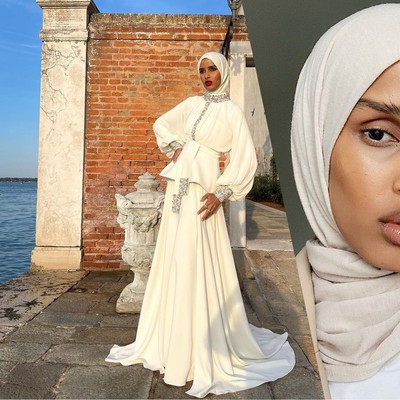 How I Got Here: Rawdah Mohamed

Model, influencer and now fashion editor of Vogue Scandinavia, Rawdah Mohamed's career path has taken some unexpected twists and turns, proving there's no 'one way' to make it in the business. From growing up in a refugee camp to campaigning for more diversity in the industry, this how she made it…

My love of fashion started as a child. I was born in Somalia and lived there until the age of eight, before my family and I moved to Norway as refugees. I was so in awe of how the women in my culture dressed – they wore such beautiful, vibrant clothing, both for special events and every day. I really remember being drawn to the different colour combinations.
I never ever saw myself working in fashion – mainly because of the lack of representation. Historically, hijabi women haven't had a place in the luxury part of the industry but my love of clothes was never defined by the acceptance of others – it's always been a form of escapism and devoid of judgement. It's also given me the space to explore my own style, free from the limits set by trends which are dictated by brands. Thankfully, a lot has changed with regards to inclusivity and there are more diverse stories being told today. 
My street style is what helped me get noticed. In 2018, I sent out emails to various brands who were showing during fashion week in Oslo, and asked them if I could attend their shows. I dressed up, got snapped by street style photographers and networked with people during the week. This led to some freelance work, styling and modelling for various brands. I didn´t set out to be 'different' per se – I just wore things I found interesting. What I did do is put myself out there. In the end, my eventual move from healthcare into fashion was organic – due to Covid restrictions, I wasn't permitted to have more than one workplace. I still volunteer for the Red Cross to keep that side of my life alive. 
Social media has given me such a platform. Initially, I used it to post my outfits (including my hijab) and my followers have since grown to more than 150k. Social media has had real influence on my life and career – I now have the power to express myself without the limitations of different media companies or fashion houses. As someone from a minority background, it's a freedom which hasn't always been available – to be able to speak directly to my audience is a huge privilege. Additionally, I've been able to find likeminded people who also want to instigate positive change.
I recently became fashion editor at Vogue Scandinavia. All the work I've done until now has led me here. This role is a way of expressing my fashion sense and what's important to me, as well as communicating to our audience exactly what Scandinavian style is all about, and what the fashion landscape here looks like. I hope to bring interesting stories from a variety of backgrounds to the fore, and to elevate and amplify the voices behind them. 
My advice for people wanting to work in fashion is: don't let preconceptions put you off. Like any industry, there are many different personalities involved, and while I've come across plenty of ignorant people who are determined to keep things 'old school', there are also a lot of kind, down-to-earth people. It's all about carving out your own path and surrounding yourself with likeminded individuals. 
If I could tell my younger self anything, it would be to know your boundaries, and don't lose sight of what's important to you. You will grow and learn a lot along the way, and you might find your purpose in life is completely different to how you imagined it. Also, your perspective, style and tastes are just as valid as anyone else's, so don't feel like you can't be a part of the conversation. If you know your worth, you'll command respect from your peers. 
I don't believe in labelling things as a 'failure'. In my opinion, everything happens for a reason, and whatever happens, good or bad, it is what it is. I strive to live in the present, and whatever may have happened to me in the past has been dealt with – I don't dwell on it. It's also important to remember your career doesn't define your life – I made the conscious decision long ago not to base my happiness on it. I might lose everything tomorrow, but I'd still be happy because I've found the kind of contentment that's free from the approval of others.
Follow @RawdahMohamed on Instagram.  
DISCLAIMER: We endeavour to always credit the correct original source of every image we use. If you think a credit may be incorrect, please contact us at info@sheerluxe.com.