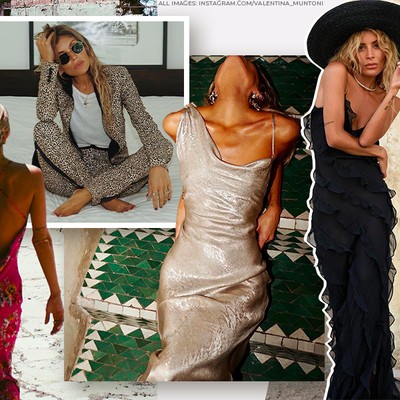 The Fashion Interview: Rat & Boa

Even if you don't know the name Rat & Boa, chances are you'd recognise their pieces. A fashion girl favourite for slinky slip dresses and summery dresses, the brand's founders Valentina Muntoni and Stephanie Cara also have some of the coolest wardrobes we've seen. Here, we sat down with them to chat style, shopping and success…

First, tell us how Rat & Boa came about?
S: Since the first day we met, it feels as though we've been a constant inspiration to each other. But it was when we were travelling together that we came up with the idea of forming a proper partnership. The evolution into a business has been very natural – we simply set out to make the pieces we didn't have or that felt out of reach. We decided to start Rat & Boa five years ago, when the social media boom was at its peak. It's that online presence which has allowed us to communicate with women all over the world, and grow the brand so quickly.
Who is the Rat & Boa girl? 
S: She's a bold, spirited and confident woman. She's also strong, independent and empowered. The women who wear Rat & Boa really own the pieces and make them work for them. 
What's your favourite piece from the current collection?
V: I really love the Zephyr and Aphrodite blouses. They're designed to be worn multiple ways – dressed up, dressed down, on the beach. They're playful and daring – pieces I'll Iive in all summer. 
S: For me, it's the Allegra Dress: sexy, bold and easy to wear.
And what's been your favourite Rat & Boa piece ever?
S: It has to be the Sienna dress, which is part of our recently launched Libertine Collection. It's the perfect combination of feminine and sexy, with an unusual print.
V: The leopard Valentina dress; striking yet simple with a slinky 90s cut, it's easy to wear in multiple ways – in the city or on the beach, daytime into the evening – and it looks great layered, too. 
What's been your career highlight so far?
S: It's always a highlight when you see your hard work and dedication pay off. Our brand is self-funded and it's been a really small team from day one – so to be able to say we did it all ourselves is a huge achievement. Of course, seeing our dresses come to life and be worn by some really inspiring girls in the industry is incredible, too.
What's next for the brand?
S: We're so excited to introduce soft tailoring with our AW2020 collection and we'll be launching a range of swim and beachwear next year.
How would each of you describe your signature style?
S: A little bohemian, colourful with an edge of glamour.  
V: Mood-led and rule-less. It's minimal, bohemian with an androgynous, eclectic twist. I like to mix high end with vintage pieces and always have undone hair.
What are your wardrobe essentials?
V: A statement shoe and bag, an oversized blazer, white tee, or shirt, worn-in denim, a hat, my go-to jewellery, sunglasses. And a wild party dress.
S: A great pair of boots, a sexy high heel, vintage denim, fun handbags and a show-stopping party dress. I love something with fringing or sequins – but preferably vintage.
What's the most special piece in your wardrobe?
V: My jewellery is timeless. After that it would have to be my Phoebe Philo Céline red python Madame ankle boots which are now very rare.
S: My slinky navy kimono by The Row is my ultimate go-to piece. It's elegant and timeless, can be paired with flats or heels, and can be worn pretty much anytime, anywhere. It's the perfect layering piece.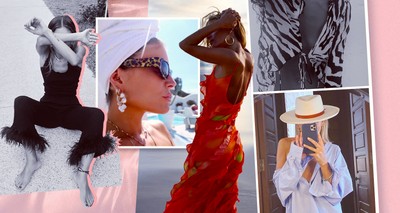 What's been your best vintage find?
S: I have a simple Chanel bag from the 90s which I adore, and I recently bought a 30s floor length beaded silk turquoise dress which is in amazing condition. I was supposed to wear it to a friend's wedding this year, but it was cancelled due to the current situation, so I haven't worn it yet. I'm looking forward to the day when I can – it's the ultimate show-stopper.
V: My 90s Chanel star sunglasses are a real statement piece and compliment even the simplest outfits. And my vintage Versace suit I found in Portobello market, Notting Hill – it's the perfect fit.
You both have amazing jewellery collections – what are your favourite pieces?
V: I believe more is more when it comes to jewellery – I have lots of piercings so I like to stack my earrings up, and layer rings and necklaces. My jewellery box is a treasure chest of memories. I have some special pieces family and friends bought me, which I wear like a second skin. Favourites include a gold bracelet from my mum, a Spinelli Kilcollin ring Steph got me for my 30th birthday and my chunky silver Tiffany necklace.
S: A FoundRae 'karma' blue pendant necklace and my Rolex watch. I also have a collection of vintage gold rings that I wear permanently.
Can you describe your ultimate summer outfit?
S: A white dress and sandals with a colourful beaded bag – not forgetting the perfect pair of sunglasses. I also like to fashion a skirt from fringed scarves, and pair it with a shirt and layers of jewellery. Beach hair adds a summer vibe to any outfit.
V: Laid-back yet subtly sexy. Usually, that means an oversized boyfriend shirt worn as a dress with heels, eclectic jewellery, a pop of colour and a slouchy bag. A deep tan always helps! 
What are your favourite swimwear brands?
V: I wear a lot of pieces from the Italian brand Oserèe, but my favourites have all been bought on the beaches in Rio – they're super colourful and skimpy.
S: Eres for the cut and simplicity (although I'm sure that will change when we launch our own next year…)
In your opinion, what's the best fashion destination in the world?
S: Paris or London – it's so hard to decide. I love the contrast between designer or department stores, independent boutiques and vintage or flea markets.
V: I'm slightly biased, but London... It has the perfect mix of high-end, vintage, boutiques and markets. As well as some of the best street style.
What's your favourite boutique?
V: PrettyBox is a vintage boutique in the Marais, in Paris. You have to book an appointment, but their selection of vintage pieces is amazing – you're guaranteed to find something special. 
S: A particular shop or boutique doesn't immediately spring to mind, but I love nothing more than spending a weekend trawling through a vintage/flea market looking for one-off treasures.
Whose style do you really admire and why?
V: Abbey Lee Kershaw's off-duty street style – she always nailed that effortlessly cool look.
S: I've always loved Stevie Nicks' style, and especially her stage outfits. It's her ethereal bohemian meets rock-and-roll-queen aesthetic I adore. She evokes a sense of magic, the glitz-and glam of the 70s/80s, all the fringing, beads and billowing sleeves. She proves maximalism can work.
What's your style philosophy?
V: Be yourself, own it and have fun.
S: Mix it up, experiment and don't take it too seriously. I agree, fashion is supposed to be fun.
The brand you wish you'd created if it hadn't been Rat & Boa…
V: Dior's John Galliano era – he really pushed the boundaries within fashion, put on the most incredible, theatrical shows and created some of my all-time favourite dresses.
 
Shop our Rat & Boa picks below...