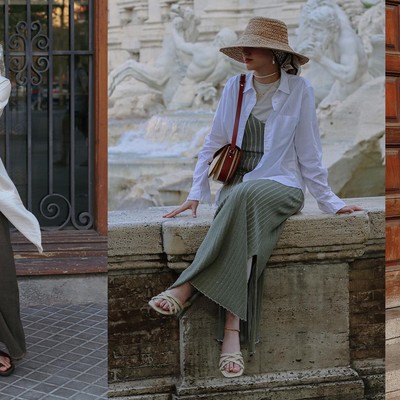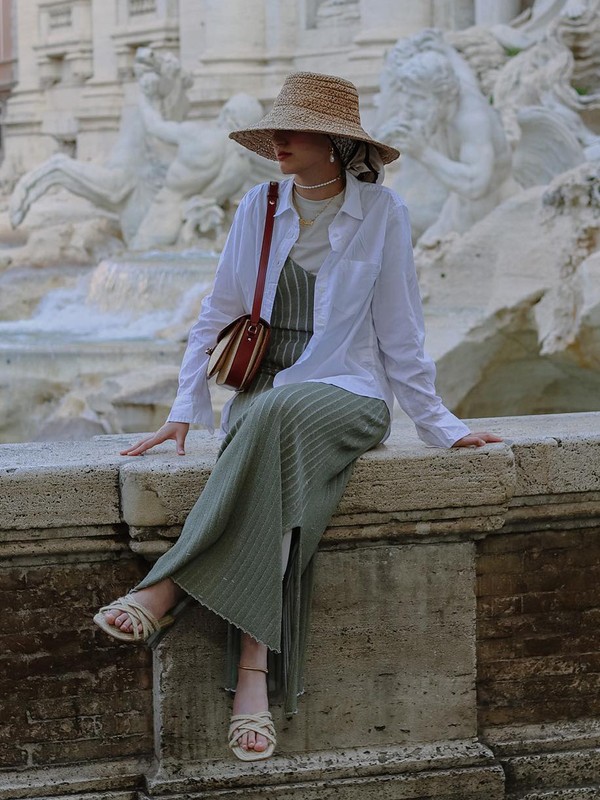 A Modest Influencer Shares Her Summer Style Rules

Amira Khan is a British-Pakistani content creator and the founder of ethical luxury silk scarf brand Sahar by ModestMira. Having named her as one to watch at the start of the year, we jumped at the chance to find out more about her cool yet modest approach to fashion. From the labels she loves to the staples she relies on, here are her summer style rules…

By Sapna Rao
All products on this page have been selected by our editorial team, however we may make commission on some products.
Let your style evolve. Mine is best described as casual, effortless and edgy – but that's something I've built over the past few years. Two years ago, I found myself in a style rut. I didn't feel confident wearing the clothes I already had, so I decided to strip things back and work on building a collection of staples that felt true to me. Slowly, I built the rest of my wardrobe around this ethos and sold the pieces I no longer loved. I bought things that offered longevity and that I could count on for at least the next 10 or 20 years. All in all, I feel far more confident in what I wear now. 
Don't equate dressing modestly with boring style. Experiment and find what makes you feel your best. The options are endless and there are plenty of ways to add some edge to modest looks. I've been dressing modestly and wearing a scarf since the age of 13 – so I don't know any other way to dress myself. It's just part of me. What has changed is my approach to styling, so now I find it much easier to scout out the pieces that fit my personal style and what I like – but that are also modest. My main piece of advice for making modesty a little more edgy is layering, as it always adds interest and depth to simple outfits. 
Find yourself a cool headscarf. Wearing a headscarf definitely influences my style – but it now comes naturally to me. I tend to stick to more neutral colours for my scarves if I'm styling a bolder colourful look. If my look is more neutral, however, I'll gravitate towards patterns and brighter colours. As well as my own brand, I love Le Scarf, ARKET and J&M Davidson for headscarves.
Focus on your summer staples. I find having basic pieces like long-sleeve tees in neutral colours, overshirts in a few colours, a mixture of tailored trousers, a classic pair of straight-leg jeans and racerback vests has really helped me choose what to wear more easily. In terms of brands, I'd recommend checking out DISSH for gorgeous linen pieces. Matteau is another great Australian label that has beautiful summer dresses and blouses. ARKET, Massimo Dutti and COS are my high-street go-tos. 
Don't equate dressing modestly with boring style. EXPERIMENT and find what makes you feel your best. THE OPTIONS ARE ENDLESS and there are plenty of ways to ADD SOME EDGE to modest looks.
Prioritise comfort. If you're not comfortable in what you're wearing, you won't feel like your best self. I rely on the brands I always feel good in. One I've been obsessing over is By Malene Birger – the perfect mix of femininity and sophistication. Aligne is a relatively small brand which always has incredible pieces that are both versatile and timeless. Raey is another favourite. It has a very relaxed aesthetic with lots of oversized and vintage-inspired denim.
You don't have to fall-back on outfit formulas. I dress quite intuitively and it really depends on my mood that day. I typically wake up wanting to wear a certain pair of sandals or trousers, so I'll build an outfit around that. It also depends on what I'm up to that day. If I'm going to London for an event or meetings, I tend to lean towards something more smart-casual. If it's a relaxed day out in the city, then it's all about comfort. 
Choose pieces that reflect your character and your energy. Don't choose things that are just about the moment. I used to be a big follower of trends but my mindset has changed and I'm much more restrained when it comes to new purchases generally. Right now, I have Aeyde and Vibi Venezia ballet flats on my radar – but because I can't see myself wearing either of them often, I've held back.
Give rental a go. If trends are something you want to try, this is a great way to do it. There are lots of rental platforms out there offering more trend-led pieces, so if you feel you can't resist or only want to wear a certain piece for a particular event, this would be the way to do it. CLOAN UK has a great edit.
FIND YOURSELF A COOL HEADSCARF. Wearing a headscarf definitely influences my style – but it now comes naturally to me. As well as my own brand, I love Le Scarf, ARKET and J&M Davidson.
Invest in pieces you can wear many ways. I have five core pieces in my wardrobe. One is an oversized poplin shirt . Next is a woven basket bag – a must for every woman's summer wardrobe – and a pair of sandals. I've been reaching for a pair of A Emery ones a lot this year. I also recommend having a good racerback vest and it's best to have a few of them in neutral tones if you can. Finally, linen trousers are something I didn't think I would lean on as much as I do – but I'm so glad I made the investment.
Find a reliable beach bag. Mine is from Dragon Diffusion and it goes everywhere with me. It goes with pretty much everything in my wardrobe and fits all my essentials. Sunglasses are another must-have at this time of year. I take my Celine pair everywhere. When it comes to modest dressing for the beach, linen sets are perfect. 
Remember the cost per wear rule when you're shopping. I use this to decide if something is worth the investment. I generally add pieces to my wish list and wait a few months before making the decision. If I find myself thinking, 'If I had this piece in my wardrobe right now it would work with this,' then I know it's going to be worth the money. It's better to choose items that work with what you currently have in your closet – so buy smarter and buy less. 
Follow other stylish women for inspiration. There are so many I love – for example, Anouk Yve and Alice Wang. Their style is impeccable, and they prove casual outfits don't have to be boring. I also love Imane Asry because her style is modest and incredibly sophisticated. 
Decide on your own personal style rules. For me, my non-negotiables are to always feel empowered and comfortable. But I also want to have fun and experiment with different colours or shapes – so another of my own rules is not to be too rigid. Finally, always add some form of jewellery to your look – whether it's bangles, rings or earrings, this is a great way to inject some personality.
Follow @ModestMira_ 
DISCLAIMER: We endeavour to always credit the correct original source of every image we use. If you think a credit may be incorrect, please contact us at info@sheerluxe.com.