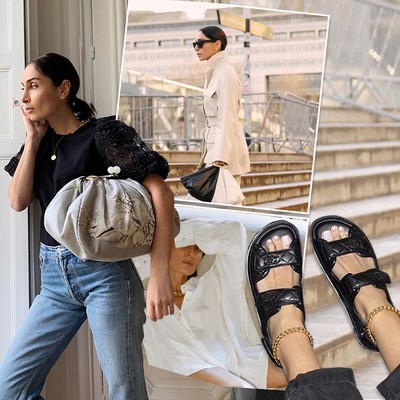 Style Rules: Erin Off Duty

A stylist, image-consultant and street style regular, Instagrammer Géraldine Boublil, aka Erin Off Duty, is known for her sleek monochrome aesthetic, which she marries with an insatiable appetite for vintage designer finds. Here, we chat style rules, best bargains and 90s supermodels…

My style is timeless and vintage-inspired. I like simplicity. I'm not interested in trends.
 
When I was young, I was obsessed with the 90s supermodels. I had posters of Linda, Claudia, Cindy and Christy everywhere in my room. I'm still in love with the looks and pictures of that time. 
 
When I was 15 or 16 I saved up to get an Issey Miyake black satin vest I'd spotted in an expensive multi-brand store. I had to get it – it was love at first sight. I remember entering that store like you would a museum. I could already appreciate the value of a timeless designer piece – indeed, I kept it for ages.
I never received any style advice during my teenage years. I had my goth years and a Vanessa Paradis, 70's-inspired period, and then slowly began to define my aesthetic when my passion for vintage took hold. That was when I lived in New York in my early 20s.
When it comes to everyday, my outfit formula is high-waisted, belted vintage jeans paired with a cashmere knit, loafers or flat boots and a vintage blazer.
Right now, I'm after the Prada black nylon shorts. I've been looking for them everywhere, but they're completely sold out – I'm still holding out hope! In the meantime I'll wear my Adidas pair.
My favourite piece in my wardrobe is an Yves Saint-Laurent black leather jacket from the 90s. It has shoulder pads and the cut is so beautiful. Every time I wear it I get stopped and asked where it's from. My vintage pieces are definitely my favourites. Also, a YSL khaki corset top my mum gave me – it has big puff sleeves and totally reflects the spirit of the house, and some of the designer's most iconic pieces. 
My best bargain has to be some Miu Miu clogs I found when I was living in NYC. I got them in a second -hand store, they were quite new and furry. I think I got them for $60. My biggest investment is probably still to come – I'm on the lookout for the perfect vintage Hermès Kelly. 
My shopping philosophy has evolved over time. My obsession calmed down, and I'm lucky that I get gifted a lot so I feel the urge to shop less. I try to invest in good quality, timeless pieces, but the biggest satisfaction comes from finding vintage treasures.
I recently discovered Alfie Handmade, a cool French label. They handmake ready to wear pieces in France that are inspired by men's clothes, which is exactly what I want to wear right now.
 
If I could swap wardrobes with anyone, it would be the Olsen sisters. I love the way they style all their outfits with oversized and loose pieces – somehow it just always looks so right. My favourite person to follow for style inspo is my talented friend Oumayma Elboumeshouli, she has the most gorgeous, sharp style. 
 
The secret to good style is getting the proportions and volumes right. It's all about balance.
 
Follow @ErinOffDuty
INSPIRATION CREDITS: Instagram.com/erinoffduty
DISCLAIMER: We endeavour to always credit the correct original source of every image we use. If you think a credit may be incorrect, please contact us at info@sheerluxe.com.