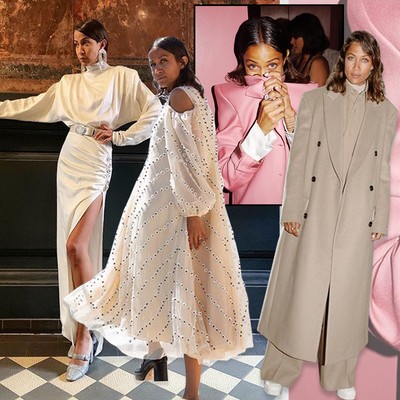 Style Rules From A German Influencer

Rabea Schif is the influencer to know right now. A German TV presenter and model, it didn't take long for her 70s-inspired style – think Gucci suits, flared overalls and oversized sunnies – to catch our attention. Here, she shares her style rules, her favourite influencers to follow and what's on her spring fashion wish list...

My number one style rule has got to be less is more or, even better, if in doubt, leave it out. My style kind of depends on my mood, it's eclectic yet distinct – it can range from tomboy to 60s schoolgirl, from rock star to Jane Birkin. On the whole, my style is always simple and casual but with a bit of an edge.
 
Since the lockdown, I haven't spent much time thinking about new clothes. In fact, I've felt the urge to do quite the opposite. I did a big closet clean-out, donating pieces that I don't need to charity. At the moment, the only things I'm shopping for are the essentials, like food and home supplies.
Top of my spring wish list is an Alexa Chung x Barbour Jacket – it's a modern take on a classic coat. I'm dog walking every day, so I've been limiting myself to comfy clothes. Chucks, jeans and a warm coat have been my daily go-tos. I actually don't remember the last time I got dressed up!
The current crisis has also inspired me to go on a digital detox and I spend much less time on social media. However, whenever I do go online, I like to occupy myself with positive and funny accounts like @humans_of_capitalism @animalsdoingthings @memezar or accounts with inspiring images such as @somewhereiwouldliketolive @somewhereiwouldliketogo @c_l_o @mint_journal and @_dreamspaces.
 
It's difficult to narrow down my favourite fashion Instagram accounts to follow, but some of them are Dustin Hanke, Sissi Pohle, Jeanne Damas, Megan Ellaby, Bella Freud and, of course, Alexa Chung – if I could swap wardrobes with anyone, it would be her. 
I'm a huge suit lover, so I tend to opt for a chic suit or trousers for a night out. However, if I'm in the mood to dress up, I usually wear an A-line skirt and shirt or a fancy dress, with Mary-Janes, platforms or loafers. 
 
I really like mixing vintage and designer clothes. A little tip to spice up any look is to save up and invest in a great pair of designer shoes and plain black designer handbag. Even if you're wearing a simple outfit like blue jeans, a t-shirt and leather jacket, you can upgrade it with chic shoes and a classic designer bag.
My favourite piece in my wardrobe has to be my Alexa Chung denim overalls which I bought a few years back. They're a timeless classic which you can dress up with a nice blouse and blazer. For something more laidback, pair them with a plain tee or turtle neck jumper, a leather jacket and Chucks.
 
The most money I ever spent on one item was my Gucci handbag, but it was such a great investment. It adds interest to every look and if I ever need some extra cash, I can always sell it.
 
There are so many cool German brands to know. Check out LALA Berlin for cool, laid back style or MALAIKA RAISS for chic pieces. if you're into vintage shopping, I really like Out of Use Berlin – you can find a brilliant collection of gems in their online store. I also love H&M Mitte Store in Berlin, and STÉE does great handbags.
I am so lucky to be able to borrow outfits for my red carpet appearances, but it's really difficult to pick one favourite look. The Temperley red velvet suit I wore to the GQ Awards, the rose-coloured Gucci dress I wore to the Bulgari Night during the Berlinale 2019 and the Alessandra Rich dress I wore last year to the Tribute to Bambi are all contenders.
 
My career highlight was hosting my own TV show on German prime time. I was lucky enough to interview Lady Gaga, Brian May and Bryan Adams. Oh and I met Giorgio Armani earlier this year. That was pretty legendary.
My biggest tip for feeling confident with fashion is to stop comparing yourself to others. Love yourself for who you are. Look at what you have, instead of feeling insecure about what you don't. You're unique, which is a gift once you realise it. Some advice to get you into that mindset – take 10 minutes at the end of each day to write down what you're thankful for. It always puts me in a positive mood and reminds me how blessed I am.
Follow @rabeaschif
INSPIRATION CREDITS: Instagram.com/RabeaSchif
DISCLAIMER: We endeavour to always credit the correct original source of every image we use. If you think a credit may be incorrect, please contact us at info@sheerluxe.com.