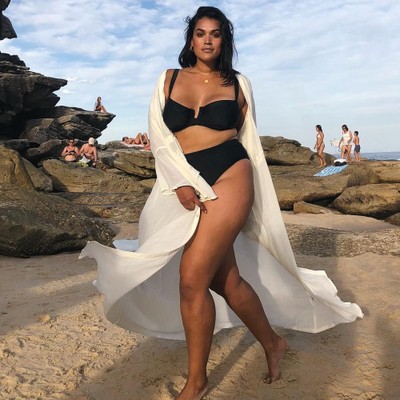 Style Rules With A Top Model

Like the rest of us, top model Jennifer Atilemile is staying at home right now. But from her everyday looks to her career highlights, there's still plenty of fashion to discuss. We chatted new brands, who to follow, and the secret to good style...

My number one style rule would be that you can never go wrong with jeans and a t-shirt. My everyday outfit formula includes jeans, boots, and a t-shirt with a blazer or cool jacket. I lived in my Alexander Wang boots this winter. 
One of the bookers at my agency calls me the vintage queen. I like to think of my style as cool, and that real off-duty look, and, obviously, I love a good vintage piece, too.  
Right now, I'm coveting anything from Jacquemus, and I really want a Fenty dress, too. 
Like everyone else, I'm wearing a lot of lounge sets at the moment. I told myself that if I'm going to be stuck at home, I want to be cute and comfortable. So, I'm doing my daily routine and still getting dressed, but in a matching set.
I'm not doing too much shopping. Instead, I'm creating wish lists ready for when things are a little safer for people to manufacture, ship and deliver clothes. But I'm trying very hard to support smaller designers, who are relying on us to get them through. I'm also hunting for good ethical labels to support. Finally, I've started a wish list of all the furniture I've realised I need! 
Some of the best Instagram accounts to follow right now include:
@jadetunchy – I love her aesthetic, but also love how she keeps it real. It's super relatable. 
@weworewhat – She's got great hustle, and she's doing a lot of work to help during this crisis. I will remember who has been using their platform for good. 
@katiehwillcox – I love how she speaks her mind. And I love watching her adventures with her husband and daughter at their home in Joshua Tree.
@flexmami – For colourful style inspo and cool DIY ideas, as well as some critical thinking.
For a night out I usually wear a dress with boots or sneakers. I can't wait for summer – I've got some cute little vintage dresses I've been saving to wear, and some bags I'm dying to show off, especially some cool vintage finds.
My Ganni green Seersucker dress is my favourite piece in my wardrobe right now, and my biggest investment is easily my Chanel or Bottega handbags. My Chanel will always be special to me, because I dreamed of owning one for so long. It's a classic, and will always be in fashion, so there are absolutely no regrets. The bags also represent the hard work I've had to do to be able to buy them – they're a present to mark an achievement in my life.
There are so many cool Aussie labels you should have on your radar, but especially Nicholas the Label, Arnsdorf, Nagnata and Camilla & Marc.
Brands are getting better at catering to all sizes, and I definitely have an incredible selection to choose from already. Last season you saw Paloma Elsesser and Jill Kortleve walk for some of the biggest fashion houses, so I'm really hoping that sparked a conversation which will not only see us bigger girls on the runway, but actually encourage designers to extend their size range. 11Honoré is a great company that has worked with brands to extend sizing and have them all on their website to shop. But I know Christian Siriano has always been brilliant, and Dolce & Gabbana (even though problematic) was one of the first to change things.
If I could swap wardrobes with anyone it would be Hailey Bieber – in theory anyway! She, along with @elsahosk and @emilisindlev, is one of my favourite people to follow for inspo – I know we are not the same size but I like to use their style to inspire my wardrobe.
My career highlight would be walking for Christian Siriano and Tommy Hilfiger my first NYFW season.
The secret to good style is to be bold and daring. Follow trends, but always add your own unique flare. That's what I love about fashion, it's such great form of self-expression. And when it comes to feeling confident, you have to learn to be yourself, and love that person. Confidence shines from within. 
Follow @jenniferatilemile