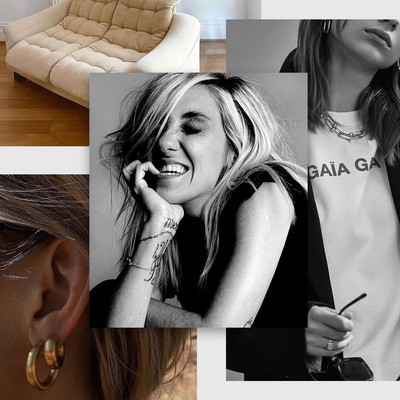 Zoe Karssen's Fashion Little Black Book

Having found success with her eponymous brand until 2019, and now with her next venture, GAÏA GAÏA, fashion designer Zoe Karssen knows a thing or two about the best shopping spots. Here, she opens her little black book…

If I could only shop on one street, I'd pick Melrose Place in Los Angeles. I visited LA for work a few years ago and had a day to myself to explore – I totally fell in love with the street because the stores look like little homes with their own entrances & gardens, which I found really inspiring.
The most unusual shop in the world is the Gentle Monster store (an eyewear brand) in Shanghai.  Their stores are designed to look like a museum exhibition, with their sunglasses displayed throughout the retail space like decorations. Each one I've been to tends to have several rooms, each of which each are different – it's a retail experience I've never had anywhere else.
The coolest piece I've ever found on my travels is a men's tuxedo jacket in a vintage store in Paris – it was totally unexpected, but by far the best, most random purchase I've ever made because the size and fit were so perfect. 
The coolest boutique in the world has to be The Row in Los Angeles. The interior is as amazing as you might expect and it's exactly how I would love my own home to look.
The best concept store in the world is BROWNS London, which I've always loved visiting. While I don't always find something I'd like to buy, I always find amazing inspiration. The store has an excellent selection of curated pieces that sit together beautifully. It's also great for discovering new brands.
The best place to browse independent stores is the small streets around Soho in New York City. There are so many great shops around that area and it was here in my 20s that I discovered some of the American brands I still love today. 
For me, the best department store in the world was always Barney's – before it sadly closed for good. I loved discovering new pieces there and how all the brands were carefully curated to work alongside each other. This is closely followed by Saks Fifth Avenue (also in NYC) and Le Bon Marché, which is the oldest department store in Paris.
"I founded my brand GAÏA GAÏA in 2020 - Our aesthetic is casual and feminine but not without an air of masculinity."
 
The most unexpected destination for great fashion is Miami. Trust me, the shopping is really great if you know where to go. I love the design district, where they have an amazing selection of stores. 
The coolest under-the-radar brand is GAÏA GAÏA, of course! I founded the brand with Quince in 2020, and our pieces are inspired by art, pop culture and women with a strong sense of independence. Our aesthetic is casual and feminine but not without an air of masculinity.
The best people watching in the world is done from The Edition hotel or the Soho House hotel restaurant, both of which are in Miami. I love the truly eccentric mix of characters you find there.
The best brand for swimwear is Made By Dawn. The shapes and fabrics are great quality and the designs are a little bit different from the norm.
I love to pick up basics from American Vintage – the quality and shapes are very good – plus, they really last, too. 
I never walk away empty handed from ARKET Men's department. I really like the way mens shirts fit, so I buy them in a size small. They're great to wear to work because they're smart, but the oversized fit still feels effortlessly cool 
The best vintage store in the world is Silver League, which is online and stocks second-hand clothing from brands including Dior Homme, Helmut Lang and Raf Simons – its vintage t shirt range is amazing. You used to have to get hold of a password to get in, but it's now public, so it's well worth checking out.  
'The Row in Los Angeles is the coolest boutique in the world – the interior is exactly how I would love my own home to look.'
 
My favourite vintage piece I've ever bought is a velvet puff sleeve dress that I picked up at a market in Amsterdam and got altered into a top. I've only worn it once as it's pretty out there, but I do love to have it waiting in my wardrobe for certain occasions. Often, I'll buy things like this for reference pieces in my design work, too. 
For repairs and alterations, I go to Tailors of Amsterdam, which is on the Elandsgracht in Amsterdam city centre. My husband and I have used them for years and they do the best job. 
If I could only wear one brand again, it would probably be Saint Laurent. I only own a couple of pieces, as it not a brand I can afford to shop at very often, but everything about their aesthetic is totally my style. 
I recently discovered a sustainable brand called DEADWOOD. The co-founders Carl Ollson and Felix von Bahder were inspired to create a collection of jackets made from panels of recycled leather found in second-hand markets. Each design is entirely handmade, combining a classic feel with grunge-inspired touches.
For something really special, I shop at Tiffany & Co. I'm totally addicted to their hardware collection. When I've sold some pieces from my wardrobe or saved enough, I invest in something from this collection – it's everything!
The best fashion gift I've ever given to someone was an Alexander McQueen scarf, which I gave to my best friend after she had a baby. 
The best fashion gift I've ever received is a stunning red Chanel mini handbag, given to me by my husband. I rarely use it because I treasure it so much. 
Follow @ZoeKarssen on Instagram.
INSPIRATION CREDITS: Instagram.com/ZoeKarssen
DISCLAIMER: We endeavour to always credit the correct original source of every image we use. If you think a credit may be incorrect, please contact us at info@sheerluxe.com.