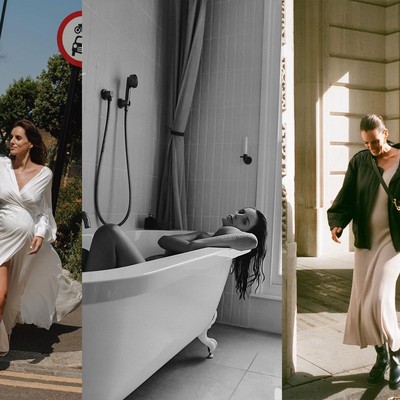 Me & My Instagram: Catarina Mira-Rose

From fashion to beauty, one thing's for sure – Catarina Mira-Rose's Instagram is full of inspiration. Her editorial style has attracted more than 65k followers, and whether it's family moments or holiday snaps, she knows what makes a picture worthy of a spot on her grid. Here, she takes us behind the scenes, sharing her favourite images and the secret to nailing the shot every time…

My most liked picture…
…is this one – after a four-year engagement, my husband and I finally got married. I was about eight months pregnant at the time, and we booked the first date available at the registry which, coincidentally, was the same day Martin proposed to me, 22nd July. I wore a dress by Luna Bea Bride and only our parents and dog were present. It was perfect.
My favourite Instagram outfit…
…is by Joseph. I love how easy maxi dresses are to wear – just add some chunky shoes and go. Plus, the pattern and matching bag really make a statement.
The person who takes most of my Instagram pictures…
…is me. I shoot most of my content with my own tripod. I love the freedom of being able to shoot alone, especially now I'm a mum. I can work during my baby's nap and get stuff done much quicker than if I were relying on someone else. 
My most saved post…
…is this video my husband made to celebrate the birth of our son. He filmed me during the pregnancy and the birth on his iPhone and it's something I'll treasure forever. I'm so glad it resonated with so many people. My account often acts as a window into my most intimate moments – it's not just a place to share outfits and swipe up links. I'm interested in telling stories and collecting memories, so it makes me happy when content like this reaches people. 
I edit my photos…
…using Lightroom. I don't use filters or pre-sets, instead I just edit each picture according to what it needs. I enjoy editing as much as shooting – usually I put on a podcast or audio book and get fully immersed in the process. 
My favourite picture of myself…
…is the third image on this carousel. I look so happy! The photo was taken by my husband seconds after I gave birth to our child… in our living room! I've never felt so ecstatic in my whole life.
I don't have a favourite image but…
…I'm proud of these photos I took for a collaboration with Essie. I took them in my back garden, against a backdrop using my tripod. Sometimes, less is more. 
I wasn't sure whether to post… 
…my son's face on social media. I'm such a sharer it felt natural to talk about such a happy time in my life. In the end, I decided to publish it. In my opinion, social media is a part of life now – it isn't going anywhere – and as long as I treat my child's image with respect and dignity, I'm happy to share it. 
The image that makes me happiest…
…is from an editorial we shot for Vogue to accompany a piece about my husband's mental health struggles. I'm proud we got to take such beautiful images to be able to tell his story, and we hopefully inspired other people to look for help if they need it. Life is rarely perfect, but I want people to know there is light at the end of the tunnel. 
I have no regrets about what I've posted on social media… 
…even though my style has evolved, and I don't relate to a lot of my early work anymore. I'm still proud of it. It's all part of the journey.
My favourite holiday photo…
…is this one, taken in the Azores during a girls' trip with my friend Anita. The Azores are a group of islands belonging to Portugal. I've never seen nature in all its glory quite like this.
That said…
…this outfit isn't very me. I still think it's cool, but it's not something I'd wear again.
My standard pose is…
…standing and looking to my right. I think the left side of my face is better than the other (everyone has a good side, right?) so it's how I prefer to stand. 
My most used hashtag is…
…#WhatMiraReads. It's become a great way to connect with my followers – many of whom share my passion for books. It's lovely seeing other people using the hashtag and enjoying my recommendations. 
Instagram Stories are for…
…less curated content. It's probably why they do so well, because they're closer to reality and allow people to get to know your personality a bit better. I rarely go a day without sharing something on my Stories. 
To get the right shot…
…you have to trust your instincts. Good photography is all about looking at things from a different angle. Sometimes the mundane is extremely photogenic, you just have to look at it with a deeper curiosity.
The fashion piece that features the most…
…is this dress from By Malene Birger, which I wore countless times during my pregnancy. It's just so easy – and it's perfect for both casual and more dressy occasions. Plus, it still fit me throughout the entire nine months...
The picture that was hardest to get…
…was this one, which was taken during the last press trip I went on before the pandemic. I gave my camera to the PR who was kind enough to snap this shot of me and my friend Raquel. The room was busy and the only light came from a screen that would go dark intermittently. We had to be quick, which is what made it tricky.
My coolest setting is…
…one surrounded by books. The nerd in me will always say a room full of books is the best possible backdrop!
I wish I knew what makes a good Instagram picture…
…sometimes a picture I think is fantastic will end up getting zero love once it's published. But that's okay – I post what I like, even if it's not something I know will perform well. 
What inspires my photos most…
…is the light. I love chasing natural light and playing with contrasts, which is probably why my feed has a bit of a moody vibe about it.
I try to upload pictures that…
…convey some sort of emotion. 
The photo that sums up my Instagram best…
…is this one. Minimalism and oversized clothes – that's me!
DISCLAIMER: We endeavour to always credit the correct original source of every image we use. If you think a credit may be incorrect, please contact us at info@sheerluxe.com.