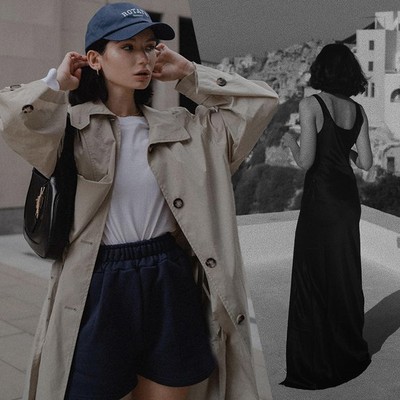 Me & My Instagram: Lolita Mas

An eclectic mix of fashion and travel, Lolita Mas's Instagram account has attracted more than 70,000 followers. To find out what goes into creating her enviable feed, she takes us behind the scenes – from the editing techniques she relies on to dodging jellyfish just to get the shot…

My most liked picture...
... is this close up. I'm wearing a baby blue Sézane jumper, paired with my favourite Missoma hoops and a matching blue Acte Nation bag. It was taken two years ago, and I'm still trying to figure out exactly what it was that made it go viral. To this day, I receive so many messages from people who've seen it somewhere else and tracked down my Instagram as a result. I'm wearing blue in three of my most liked photos – it must be my magic colour!
The person who takes most of my Instagram photos...
... used to be my husband, but the pandemic has forced me to experiment with a self-timer, so these days, it's a mix of self-portraits, my husband's work, help from my friends and fellow content creators. I also rely on a few professional photographers when I need to shoot something more editorial.
My favourite Instagram outfit...
... is this very cosy combo from last year. I was hunting down this H&M jumper from the Studio AW20 collection for a few months, and when I got it, I paired it with my Gestuz brown leather trousers and butter-toned accessories for a cool tonal look. I can't not mention the location, too – it was taken in Arva Studio, which is curated by the very talented Abisola Omole.
I don't edit my photos the same way every time.
Gone are the days when I used two to three pre-sets for all my photos; these days it's more intuitive. When I'm shooting, I have to be confident that I really love the light and composition, so when it comes to editing, I'll only need to fix a couple of small flaws, like overexposure or colour correction.
The image that makes me happiest...
... is with my dog Henry. He lives with my parents in Riga. Last winter when we went to visit our parents in Latvia and got stuck because of the UK lockdown, it turned out to be the snowiest winter for years. It was amazing to relive my childhood memories, as well as taking Henry for long wintry walks. My husband captured us during one walk, and it still brings me so much happiness every time I look at it.
To get the right shot...
... it sometimes takes ten minutes and other times it takes 500 attempts just to get one you love. As any creative knows, there are so many variables, and it can be hard to produce content on demand. However, I feel very blessed to do what I do and if I'm feeling inspired and the content is flowing, then great. But I'll take it slower on days when I'm just not feeling it.
The image I'm most proud of...
... is this shoot I did for Serge Lutens Collection Noire perfume. I'd researched the brand quite thoroughly before committing to the creative idea and looked through all of their print and video ads from years gone by. I really wanted to mimic the original creative direction of the brand, but with a more modern twist – all their original promos were extremely theatrical, dark and geometric. It was shot on a self-timer, so in my left hand I'm actually holding a phone and focusing the camera from there. I'm very proud of it and love working with the brand – they always push me creatively.
Mostly, I take photos with a DSLR camera.
I've only recently started posting some raw phone camera content as a bit of an experiment, and have found the algorithm seems to favour them more than professional images. However, I love the crisp focus and depth of field the DLR captures, so if I had to choose between the phone and the camera, I'd always go for the latter.
The fashion piece which features most on my feed...
... is this Jil Sander pouch. It goes with almost everything I own. The dumpling-like shape also reminds me of an Old Celine one from back in the day – it was such a worthwhile investment because you can wear it both day and night.
Stories are for...
... logging daily errands, the occasional Q&A and taking followers behind the scenes so they can see what goes into creating the account.
One outfit I regret...
... is these faux leather trousers, which I wore to a vineyard tour in the Champagne region in France. Let's just say warm weather and faux leather don't go together!
The picture that was hardest to get...
.. was during a recent trip to Ibiza. My friend and I had come to the beach for a sunrise dip, only to discover the sea was full of jellyfish. They were everywhere, but seeing as we'd made the effort to get up so early, we thought we should at least try and get one or two photos. I found these two spots where the water was clear enough and did my best to make it look as effortless and calm as possible!
What inspires my photos the most...
... is life around me – as clichéd as that sounds. I get inspired by the places I visit, by the people I see on the street, as well as books, music and film. I'm a very curious person, and I'm observant, so I notice the small details which often lead to big ideas.
I love all my holiday photos, but this one hits differently.
My friend took it on one of the secret beaches in the Algarve. We went on the trip very spontaneously and only for three nights, but it felt so special – it was our first trip after the pandemic and so it felt like a bit of light at the end of the tunnel. It captures exactly what I saw when I was exploring this cave and looked around to see how the sea looked. I gasped at the view, so called my friend and showed her the composition. She took the perfect shot.
My favourite Instagram accounts to follow are...
... Debora Rosa (@DeboraBRosa) for daily outfit inspo, Abisola Omole (@AbiMarvel) for interiors and discussions on inclusivity in fashion, Catarina Mira-Rose (@CatarinaMira) for her creative eye and stunning content and finally Marie Cher (@MarieCher) for the best styling ideas and a beautifully curated feed.
My favourite picture of myself...
is this one, because it brings together all the things I love: a good suit, statement shoes and a laidback vibe, but also the idea of being in front of and behind the lens simultaneously.
The photo that sums up my Instagram the best...
... is this one – it's the perfect balance between real-life fashion and total escapism.
A good Instagram picture...
... never tries too hard. When you create something in the moment and don't spend a lot of effort trying to replicating that feeling, that's when it feels the most authentic.
DISCLAIMER: We endeavour to always credit the correct original source of every image we use. If you think a credit may be incorrect, please contact us at info@sheerluxe.com.