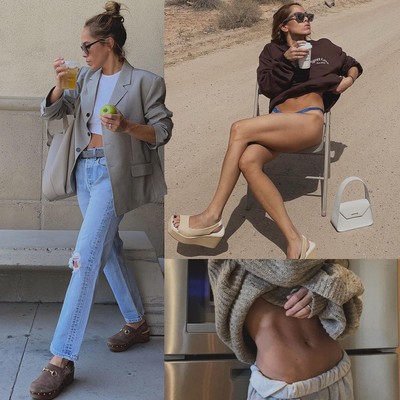 Me & My Instagram: Sandra Heinrich Sauceda

Self-proclaimed minimalist Sandra Heinrich Sauceda (@Filis_Pina) is known for her laidback approach to fashion and style – which has helped her amass more than 200,000 followers on Instagram. Here, she takes us behind the scenes of her grid, sharing her favourite images and the secret to nailing the shot every time…

This is my most liked picture.
You can never be sure which photo will be a winner because, usually, the opposite happens. I'm not sure why this one did so well but if I had to hazard a guess, it's that the colours were attractive – plus, it's an interesting image.
My favourite Instagram outfit is…
... this white look with chunky sandals. I like it because it's simple and chic – which just about sums up my personal style. I like that most of the look feels quite classy, but the slides dress it down a bit. If I wanted to elevate it for the evening, I'd change into heels – you can't go far wrong.
I take most of my Instagram pictures.
I like taking them because I'm the one in control of how the images look. I used to feel self-conscious but these days I don't pay attention to who's watching me. It sounds crazy but I use a drawstring bag, hide my phone in it and put it on the self-timer. It's been my main shooting method for years.
My most saved picture is...
... this one. Because so many people saved it the first time round, I decided to post it again and people still loved it! I'm not sure why, but something about it works.
The way I edit my photos is...
... with a light-handed touch. I prefer to keep it simple – I usually change the exposure, so it has a more muted feel, but nothing too toned down as I prefer the natural, effortless look. It's more reflective of my style in general.
The image I wasn't sure whether to post or not is...
... this carousel at the grocery store. I really didn't think much of it but my followers loved the quirky backdrop, so I'm happy I posted it. It actually ended up sparking a series of images in this location.
This is the image that makes me the happiest.
It was at a time in my life when things were changing a lot, so for that reason looking back at it makes me feel emotional and happy. 
My standard pose is...
... something I've become known for. People call it 'the walk' – essentially, I'm strutting around with most of my face out of shot. I think others liked it because it feels nonchalant and not so obviously posed.
Stories are for...
... sharing my daily life, work outs and inspiration. My feed is mostly fashion but I have plenty of other interests, so it's nice to be able to share those in a less curated way.
My coolest setting has been...
... the Arizona desert. It's so unique and there aren't many places in the world that look anything like it. It made for a distinct and dramatic background, so shooting there was easy. 
Getting the right shot requires a variety of factors.
Sometimes it only take a minute to get  great photo and other times it takes an hour. I have to play around with angles and compositions to figure out what looks best, so it varies day to day.
I don't really have a favourite holiday photo...
... but I like this one. It really sums me up, as it's what I like to wear every day and, dare I say, I think I look good here!
My favourite picture of myself is...
... this selfie, taken in 2019 when I was in New York for Fashion Week. I love going to the shows and this week was a fun one, so the photo brings back good memories.
What makes a good Instagram picture is...
... three ingredients: the mood, the vibe and a bit of confidence. It's not always easy to pull off, but if you can nail some of them, you're usually onto a winning shot.
My favourite person to follow on Instagram is...
... Matilda Djerf. I love her – she is the most genuine person and her grid photos are always so effortless and charming. 
I try to upload pictures that...
... inspire others. Whether that's my daily looks or inspo shots, I hope my followers enjoy seeing what I create. 
The one word to describe my account would be…
... effortless. 
Follow @Filis_Pina on Instagram
DISCLAIMER: We endeavour to always credit the correct original source of every image we use. If you think a credit may be incorrect, please contact us at info@sheerluxe.com.