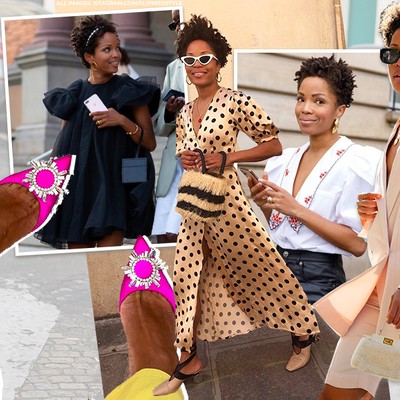 Me & My Instagram: Slip Into Style

An SL-favourite thanks to her quirky, colourful style, we knew Ellie, aka Slip Into Style, would be the ideal person to take us behind the scenes of her Instagram account. Here, she talks us through her main grid highlights, from bright pink metallic trousers to eating pizza in ballgowns...

My favourite Instagram outfit is...
this plaid print blazer and a pink slip dress. It's very Parisian-chic, but with my own twist. French girls are very classic and safe in their choices, and tend to stick to neutral colour palettes. I like to wear a fitted blazer or a simple dress, but then take it one step further by adding some colour, or mixing and matching prints.
The person who takes most of my Instagram pictures is...
my awesome photographer Alena. We've become friends over the years, and she really knows my angles. I know a lot of influencers have their boyfriends or partners take their pictures, but my own boyfriend doesn't want much to do with my Instagram! Instead, I rely on a professional photographer. That way I don't waste any time and get exactly what I want.
I edit my photos via...
the Lightroom app on my phone. I'm completely clueless about Photoshop so I need something simple and easy to navigate and the Lightroom app is exactly that. I use it to add light to my pictures and to make the colors more vibrant.
 
My most liked picture is...
the one with my friend Sylvie walking out of a show in Copenhagen. I'm wearing a very feminine baby doll dress and she's wearing a classic men's short suit. The contrast between our two outfits works really well. Also I'm making the funniest of faces. I wasn't aware I was being photographed at that precise moment. I think it's the genuine spontaneity that my audience likes.
The piece that features most is...
these metallic pink pants I bought on Asos. They have a slightly loose cut and are very versatile. As well as making my legs look longer, they're pretty affordable, too. They're on heavy rotation in my closet.

My most saved picture is...
a picture of a beautiful gilded mirror with a message written on it in red lipstick that says "Be soft and kind but take no shit." It's not even a photo I took or I'm in, it's a repost. But it's uplifting and carries a strong positive message which I think resonates with a lot of women.

I wish I never posted....
this picture of me wearing a bright orange tank top with pink biker shorts. The colors were absolutely gorgeous but I had no bra on and it was way too sexy for my taste. I've since removed it.
Stories are for...
reposting funny memes, starting important conversations, raising awareness on societal issues such as racism and lack of representation for people of color, and for sharing experiences with my community. 
The image that makes me happiest is...
me in a pink dress holding tropical flowers at home in Martinique (the island where I was born). It was beautiful and sunny, and looking at it now makes me very nostalgic. I would far rather be there with all the palm trees than in Paris right now!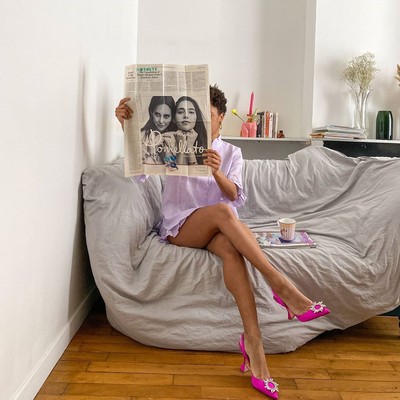 It takes multiple attempts to get the right shot...
at least 50 on average. Sometimes it only takes one, but I like to have lots of options to choose from.
 
The picture that was the hardest to get is...
the one where I'm wearing a cropped top, silk shorts, high heels and I'm holding a mop. I wanted something cool but not too sexy or vulgar which isn't very easy to achieve with short shorts and heels. So I had to find the right pose. Even then, I think the photo is still a tad too sexy but the mop and accompanying caption help tone it down. Ultimately, it's pretty self-deprecating.

My favourite holiday photo is... 
this, because it's colourful and happy. Fresh coconut water is my favourite thing to drink.
What makes a good Instagram picture is...
a good backdrop, or something a bit out of the ordinary. If there's a story to tell and a witty caption, people are bound to laugh or smile when they read it.
My favourite person to follow on Instagram is...
Naomi because she's a diva. She knows it and owns it. And Tracee Ellis Ross because she's extra. She knows how to pose for a photo and wears the most fabulous clothes.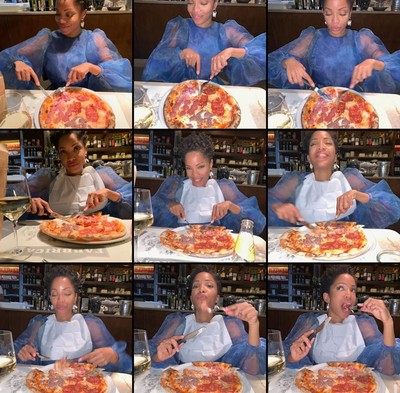 The photo that summarises my Instagram most is...
me wearing a ridiculous full gown to eat pizza in Milan. I'm a girl who loves fashion and doesn't really care what people think. When other people dress casually in jeans and a t -shirt to eat pizza at a restaurant, I show up in a gown with balloon sleeves. That's just me.

I try to upload pictures that...
inspire and put a smile on someone's face. It's especially important in these weird times where people just want to feel good and forget about all the bad things that are happening. I guess I'm trying to provide a bit of escapism.

One word to describe my Instagram is...
colorful. Growing up on an island, colour has always been part of my life so, naturally, I've incorporated it into my wardrobe. My Instagram is always going to be a reflection of who I am.
Follow @slipintostyle