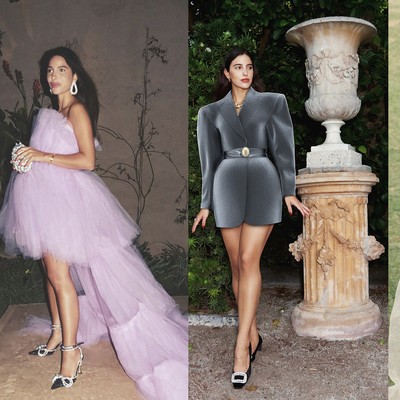 My Life In Fashion: Bettina Looney

A personal shopper, stylist and Fashion Week regular, Bettina Looney is glamorous and sophisticated. Now, a digital design collaboration with Google Pixel 6 has cemented her status as one of the most influential names in the business. From styling tips to that wedding dress, she talks us through her life in fashion…

Growing up, I was never really into fashion. My mum would literally have to drag me to go shopping for new clothes, despairing at the fact that I took no pleasure in it whatsoever. I never thought I'd end up working in the fashion industry. But that changed when I moved to London after university – I ended up getting a job with a personal shopping company, and fell in love with this world.
Juggling the different aspects of my job can be tricky. But it's also hugely rewarding. I love my personal shopping business – it's led me to work with some incredible women. I'm really enjoying being able to travel a little more freely now, as I haven't been able to see some of my clients for two years. It's wonderful to be around women who really understand and appreciate fashion – they're not just interested in heritage names but emerging talent, too. I also have my own brand partnerships through social media, which I find goes hand in hand with my personal shopping work – it's wonderful to be able to support brands through my social media and introduce them to my clients. 
My outfits usually revolve around one statement piece. My style is always evolving, and I tend to prioritise comfort, but I love choosing one piece that has something really interesting about it. An 80s-style silhouette is my preference, so often that means a statement shoulder or a big sleeve – anything with structure appeals to me. It's a tip I often give my styling clients. When you choose something specific, the rest of your look can stay relatively simple. 
Don't be afraid to experiment with fashion. That's something I tell all my clients. It's easy to get stuck in rut, but when you try different things, you might find something that becomes part of your everyday wardrobe. We're always evolving as people, and that should naturally be reflected in what you wear.
I'm a big fan of vintage shopping. One of my favourite spots is Il Cameo Vintage in Milan, which is where I found the dress I wore to my civil wedding ceremony. They have the most incredible selection – Yves Saint Laurent, Max Mara… I can never leave empty handed. I'm also a big fan of Poshmark – unfortunately it doesn't currently ship to the UK, but whenever I'm in the US, it's one of my favourite online destinations to shop for luxury vintage. 
My Khyeli wedding dress exceeded all my expectations. I fell in love with the story behind the brand when I went to one of the designer's first presentations. From then on, I knew it had to be him who designed my dress. I wanted something with big sleeves, but that also felt ethereal. He made my vision a reality and I felt amazing in it.
Sustainability is very important to me. It's what drew me to collaborating with Google Pixel 6 – we worked together on designing a dress that is entirely digital and available to 'try on' via the device. I loved the idea of giving users the luxury fashion experience without the environmental impact, as well as making it accessible for everyone. It's a potentially game-changing concept for the future of fashion. My design is inspired by 90s-era Yves Saint Laurent – power shoulders, cinched in at the waist… Hopefully it feels like something quite extravagant, but something you could wear every day at the same time. 
Working with Google Pixel 6, I loved the idea of providing a luxury fashion experience without the environmental impact, as well as making it accessible for everyone.
Working with Google Pixel 6, I loved the idea of providing a luxury fashion experience without the environmental impact, as well as making it accessible for everyone.
My style icon is Yasmeen Ghauri. She was a supermodel in the 80s and 90s. Her style was so iconic and really personified those decades – it's a time that really influences the way I dress now. I love that she wasn't afraid to wear form-fitting pieces that hit her in all the right places. She isn't talked about that much these days, but I'd recommend finding some old photos of her – she always looked so amazing. If I could swap wardrobes with anyone it would be her, or Cher – I can imagine both their archive collections would be incredible to dig through.
I'm fortunate to go to different Fashion Weeks around the world. My favourite is still London. I live there, so it's always lovely seeing so many familiar faces. It's closely followed by Milan – I love Italy and people tend to dress up a little more there, which suits me well. London feels more like work, whereas Milan is about having fun. I always pinch myself during the Chanel shows in Paris – I can never quite believe I'm there. The locations are always unbelievable and once the lights come on and the music starts, the collections really come to life.
The best part of my job is getting to work with so many inspiring women. The worst part? Probably seeing and handling all these beautiful clothes and not being able to own all of them! If only… 
Follow @BettinaLooney on Instagram
DISCLAIMER: We endeavour to always credit the correct original source of every image we use. If you think a credit may be incorrect, please contact us at info@sheerluxe.com.