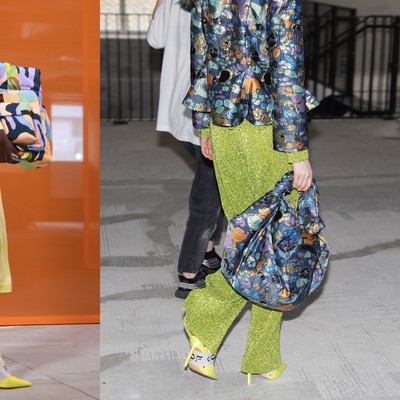 My Life In Style: Stine Goya

Danish designer Stine Goya has become known for joyful prints and bold silhouettes. Ahead of Copenhagen Fashion Week, she tells us more about where she finds inspiration, her favourite pieces and what goes on behind the scenes of a runway show…

I always knew I wanted to be a fashion designer. I studied at Central Saint Martins for four years and supplemented my income by modelling part-time – both were incredibly useful, as they gave me different insights into the fashion industry. After seven years, I moved back to Copenhagen, but didn't feel ready to start my own label yet, so I worked as a fashion director for a now-defunct Danish magazine. It helped me make some useful contacts. I wanted to make sure that when I did start my brand that I did it properly, so I made sure that I was clued up on the business side of things as well as the creative. That's a reason why Stine Goya has been as successful as it has.
 
I've never designed pieces with a particular person in mind. We really try to make Stine Goya as inclusive as possible and appeal to a diverse community of women. That said, I feel like our woman is quite confident and isn't afraid to wear something bold. I hear often that people who wear our designs receive lots of compliments from both friends and strangers on the street, which is something that brings me a lot of joy.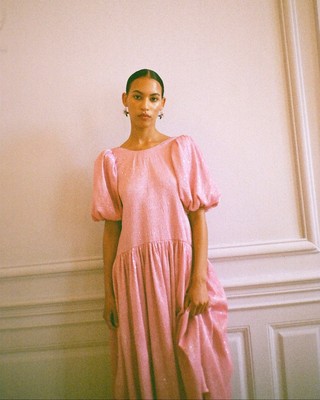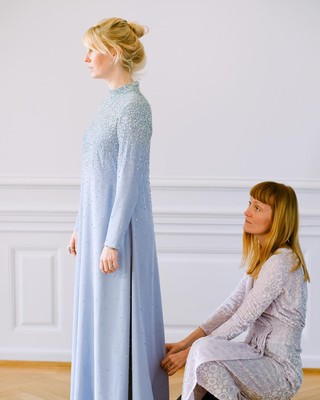 Our SS22 collection is inspired by Charleston House. We've created hand-painted prints which take inspiration from the gardens of the house and one of my favourite pieces is a bright green mini, which we anticipate will be the dress of the season. l'm fortunate to have a team that comes from all over the world, and our process is very collaborative. I love that all the members of the team bring their own ideas, cultures and experiences to the table. 
 
I'm looking forward to Copenhagen Fashion Week for several reasons, but I'm most excited about our show location. We are holding it in the Design Museum of Denmark, which is still technically under construction, but we've managed to secure an area which is now finished. A fashion show has never been held at the venue before and there probably won't be another one, as it's the kind of institution that doesn't typically host this kind of event. I can't wait to have real people attending again – I really thrive off the reactions of the audience, so after a turbulent couple of years, it will be really special to see everyone in person. We want our shows to feel like an immersive experience, which is why we work with several creatives from different backgrounds on the concept. 
 
My career highlight has to be our SS20 'House of Goya' show. The inspiration came from the ballroom scene in 80s New York and it was when we started involving our community in our shows. The show was so diverse, and the audience loved it – there was lots of shouting and cheering, which is quite the contrast to the straight faces you usually see on the front row! It was great to see how much the attendees enjoyed themselves.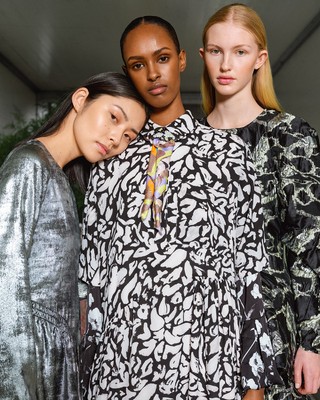 If I had to choose my favourite Stine Goya piece, it would probably be a coat we made which was constructed using a fabric that felt almost three-dimensional –like a piece of artwork. It has a very eye-catching, characteristically 'Goya' look to it and is something that gets better with age. It's been around for a few years now, but it's one of the most-loved pieces in my wardrobe. 
 
My own personal style is best described as joyful, directional and distinctive. It's pretty aligned with my designs for the collection – I wear my own pieces almost every day. I find myself wearing our Adonis knit a lot – we introduced it a few seasons ago, but it's been a real hit with influencers and the press, so we've brought it back in a few different colours. It's so easy to wear and one of my wardrobe staples. I also have a small, sculptural Balenciaga jacket that I wear often. It's around 15 years old but still one of my most treasured pieces – it's so timeless. I'm a big jewellery fan, too – one of my favourites is a Danish brand called Griegst, which is available at Dover Street Market. Its pieces are so unique. 
 
My style icon is Kristen McMenamy. She was a supermodel in the 80s and 90s, and now shares a lot of her eclectic looks on Instagram. I love how confident she is about dressing differently, and also her sense of humour.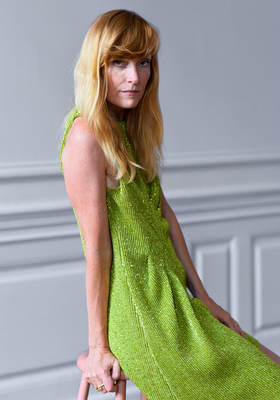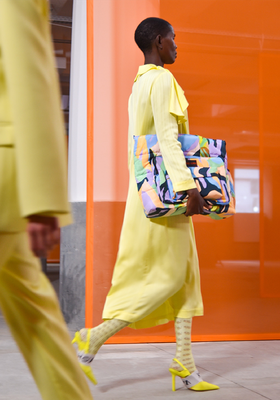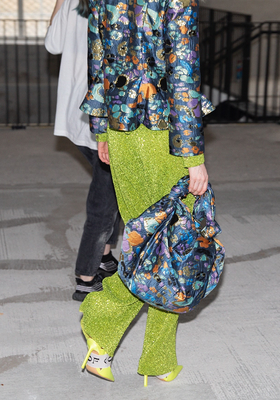 I might be biased, but I believe Copenhagen is one of the best fashion destinations in the world. There's nowhere else that prioritises sustainability like we do – plus, there are so many exciting emerging designers to look out for. In general, it's very different to the other fashion weeks. One of my favourite stores in Copenhagen is Holly Golightly – it's a small, multi-brand store which stocks some great independent labels, as well as a lovely selection of vintage pieces. Carve out time to visit if you're ever in town.
 
If I hadn't created Stine Goya, I'd have probably started an agency for new talent, as I love surrounding myself with creative people. That said, I'm extremely fortunate to do what I love, so it's difficult to imagine doing anything else. 
 
Visit UK.StineGoya.com
DISCLAIMER: We endeavour to always credit the correct original source of every image we use. If you think a credit may be incorrect, please contact us at info@sheerluxe.com.