Our Fashion Editors' Current Wishlists

Our fashion editors, of course, spend a lot of time looking at clothes. So it's only natural they often fall prey to some shopping temptation themselves. Want to know what they're buying this season? This extract from Charlotte Collins and Lu Hough's email exchanges will reveal all…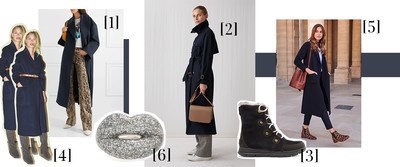 1. Tahoka Brushed Wool-Blend Coat, £450 | GANNI, 2. Long Wool Trench Coat, £250 | Arket, 3. Explorer Joan Faux Fur-Trimmed Waterproof Suede And Leather Ankle Boots, £135 | Sorel, 4. PHILOU Coat, €290 | Rouje, 5. Jared Coat, €310 | Sézane, 6. Glitter Silver Sterling Silver Ring, £180 | Hot Lips By Solange
CC: I need a coat that is a cocoon – I really don't think straight up and down suits me. Plus, it needs to fit my big jumpers underneath. And I don't have ££££ to spend, but if I'm going to go mid-price range, I might as well go high street?
LH: Yes, always hard. Have you seen one?
CC: This Ganni [1] is perfect. But then if I'm going to spend £450, I might as well spend either big bucks or high street price?
LH: There's an amazing one at Arket right now...
CC: I KNOW. The trench-like one [2]?​
LH: Yes! I tried it on, it's amazing.
CC: It looks quite long though...
LH: No it's actually the perfect length and half the price of that Ganni one. I so nearly bought it. What do you think of these? [3] 
CC: Cool! Very Aspen-chic.
LH: I really want some hiking boots.
CC: They're perfect.
LH: I know – not too expensive either. The Moncler ones are amazing but not cheap.
CC: You could actually swap the white laces for black to make them look less sporty. Is this the coat [4] I've been looking for?
 LH: Yes! I've actually always wanted to buy from Rouje – I wonder what their quality is like...
Wish they would do a pop-up here.
This one's [5] also amazing...
 CC: Love that. My friend actually messaged me this morning saying Sezane jeans have changed her life.
LH: I love mine, they are insanely comfy. Is it weird that I like this[6]?
CC: Fun! Good for your Studio 54 party. Is this cool [7]?
LH: That's AMAZING you have to get it.
CC: It's actually for the Free People story.
LH: Oh. It's LoveShackFancy, look...[8]
CC: Obsessed with them. Look at this outrageous Chloe copy [9].
LH: That's mad! Have you seen Sarah Corbett-Winder's Instagram today?
CC: Yes, the hairclip? [10] So Chanel, what an amazing find. I'm obsessed with this [11]...
LH: You're turning into me! I fell in love with this collection when they first showed it.
CC: I know I really am – can't resist a Victorian collar at the moment. Just so cool with really chunky ankle boots.
LH: Agreed – very Pernille. Love it with the cycling shorts.
CC: Very. Think I need to go shopping...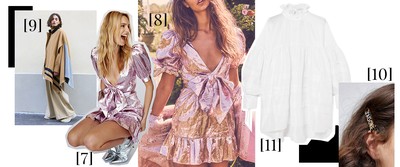 DISCLAIMER: We endeavour to always credit the correct original source of every image we use. If you think a credit may be incorrect, please contact us at info@sheerluxe.com.