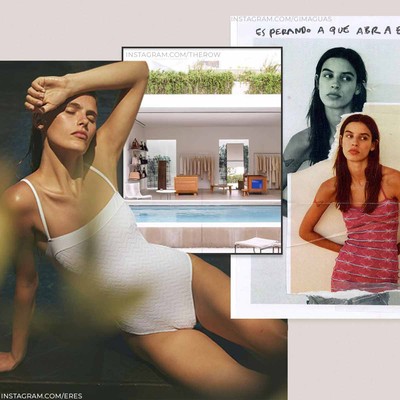 Robyn Kotze: Fashion Little Black Book

Having worked for some of the UK's biggest publications, stylist and creative consultant Robyn Kotze has been fortunate to travel the world in the name of fashion. From niche brands to her coolest wardrobe finds, she opens her little black book of style…

If I could only shop on one street, I'd pick Biblioteksgatan in Stockholm, and Borgo Santissimi Apostoli in Florence for the most beautiful arts and crafts pieces.
The most unusual shop in the world is The Bathroom in Parkhurst, South Africa. It's as though you've stepped into a curated bathroom on a beautiful safari. It's wonderfully earthy and highly unusual, offering everything from organic soaps and African printed robes, to tree bark cases and luxe stoned coloured bath towels.
The coolest piece I've ever found on my travels is a beautiful painting and handmade frame from a kitchen-cum-art studio in Bali. The owner was in his 80s and spoke zero English.
The coolest boutique in the world is The Row in LA, which is so much more than store. It has a modern residential feel to it – fabulously spacious with a few lounge areas, conceptual fireplaces and on-brand artwork.
The best concept store in the world is Merci in Paris: not only is this effortlessly curated store designed to inspire, it also encourages you to discover. It's a must-visit for anyone who find themselves in the city.
The best destination for independent stores is Paris, Milan or Seoul. You can get lost walking the streets discovering all the unusual, off-the-radar shops these cities have to offer.
The best department store in the world is Illums Bolighus in Copenhagen for Scandi designs or Le Bon Marché in Paris for trendier and key season pieces. However, you can't beat Liberty of London at Christmas time.
The most unexpected destination for great fashion is Mexico – mainly for its luxe, laidback aesthetic. Mexico City is a gem for those one off, statement pieces. Valladolid is great for a mix of perfume, kaftans, throw on pieces and original homewares. The hotel shops in Tulum are also a great place to find weekend bags, sarongs and, again, original homeware.
The coolest under-the-radar brand is Albus Lumen for elevated essentials and Worme for silk separates.
My perfect shopping day would include all new experiences. I've never been, but I've heard Japan is amazing for shopping and have already planned my day ready for when I do actually go – snacks from Takashimaya and Mitsukoshi, then on to tech and homeware pieces from Tokyu Hands, before I hit a few fashion stores like The Real McCoys, Eyevan and Beams.
The best people watching in the world is done from Milan or the Italian Riviera – both are good spots for finding those well-dressed, yet flamboyant, characters.
The coolest resort label is Matteau for less-is-more, wardrobe staples and Gimaguas for unique travel pieces.
The best brand for swimwear is Jade Swim and Eres – good quality and great for a smaller bust.
The best brand for basics is Ninety Percent, James Perse and Theory. They're all extremely classic brands offering good basics for day or night.
I never walk away empty handed from The Conran Shop – even if it's just a card and some wrapping paper.
The best vintage store in the world is Andy Baxter Bass & Guitars and What Goes Around Comes Around – both of which you'll find in LA.
 
My favourite vintage piece I've ever bought is…a brown, suede oversized jacket – it looks gorgeous layered over silk dresses.
For my alterations, I go to Sloane Dry Cleaners on Lower Sloane Street. They are excellent.
If I could only wear one brand again, it would be Totême – they make effortless yet refined pieces, perfect for every day. Think of it as fashion that doesn't shout.
The best sustainable brand is By Pariah – my best friend Sophie Karg started this sensational demi-fine jewellery brand which I wear every day. Each piece is carefully made by hand, and many of her vendors are small family-run businesses, supporting heritage production techniques that have largely been left behind by modern mass manufacturing.
For something really special, I shop online at Matches and Taschen books.
The best fashion gift I've ever been given was a Celine purse that was sold out everywhere.
The best fashion gift I've ever received was a pair of Jimmy Choo shoes that I always wear on a night out. They are timeless, but still jazz up any outfit.
 
Follow @Robyn_Kotze