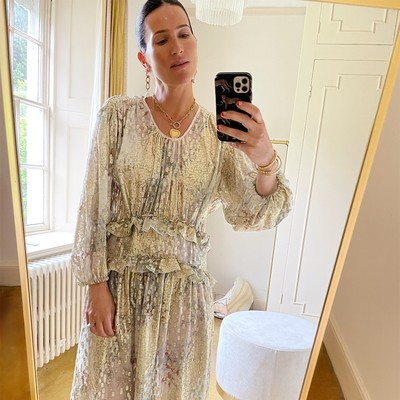 A Stylist Picks Her Favourite Slow Fashion Brands

Whether you're consciously taking a more sustainable approach to your wardrobe or simply want to dial back your shopping habits, more and more people are opting to go down the slow fashion route. According to stylist and former Tatler fashion editor Anna Bromilow, buying from small, independent brands makes those purchases feel more special, and in this month's instalment of her SL column, she's revealing her tips for going bespoke – as well as some of the best brands to know …

Social media has had a significant impact on how we shop and dress. Bridging the gap between the runway and real life, Instagram has made high-end luxury more tangible and, it seems, accessible – not to mention more relatable when you see a Prada bag worn by one of your favourite influencers. That said, social media has also enabled small, independent brands to have their moment in the sun – my own feed is a real mishmash of iconic fashion houses, up-and-coming brands and importantly, creative individuals and small businesses that would have had zero visibility in a pre-social media world. 
A specific point of view and unique product are the all-important markers of success, and as a shopper, there's nothing more rewarding than finding a one-off or limited-edition piece no one else will have. The thrill of the chase is integral to the worth of your purchase. Shopping this way is also the perfect antidote to fast fashion. When you order directly from the designer/creator, there's no waste, no over ordering, no end of season stock. In fact, some brands deliberately use off cuts, recycled and unwanted fabric as a sustainable win-win solution.
As a shopper, there's nothing more rewarding than finding a one-off or limited-edition piece no one else will have.
Ordering from a bespoke brand slows down the entire retail process, plus it gives you the chance to engage directly with the creator about the options available to you. It harks back to the age of the atelier – when buying clothes was considered and personal. Of course, it is a timelier process – you need to take lead times into account and there's no such thing as try it on and decide later; returns are a no-go, so it can sometimes seem like a bit of a leap of faith. With that in mind, take your time, look at as many references as you can and go with your gut. Always remember to focus on what works for you and not what you like the look of on other people.
Now is the ideal time of year to look around – especially when it feels like the summer sales are dragging on. I'm unlikely to buy anything else mainstream now; in fact, I've normally ear marked my key purchases by the start of the season. It also feels great to invest in and support small businesses. 
If you're in need of help to narrow the search, I've selected a few of my favourite brands below…
Andion Clothing is Spanish family-owned atelier established in the 1970s. Last year, they launched on Instagram with a tiny edit of vintage, romantic blouses – just when the peter pan collar trend exploded. They've since expanded into vintage-looking peasant dresses, ruffle shorts and accessories (think knitted socks, slippers and woven bags). Their fabrics are heaven (wearable retro, antique florals and faded ticking), the detailing is beautiful (scalloped edging, tie straps and smocking) and the imagery is both muted and covetable. They're currently selling a very small selection of tops and shorts via Selfridges, too, but otherwise all orders are direct via DM. The Gabrielle and Celina dresses are current favourites, as are the Filippa and Claudia blouses. Plus, the price point is reasonable enough to allay any commitment phobia.
Grace Wears is one of those under-the-radar brands which is full of joy. I met Grace Hudson-Evans when I visited a pop-up she was involved in, when she'd just launched her silk palazzo pants. They were simple in design (wide legged with an elasticated waist) but in the most glorious silk fabrics – bright yellow, coral polka dot, black and white stripe. She has great personal style and her designs have this quiet joie de vivre and boudoir charm. Party bags with contrasting ruffles and marabou trim are outfit game changers and don't get me started on the metallic Daughter Dress (it's based on an old item of her mother's) which is pure modern day Mitford style. The striped Magnolia dress with its handkerchief sailor sleeve is the kind of summer gem that will keep on giving. Grace creates limited editions and once they're gone, they're gone, so be quick.
Maison M is a curated lifestyle brand, incorporating homeware and a selection of beautiful objects into their edit. Mooi and Margherita are the founders and have a seriously chic eye. If you are looking for vintage and vintage-inspired bags, they are an absolute must visit. I first spotted Maison M when they launched their bow pouch bags in velvet a couple of years ago. They then produced a larger, padded gingham version the following summer and I was sold. This season, I've just invested in one of their incredible patchwork totes – the pre-order round sold out within hours. Sign up to their newsletter to hear about their new drop of limited-edition hand knitted jumpers in late August – it's always worth visiting their platform to see what vintage knitwear they've been able to source – think embroidered flowers, puff sleeves, aran and stripes – there are so many unique designs.
Johanna Sands popped up on my radar thanks to Isabel Spearman's first Daily Dress Edit event a couple of years ago – I've followed her ever since. I ordered a couple of her summer dresses on the spot, one maxi in pink linen (the Perla) and the other a ruffled midi in mint lace (the Concetta). They are two of my most treasured holiday pieces – voluminous, quietly decadent and beautifully made. I'm immediately transported to Italian cobbled streets at golden hour whenever I wear them. Johanna's mother designed and made bespoke dresses for VIPs on the red carpet, and so it's in her blood. She models her own designs and works with her photographer husband, too. She'll keep you updated via Instagram on which limited editions she's about to drop and has one of the the best eyes for colour out there. Plus, her A/W styles are as strong as her summer collection – the cord Rosa dress in neon pink is just perfection.
Blue Anemone is one of those brands that I kept stumbling across and their 70s-inspired prints have been a big hit this season. The brand is only a couple of years old, it's based in Galicia Spain and its approach to fashion is slow and sustainable – everything is pre-ordered, made locally, and all using natural fibres. There's a turnaround of two to three weeks due to the handmade nature of the designs, so no last-minute holiday orders here. I've been hankering after their Orchid dress in yellow and orange, which also happens to have a matching bucket hat. They do the best gingham out there and the floral Margot dress is one of the prettiest peasant dresses I've seen. Again, imagery is everything and their Instagram account is full of picturesque folk lifestyle shots – think golden light and plenty of girls in pretty dresses.
Bougainvillea London. I couldn't be more obsessed with this Instagram account. Designer Ava Amande uses her mother as her model, and it is beyond refreshing to see something different from the ordinary. Her dresses are all made from stunning old silk sarees sourced directly from India – giving second life to high-quality, beautiful fabric; she works in the context of zero waste, no virgin materials and no plastic. Each design is a one-off and handmade by Ava (you can often see more about the process on her account) and she has an extensive library of colours and prints to choose from if you are looking for something specific. Her aesthetic is all about the 1970s – predominantly the balloon sleeved midi dress, which is so wearable and flattering. My favourite is the ruffle collar Masala dress, her signature style. Choose from a vast, delicious palette on her website which, in Ava's own inimitable style, it's divided into Earth (yellows, reds and orange) and Sea (blues and greens).
Read More From Anna Bromilow
DISCLAIMER: We endeavour to always credit the correct original source of every image we use. If you think a credit may be incorrect, please contact us at info@sheerluxe.com.