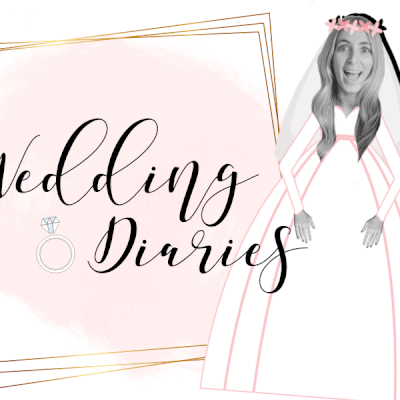 The Wedding Diaries: The Details

With not much more than six months to go until her big day, our fashion ed Charlotte is starting to panic...

I started having nightmares about the wedding last week. They came hard and fast, three consecutive nights in a row. In the most recent, I dreamt it was the day before the wedding and we hadn't bought the mini bottles of champagne we wanted all the guests to be given boarding the buses to the venue. Although not quite comparable to teeth loss or plane crashes, it was nevertheless enough to incite me to call our planner in a panic; there were some logistics that really needed organising.
It turns out, when it comes down to the minutiae of the day, there's a lot to organise. Having a planner is essential for an abroad wedding, unless you have the time to source your own florist or hunt down the best photographers, but it's a misconception that she'll take all the stress out of the logistics - you still have to call the shots. And if, like me, you find making decisions incredibly stressful, chances are you'll also be waking in the night in a champagne bottle sweat. Happily, an hour conversation was all it took to assuage my concerns, but I couldn't believe quite how detailed things got. On top of the big things, like the food, the decor and the music, there were some pretty obscure things on the agenda. Like, did we want the aisle to be curved? Or should it be angular? Apparently, aisle curvature is a hot topic for debate.
And how did we want to display our place settings? There's the big poster display or there are individual cards, which you can line up elegantly and alphabetically on a little desk – but then should that desk have flowers? Or candles? Or both? There's also a large tree which we could hang them from, like a perverse game in which our guests spend the majority of the reception ducking under branches to find their table number.
What colour should the dance floor be? It could be white, but then also it could be stone – more in keeping with the rustic setting perhaps? But then is white glossier? More glamorous? Alternatively, there's also a snazzy LED lights option (a hard no), or the bar mitzvah favourite: a black and white checked design (also no). 
I know these epitomise first world problems. I know there are bigger stresses and strains out there than napkin colours and if a mariachi band should perform at your reception and whether you should have flowers lining the aisle or bows on the back of the chairs or whatever. But if you want to plan a lovely wedding, these are all things that demand your time and attention. So, if you're a bride-to-be also feeling like you have a long list of nagging things you can't quite make sense of, here's my definitive guide to the little details worth remembering…
Entertainment
Sure, you have your band booked. But it's also worth considering music at other points during the event. Do you want a singer as you walk down the aisle? I attended a wedding recently in which the bride entered to a gospel choir – it was magical. And then there's the reception too – from a pianist to a band, having music can really set the tone.
The Playlist
I suggest getting strict on song choices early on. I already have a running list on my phone, so when I hear a banned tune (Lucky, I Got A Feeling, Valerie and so on) I can make a note to let the band know. So far, the 'no' list is the longer, so song suggestions welcome.
Lighting
Chances are your venue will be lit, but it's worth thinking about what that means. I advise strictly banning any coloured filters (nothing says disco like purple uplighting) and considering other ways to brighten up the space, from fairy lights to chandeliers to candles.
The Food
It's all very well getting the menu organised, but it's the food around the main event that makes things interesting. Whether it's a build-your-own bar at the reception or some late-night treats (I've seen more than one doughnut wall this wedding season), stopping your guests being hungry is key.
The Literature
I've been so surprised by how many different (for want of a better word) print outs are required. Think about a programme for the ceremony, menus, order of events, place names, table names and place cards, and how you want them to look and feel: do you want them to match the invitations? Or have a particular theme running through them?
The Booze
The best thing I've seen at a wedding in the last few months is a dedicated shot bar – a little corner on the end of the bar with bottles of spirits and a selection of shot glasses. It was where the bride and groom's friends spent the majority of the night, which resulted in a really fun party. Have fun with what you do with booze.
DISCLAIMER: We endeavour to always credit the correct original source of every image we use. If you think a credit may be incorrect, please contact us at info@sheerluxe.com.