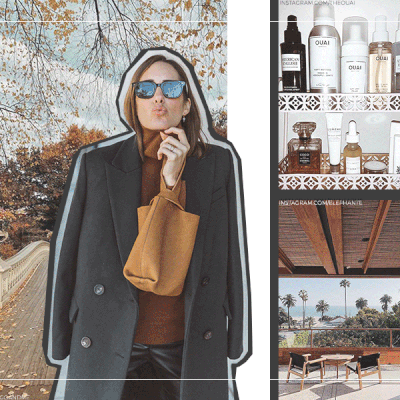 What Louise Roe Loves Right Now

You might know her from her E! days or perhaps you're an avid Insta follower. But if you're not familiar, the British-born blogger made her name on the Hollywood TV circuit and now keeps scrollers entertained with her mix of fashion, interiors and #familygoals content on social media. Given she's a trendsetter in the very sense of the word, we were keen to find out what she's coveting…

FASHION
​Designer brand… Mansur Gavriel. They just opened a boutique and cafe on Melrose Place and it's the most beautiful place to hang out – not to mention Insta-worthy!
 
Under-the-radar brand… Rebecca de Ravenel. Her earrings are incredible. I always feel happier once I've put them on.
 
Autumn/winter trend… Cowboy boots. I'm still a bit confused and scared to wear them, but I'm giving it a go...
 
Party trend… Velvet clutches. I love anything velvet once the seasons change...
 
Brand for capsule pieces… Gerard Darel. My whole winter wardrobe is from there - the loveliest caramel sweaters and coats.
 
Boutique… Apartment by the Line in LA, almost next door to Mansur Gavriel. This is another hive of inspiration. The shop is laid out like somebody's apartment; even the beauty products strewn by the bath are open, and there's a walk-in wardrobe to die for. 
 
BEAUTY
Skincare… Angela Caglia. All natural and has the best night face oil I've ever tried. 
 
Make-up… RMS. I am obsessed with this brand. I met the founder recently and she was hilarious. I love that their ingredients are organic and eco-conscious.
 
Hair… The Ouai. My hair stylist friend Jen invented this brand and it blew up so fast – it's constantly sold out.
 
Fragrance… Coqui Coqui. The coconut scent reminds me of being on holiday.
 
Treatment… An at-home massage is my ultimate treat.
 
Workout… Bandier fitness. Bandier makes amazing workout gear but they also have classes above their shops, which is brilliant. 
 
TRAVEL 
City break… Prague. I've always wanted to go and we just booked to see the Christmas markets.
 
Holiday destination… Anywhere I can ski. Being in the mountains are my happiest childhood memories. 
 
Restaurant… Elephante in Santa Monica. It just opened and overlooks the ocean. The pizza is amazing. 
 
Hotel… Twin Farms in Vermont. It's nestled into the forest and all the log cabins are decorated differently. Each night you're served a five-course meal without menus – the chef just creates these delicious dishes off the cuff. 
 
Country Escape… Soho Farmhouse. I have been twice and it's such a cocoon. A place to switch off and drink hot chocolate by the fire.
 
INSTAGRAM
Style… @CamilleCharriere. She lives between Paris and London. Her captions are as dry as anything and her fashion is fabulous.
 
Interiors... @AmberInteriors @cutterbrooksshop – very different aesthetics, but I adore them both. 
 
Food… @LoriaStern. She makes biscuits with real flowers pressed on top, which have gone viral here – take a look!
 
Travel… @Margoandme – she's a fashion blogger but travels all the time and her back drops are just dreamy. I'm lucky enough to be friends with a few of the girls on this list and they're really inspiring.
 
Glamour… @styleherione. Nobody wears couture mini dresses and cat eye sunglasses like this one. And she's the loveliest girl, too.
 
Inspiration… @Eagletta I've known Alex since we were both interns and she has built an enormous, artistic brand. And she's had two beautiful babies. It's awesome to watch your friends smashing it.
 
FOOD & DRINK
Breakfast… Tea and toast, always! I still buy my PG Tips in LA.
 
Snack… Taramasalata on more toast. I love eating things other people hate and won't steal from the fridge…
 
Juice… I prefer a soup. My favourite ever is sweet potato and turmeric from PRESS London.
 
Treat… Dark chocolate ice cream. There's a brand called CoolHaus which makes the most outrageous ice cream cookie sandwiches – birthday cake is my favourite flavour.
 
Cocktail… Gin and tonic – nothing beats it. Not too sweet, refreshing, and it has to be grimace-when-you-sip strong. My Dad makes one that will blow your head off!
 
CULTURE
App… The Wonder Weeks is life-saving as a new parent. It explains everything that's going on in a newborn's brain and body, which corresponds to their behaviour and sleep, week by week, in amazing detail.
 
Podcast… The High-Low. My dose of intelligent, funny British content out here in LA. Listening to that really makes me miss London.
 
Song or album… I love Brazilian music, of any kind.
 
Netflix series… Bodyguard, House of Cards and Billions are all real nail-biters. Bodyguard had better make another series...
 
Film… Anything with Will Ferrell. When I first moved to LA and used to get homesick, I'd cheer myself up by watching his blooper reels on YouTube. They still make me cry laughing.
 
DISCLAIMER: We endeavour to always credit the correct original source of every image we use. If you think a credit may be incorrect, please contact us at info@sheerluxe.com.