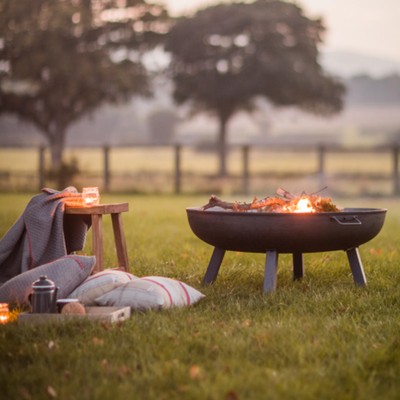 18 Stylish Heating Solutions For Your Garden

Having stylish garden furniture, a barbecue and atmospheric lighting is all well and good – but a fire pit or patio heater is an equally worthy investment if you're looking to make the most of your outside space year-round. Here's what you need to know about the different options, as well as some expert advice to ensure you make the right choice…

All products on this page have been selected by our editorial team, however we may make commission on some products.
Extending the amount of time we all spend in our garden has never felt more pertinent than over the course of the last year. "The trend for garden heating solutions was already on the upturn," agrees Chris Harrington, founder of garden designers, Harrington Porter. "While British summers can be good, it's often still cold in the evenings, and people increasingly want to spend longer periods of the year outside, from April through to around September or October. Because people have invested heavily in their gardens in the last year, it's reasonable that they want to maximise the amount of time they can spend enjoying it." 
Experts agree the ideal option is a built-in fire pit with a LPG or main gas supply, although all admit this is the most expensive route you could take. "It's the Rolls Royce of garden heating because you get heat without the smoke," explains Chris. "Everyone can keep warm if you design a seating area around it, and it can be made with a lid which converts it to a coffee table when it's not in use." 
However, if a built-in unit just isn't in your budget, then there are other plenty of other, more affordable options to keep you cosy this spring.
Gas & Electric Heaters
A canister-run gas heater is probably the simplest option, although not the most eco-friendly – the carbon footprint of an electric patio heater is 15% of a gas model and they're expensive too – coming in at around £1.20 per hour to run. But they can be effective if you're looking to heat a large area and they're also easy to use – which explains why you see them in plenty of restaurants and on rooftop terraces. 
If you're renovating or embarking on a new build, electric wall heaters could be an option – it gives you time to plan properly, as they need their own electricity supply. "An electric heater needs an independent feed from the fuse box – and it can't be on the same feed as your garden lights," explains Chris. 
Think carefully about where you might want to mount them, especially if you have an awning or semi-enclosed space. "For heaters, single units are usually installed 2m-2.5m above the ground and 3m-3.5m for double units," says Claire. "They also need to be at a 45-degree angle pointing towards the table or chairs if you want the best heat. The heat is infra-red and is projected forwards, so it's important there's nothing placed directly in front of them that could melt or be a fire hazard." 
Fire Pits
A fire pit (or a fire bowl) is a more portable solution, and there are plenty of designs to choose from – be it traditional bowls or sculptural pits with stands. All emit a fairly decent level of heat to those seated close by, and seeing as many are made from steel, clay or cast iron, plenty come with grills and are fuelled by charcoal or wood.
There are some important considerations to bear in mind, says Chris. First, it's important to think about your neighbours. The first hour or two of burning can produce an acrid smoke so if you live in a city with a small garden, it might bother those around you. Also, remember to close the doors and windows to your own home to stop it smelling of smoke.
"Be careful what you put your fire pit on, too," says Claire Belderbos from Belderbos Landscapes. "It will get hot, so it should ideally be set on stone – if you have a patio great, or use a spare slab if it's on the grass – you'll find artificial grass can permanently singe."
Chimeneas
The most decorative option out there, chimeneas are becoming increasingly popular. The chimney-like stack also means they can funnel smoke away from you (and the neighbours), while the fire inside is protected from the elements, including the wind. They're also waterproof which is a big bonus, although this means the fire is contained, so unless you're in the prime seating position, you won't feel much of the heat.
If you're concerned about rogue sparks or shooting flames, this is a safer option than a fire pit, so it's better if you have younger children. They require less tending to than a fire pit as well – plus, they can burn for hours with just one to two small logs, so you spend more time entertaining your friends.
DISCLAIMER: We endeavour to always credit the correct original source of every image we use. If you think a credit may be incorrect, please contact us at info@sheerluxe.com.