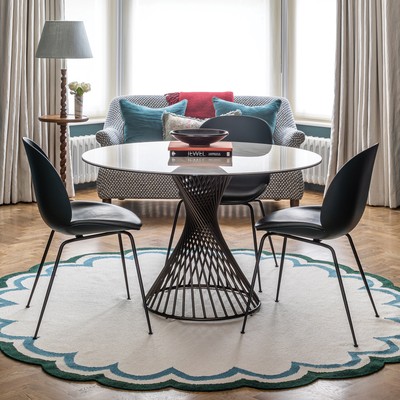 What To Know About Choosing A Rug

Size, material, positioning… there's more to choosing the perfect rug than just look and feel. To ensure you get it right, we asked four rug experts for their advice…

What's the first thing to consider when choosing a rug?
Different areas of a home require different considerations. For example, spaces like the living room or the hallway tend to have higher footfall than others. As Omar Sid, creative director at Rug Artisan explains: "For areas with high footfall, it's ideal to have rugs with at least a medium pile height, ranging from 14-18mm, if not higher." Meanwhile, households with pets would also do well to keep in mind their animals' habits, he adds, especially when it comes to the potential damage done by scratching or pulling. "Another point to keep in mind is to find a rug with a stain treatment to protect it from various spills. Bedrooms, though not high traffic areas, suit the lush feel of high pile rugs, and it's hard to be a high pile rug made with pure New Zealand wool."
What are the best materials to look for?
Whether it's synthetic, pure wool or something more natural like jute or sisal, the number of materials available is exponential. Coral & Hive founder Jeannine Birch elaborates: "Pure New Zealand wool, a silk and wool blend, a jute and wool blend or a spun blend of African fibres are all good recommendations. Whether you're designing a flatweave or a textured rug, a professional can always give you more advice as to the best fibres – our favourite mixes are our African karakul wool blended with mohair. They're incredibly soft underfoot but also have a unique texture – they're available in subtle earthy colours and will last a lifetime if looked after properly." It's also worth remembering that natural materials are also hypoallergenic – so if you make considered choices, you can be kinder to the planet by buying something that lasts. 
What can a statement rug add to a room? 
A statement rug can make or break a room – just like a piece of artwork. Somya Singh from Echlin London explains: "It will either bring everything together or completely change it. Just as with art, it's very easy to find an affordable print that will hang on the wall and be rather inoffensive, or it can be the thing that makes a space truly memorable. It's so important to factor this into the plan, right from the start." 
How should you position a rug?
Rug specialists say this is one of the most common questions they get asked. Frances Loom founder Kelly Vittengl explains her general rule of thumb: "The front legs of all pieces of furniture should be sitting on top of the rug. If the rug is very large, it's okay for the back legs to also be on it, too, but if you the rug isn't big enough, try placing a large jute or sisal rug over it. Many people don't realise just how much a rug can pull a room together. Having all the pieces of furniture touching the rug keeps things cosy."
Can you put a rug on a carpet?
While this also sounds like something many of us would do, experts say it should really depend on the carpet beneath. "If it's a shorter pile, then it's totally doable," says Kelly. "Many of our customers are renters and often get stuck with hideous carpet they didn't pick out. If that's the case, there are definitely ways to layer rugs on top to make the room feel more like you. The great thing about our rugs is that they're timeless. So, if you buy one to layer over a carpet, chances are you'll find a space for it in your next home." Beyond practicality, there are ways to make it more of a design feature, too. "Recently we've woven a silk and wool rug which was layered onto a jute wall-to-wall carpet – the room felt cosy and the layers added so much interest to the space," says Jeannine. "We often weave traditional patterns from our Indian archives and look at how we can layer these on different floor coverings."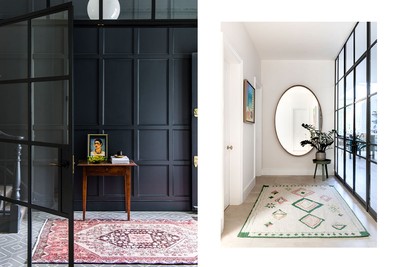 Frances Loom | Coral & Hive
Should the rug be the same style as the rest of your decor? 
Experts agree it depends on what you're looking to achieve with the rest of your space. "It's always worth thinking about what you want the room to feel like," advises Somya. "Do you want it to be a sanctuary, a space to impress guests or a hard-working room that sees a lot of use? If you're looking for a calm space, go for something more in keeping with the rest of your decor, so it doesn't jar or fight with anything. If you're looking for something really daring, don't be afraid to introduce new colours and textures."
If you're going for a bold pattern, what should you keep in mind?
When it comes to bolder moves, rug experts say it's important to think about the rest of your decor and try to reflect a common theme. "For example, have you got colours you can contrast with or complement?" asks Somya. "Metallics you want to highlight or add to? Is all the furniture very rectilinear, or curvaceous? It can feel impossible to know if all the colours will work together, but there are tons of inspirational starting points out there – from book covers, to art, to advertising and even great packaging. On top of that, many rug departments and stores will be able to help you choose something."
Rugs in kitchens seem to be popular right now – is it practical?
While the trend is definitely making its way over from the US to the UK, many people are often concerned about the practicality and hygiene risk associated with having a rug in the kitchen. But Kelly says it's all about keeping the cost low and looking after it properly. "How often do you really have big spills in your kitchen?" she asks. "It can certainly happen, but so does spilling a glass of red wine in the living room. What's important is to give the rug a light vacuum every couple of weeks to gather any crumbs or dust that may have settled. For hard stains, a professional cleaner should be able to get just about anything out. Try not to worry too much."
Finally, are there any other current trends worth knowing?
Experts agree going bespoke is one of the most popular ways to get something truly unique to suit your home and personality. And right now, with the world in its current state, calm and cosiness are always the goal. "We've definitely noticed a shift towards creating a calmer environment at home," agrees Jeannine. "People want their homes to be filled with pieces with real meaning as they de-clutter and make more considered choices." 
 
Visit RugArtisan.co.uk
Visit FrancesLoom.com 
Visit CoralAndHive.com
Visit EchlinLondon.com
 
Inspired? Here are some of our favourite rugs worth the investment...
DISCLAIMER: We endeavour to always credit the correct original source of every image we use. If you think a credit may be incorrect, please contact us at info@sheerluxe.com.