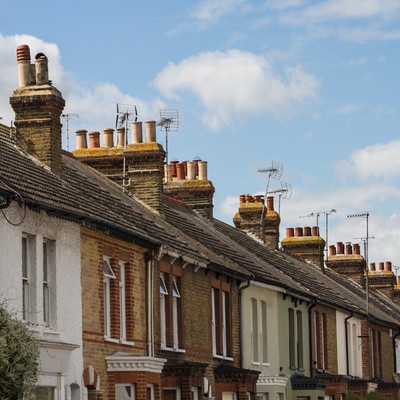 Everything First-Time Buyers Need To Know

From understanding what you can afford to knowing the difference between leasehold and freehold, there's an awful lot that goes into buying your first home. To ensure you go into the process armed with all the necessary knowledge, we asked two property experts to answer some important questions.

First things first – how do you work out what you can afford?
"When you're looking for a first home, one of the most important factors to consider is the value of the property you like the look of. Check your savings and total earnings so that you can afford the deposit and factor in further costs such as the valuation, moving costs and legal fees. You also need to feel comfortable with range of monthly repayments. Halifax's Online Mortgage Calculator is a very popular tool – it's a great way to check what you can afford and factors in all of the above." – Tom Martin, remote mortgages director at Halifax
"It is always best to speak with an adviser as working this out for yourself can be complicated. It is easy to check with one lender as to what you could potentially borrow, but with each lender having different criteria on affordability, you are best to speak with an adviser who can find the lender who will treat your financial situation more favourably." – David McGrail, compliance director at First Mortgage
Speaking of the hidden costs, what do these usually add up to?
"There are a number of other costs that apply to most buyers, and are important to factor in. Some mortgages will have a fee attached, which you can pay for when you apply, or choose to add to the total amount to pay back. All mortgages also require a valuation which tells you information such as defects and problems that may significantly affect the value of your property. The cost for a valuation will vary based on mortgage provider and size of property, while some buyers will ask for an in-depth building survey from a surveyor which offers a more comprehensive inspection. 
In order to get a mortgage, you'll also require a conveyancer (solicitor) to take care of the contracts and documents. The costs for this can vary between providers so it's important to look at what is included in any quotes. Halifax's Conveyancing Service can help ensure you're getting the best value for your money. As a first-time buyer, you're currently exempt from paying stamp duty on properties valued at under £500,000 – for most buyers outside of London this will mean not having to pay at all, but make sure to check average house prices in the area before you start looking." – Tom
"Surveys can range from £250 to a few thousand for a full structural survey. Many mortgage deals will include a 'free' valuation report as part of the package. The legal fees for the conveyancing process are typically £850-£1,500. You will also need to pay £250-350 for the 'searches', where the solicitors check for any local plans or problems which may affect your property. Removal costs will vary hugely depending on how much stuff you have, how far you are moving and how much help you need. You can do it yourself if you hire a van for £80-150, or you can get a full removal service from £500." – David 
How are borrowing amounts calculated relative to your deposit or salary?
"The mortgage provider will always factor in your salary and savings when offering you a loan, while the sum of your deposit will depend on the type of mortgage and value. With a 90% loan to value (LTV), you'll pay 10% of the value as a deposit, but the provider will only offer this if you can pay the loan back in the long term. Our mortgage calculator offers clear guidance on your potential mortgage offers based on your current savings and earnings, and expert mortgage advisers should be able to help." – Tom 
"It's hard to give an exact figure on this as it does not purely come down to salary and deposit. As a very basic rule of thumb, you can estimate that most buyers could borrow around three to four times their income, however this can be impacted by any other liabilities you have in place such as credit cards and loans. The best way to get a rough estimate is by completing an affordability calculator or even better, applying for an agreement in principle." – David 
Can you explain a bit more about what an agreement in principle is? 
"An agreement in principle is provided by a mortgage lender who assesses your income and liabilities and provides confirmation that they will lend you the funds so long as you can verify your income as per what was disclosed to obtain the agreement." – David 
"An agreement in principle won't be guaranteed until you've completed a full mortgage application. Some estate agents like to see an agreement in principle, as it shows you're serious about buying. Halifax's online mortgage agreement in principle tool allows you to take the first step in just 15 minutes." – Tom 
Do you have any tips for researching particular residential areas? 
"Consider what your lifestyle is like now and how it will change in the next ten to 15 years. Key things to bear in mind when picking a location include good transport links, proximity to shops, what your commute will be like (if you're commuting at all). Meanwhile, for those with kids or planning to have a family, it's worth checking out the nearby schools." – Tom 
What's the difference between leasehold and freehold? 
"A freehold means the buyer owns the property and land it stands on, whereas leaseholders only own the property but not the land, and ownership of the property will also be for a set period of time, which could be years, decades or even centuries. Ownership of the property and land does add value in the long term, however, this is dependent on other factors, such as location, improvement of the home during this time and prices in the wider housing market." – Tom 
"If you own the leasehold, then you are required to lease the land on which it is built. This is more common for flats and some new build developments. There is an annual lease payment to the freeholder of the land, called the 'ground rent'. You need to be aware of any rises in ground rent which are written into the lease, in some cases it can double every few years. There may also be service charges due to the freeholder to cover maintenance and upkeep of common areas, and the buildings insurance. The lease also has an expiry date, at which point the ownership of the property technically passes to the freeholder. Once a lease has under 80 years left it can dramatically affect the value of the property. Extensions to the lease can be bought once you have owned a property for two years, however the cost of the extensions rise significantly once it is under 80 years. As part of the purchase process, your solicitor will look in depth at the lease terms and notify you of any onerous clauses, but it is a good idea to read it yourself so you are familiar with what it covers." – David
When you look round a property, what are some key questions to ask the estate agent?
"Prior to visiting the property, think to yourself about what you need from your home. Key questions could be the number of rooms you want, whether you need parking, what type of garden you'd like, how much decorating you'll need to do. Your estate agent will often be an expert not just in that property but others, too, and may be able to find you your dream home if you have something specific in mind. Just remember a homeowner could be moving home for a number of reasons, including choosing to downsize, or relocating for a job. Your valuation and home survey should pick up any major issues." – Tom
In order to get a mortgage, you'll also require a conveyancer (solicitor) to take care of the contracts and documents. The costs for this can vary between providers so it's important to look at what is included in any quotes.

How do you make an offer? 
"Prior to making an offer, decide how far you want to negotiate on the asking price. Make sure to compare your property to others for sale in the area and always stay within your means – your agreement in principle is a great guide for what you may be able to afford. To make an offer, simply call the seller's estate agent and then follow up on email to receive written confirmation." – Tom 
Can you explain what being 'gazumped' means?
"Gazumping happens when the seller accepts a verbal offer from one buyer and then accepts a higher offer from someone else. Getting the written confirmation of your offer and acceptance is important to prevent this from happening. Our Halifax Jargon Buster offers simple definitions for the key property buzz words." – Tom
"The sale process does not become legally binding until the contracts have been exchanged and gazumping can happen up until this point. Gazumping is not illegal in the UK. In fact, in 2017 it was reported that one in eight property sales were affected by gazumping in England and Wales. It is much rarer in Scotland due to legal guidelines which prevent it happening, but that is not to say that it doesn't happen at all." – David  
So if your offer is accepted in writing and both parties are happy to proceed, what happens next? 
"Before contracts are exchanged, you need to apply for a mortgage. After getting an agreement in principle, speak to a mortgage adviser who will help set you up with the terms and rate that's right for you. Once you've received your mortgage, you need to hire a conveyancer to carry out the legal work for you and book a valuation of your new property." – Tom 
"If the valuation report flags any issues, a further, more-thorough survey may be required to fully assess the situation. The main types of survey are a Home Condition Report, a Home Buyers Report and a Building or Structural Survey." – David 
What happens if your survey unveils hidden issues at the property?
"If you're buying a property in England and Wales, then you can still choose not to buy the property and can look to re-negotiate following this." – Tom 
What does it mean once contracts are exchanged? 
"Exchange of contracts is the final step in buying a house, once each party has signed and exchanged the contracts, the purchase is legally binding and enforceable meaning neither party can back out of the purchase. Full completion then follows on the day you get the keys." – Tom
What happens between exchange of contracts and the completion date?
"Prior to completion, your conveyancer will need to transfer any remaining money relating to the purchase and arrange the mortgage deeds to ensure you can get your keys and start the moving in process. Just be aware there may be a delay before moving in. The time between exchange of contracts and moving day can vary between purchase, if you're ever unsure about what is best, speak to your conveyancer and work with them to agree a moving in day with the seller. Prepare to be patient, many sellers won't complete unless they've completed on their next property." – Tom  
"Just be aware the average length of time between exchange and completion is two weeks. Most mortgage lenders are not able to turn around the mortgage processing in time if it is under five working days." – David 
If the whole transaction falls apart, what money might you lose?
"We always try to support our customers through to the completion of their home purchase, but for those unlucky enough to have their transaction fall through pre-exchange they may still need to pay for conveyancing and valuation fees." – Tom
Finally, is there anything else you think first-time buyers should know?
"Make sure to take your time and be patient when looking for your property. Getting the feel of a home and the local area should always be an essential part of the process. However, with existing restrictions and social distancing in place, this will still have some impact on the market and the process could be slower than normal. Before speaking to a mortgage adviser over the phone or by video appointment, make sure all your income details, bank statements and pay cheques are up to date and you have them prepared before the first meeting. The more accurate information you can provide from the offset, the smoother the process will be. Most importantly think carefully about your requirements and make sure you're completely happy before purchasing. It can be a bit stressful at times, but just keep in mind it'll be worth it. You'll never forget the day you get the keys to your first home." – Tom
 
For more advice on purchasing your first home, including mortgage advice, visit Halifax.co.uk or FirstMortgage.co.uk
 
*DISCLAIMER: Anything written by SheerLuxe is not intended to constitute financial advice. The views expressed in this article reflect the opinions of the individuals, not the company. Always consult with an independent financial advisor or expert before making an investment or personal finance decisions.
DISCLAIMER: We endeavour to always credit the correct original source of every image we use. If you think a credit may be incorrect, please contact us at info@sheerluxe.com.