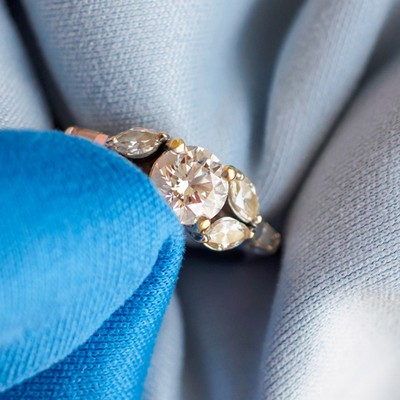 How To Clean Your Jewellery

From minimal earrings to engagement rings, like most things, fine jewellery needs a little bit of upkeep. We spoke to jewellery experts Laura Lambert from ethical jewellers Fenton & Co, and Dickie Warrander from W&W Jewellery, to find out how to clean and protect our favourite pieces…

Invest In A Professional Clean
While there are no real rules around how often you should clean metals or stones, it's easy to see when it looks dull. Even so, handing it over to the professionals need only happen once or twice a year, depending on how often it's worn. Laura says: "A proper clean and polish is only really necessary every six months to a year, or before a big event like a wedding." Dickie agrees: "A proper workshop clean and polish is about it looking as good as it can. In our workshop we check a piece over first, advise on the condition and any repairs which might be needed. Then it's into the ultrasonic cleaner, followed by a blast or two from the steam cleaner before another check at the work bench to make sure all the stones are secure. Assuming they are, the metal parts will be polished with a series of spinning mops and polishes to remove any nicks or scratches."
Build An At-Home Cleaning Kit
It is possible to brighten up any stones at home, just don't expect a workshop finish, warns Dickie. "There are lots of ultrasonic cleaners available for home use but they may not be quite up to the professional grade. And be aware that ultrasonic cleaning can also loosen stones in their settings." Even so, it's worth exploring the usual range of jewellery cleaning dips and cloths currently on the market. "The cloths can also help give the metal a bit of a polish, but to give any piece a simple clean, stick to a cup of washing up liquid, warm water and an old tooth brush," finishes Dickie. "Gently scrub the stone on top and underneath. If your ring is especially dirty, let it soak in the soapy water for an hour or two to loosen the dirt before scrubbing," advises Laura. Rubies, sapphires, aquamarines and garnets can all be cleaned with fairy liquid, water and a brush, it's worth bearing in mind that other gemstones, such as emeralds, need different treatment. "They have different properties," warns Laura. "We recommend warm water with a soft brush to keep it clean, as well as treating your emerald with cedar oil to maintain its sparkle."
Get To Grips With Gold And Silver
"Gold is non-reactive and should just need a polish," notes Dickie. Bear in mind as well, because it's made up of 75% gold, white gold will always look as though it is changing colour with wear and tear. "The bright white finish on a new piece is usually a plated layer of rhodium – that can always be reapplied but its not something you can do at home," he warns. Silver is reactive and will turn black as it oxidises over time. "Keeping a piece clean will avoid this happening, but if it does, silver dip or polish is best depending on how big the piece is," finishes Dickie - just make sure you wash both off thoroughly. 

Treat Diamonds Differently
"Even though a diamond is a phenomenally tough material, it is possible to damage or change a stone's appearance," cautions Dickie. "Bleach is a no-no, as is putting jewellery in the dishwasher, because the cleaning is corrosive and uses heat." If you're on the hunt for a diamond-specific cleaning solution, look to the unique diamond polishing wipes from specialist jeweller De Beers. As only diamonds can polish diamonds, each single-use wipe contains more than a million micron-sized gems to quickly clean and polish the stone's surface.
Beware Of Everyday Soaps And Lotions
"The most common culprits of dirt on a gemstone is soap or moisturiser," explains Laura. "Excess soap residue or lotion is usually wiped off the top of a gemstone as the wearer is more inclined to see it, but both tend to cover the underneath as well, which forms a dry, opaque layer. This results in the stone looking dull and losing its sparkle." Dickie agrees: "Creams, oils and treatments will leave a residue on any stones, however careful you are and if over-applied, will fill up any open areas in your jewellery. This is really important with rings but other pieces suffer too. If it's practical, and you have time, take your jewellery off [before applying these products]."
Finally, Avoid Acidic Products
Between cleans, keep gemstones away from anything acidic, advises Dickie: "Don't use any abrasive or corrosive or that involves heat." That includes any kind of fragrance or other household products, such as bleach, and remember to pop the Marigolds on before cleaning the bathroom or kitchen surfaces. Finally, for a quick-fix clean when you're out and about, use is a glasses cloth to wipe away finger prints and small scratches.
Shop our pick of home-cleaning products below...
DISCLAIMER: We endeavour to always credit the correct original source of every image we use. If you think a credit may be incorrect, please contact us at info@sheerluxe.com.