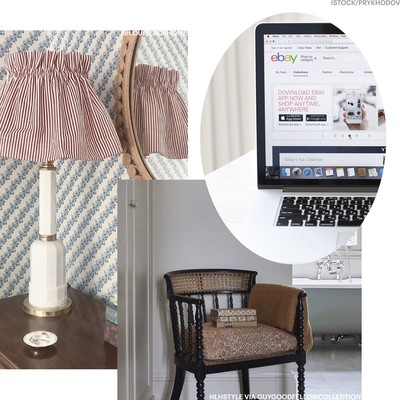 How To Find Great Vintage & Antique Homeware On eBay

Anyone who has a knack for it will tell you eBay is the place to find vintage or antique homewares. But if you're not sure what you're doing, it's easy to feel overwhelmed by choice and intimidated by bidding tactics, scrupulous sellers and hidden charges. Here, a couple of interior designers reveal their sourcing tips, before the selling team at eBay shares their advice.

While eBay needs no introduction when it comes to bargain hunting online, you might not know it's where many interior designers shop – both for themselves and their clients. "I use eBay to find antiques, and it can be the most wonderful way to find a bargain if you're willing to put the time in," explains interior designer Katharine Paravacini. "It can also be incredibly satisfying to find something unique at a great price – antiques and vintage pieces can be so much cheaper online and they're nearly always higher quality than anything mass produced on the high street."
 
As for her online shopping tips, Katharine has this to say: "Go to eBay with a particular item you'd like to find in mind – I usually search by style i.e. 'Georgian painted chest of drawers'. It's also great if you want to find smaller antique accessories – like a pretty vase or a lovely antique plate to hang on the wall. But finding a bargain usually comes down to knowing exactly what you're looking for, so a little knowledge or research ahead of time is useful. Look on other antiques websites first before looking on eBay – that way you can hone your eye and know what you're looking for in terms of the finer details."
 
Designer and interior designer Matilda Goad agrees: "1st Dibs is a great reference place to start if you have no idea what you're looking for: with so much variety it will help you to suss out what styles you like and from which era and country they originate," she told Vogue a couple of years ago. "You can then start to hunt down the dealers directly." As for search terms, bear in mind that lots of sellers often spell things wrong: "You have to be really clever with what you search, and I've found some amazing things purely because they've spelt [the name] wrong. It's about researching the best key terms and looking on different sites to discover new ways of searching."
 
Katharine also warns against jumping in headfirst: "When I find something I love, I immediately check the measurements work for where I envisage it will go. Then, I enquire with the seller as to the condition, especially if I have any concerns on that front." Matilda suggests keeping notes of measurements on your phone if you're after a specific piece. While she admits half the fun comes from stumbling across something that doesn't necessarily fit the brief, there are some pieces she steers clear of altogether. "I have a rule about not buying stained items – no matter how wonderful they are. I stay clear of badly damaged pieces as it's often hard to match in the new parts and you end up spending the same amount as when you've found something similar in good condition."
 
"One of my favourite eBay finds was a beautifully hand painted sideboard, with an aesthetic reminiscent of the Bloomsbury Group," says Katharine. "I searched 'antique painted sideboard', which admittedly is a bit more generic, but got lucky when this one came up for a couple of hundred pounds. It adds huge character to the hallway it now sits in and stands alongside a chair I found in an antique shop in Devon and a mirror bought off Etsy."
 
In Matilda's view, it does pay to prepare for failure on occasion. "You sometimes have to take a gamble, so you should be prepared for some mistakes along the way," she previously told Vogue. "I have, in my mad excitement clicking through photographs, bid on items online without checking the measurements and teeny tiny dolls' house items have arrived! Also, be aware of shipping costs and import duties before you purchase, as these can turn a bargain into something quite expensive." Finally, be aware of what Matilda calls 'fake vintage'. "It's a real pet hate of mine and is often not cheap. Check the origin of the piece carefully with the dealer or ask the online vendor for more details. I can't stand the faux distressed wood and rust look, either. Once you've spotted it, you start to see it everywhere. It's the antique world's version of retro rock band T-shirts…"
 
Visit KatharineParavicini.co.uk and MatildaGoad.com.
When I find something I love, I immediately check the measurements work for where I envisage it will go. Then, I enquire with the seller as to the condition, especially if I have any concerns on that front.

Interested? Five more tips from the eBay selling team to take on board…
Set Your Priorities
"Before redecorating an entire room or buying a single piece of furniture, determine what type of furniture your room can support and set a budget. Start by taking measurements and sketching a detailed layout of the room you're furnishing. With the layout, you can narrow your search to items of a certain size and depth. Establishing a budget will help keep you focused. Set realistic price expectations, based on how long you want the furniture to last and your style preferences."
Find Pieces That Fit Your Lifestyle
"Durability depends on construction, the people who will use the furniture, and how it's used. Got kids? You'll need stain-resistant furniture that wears well. Do you like to entertain? Splurge on that beautiful damask sofa. Popular furniture trends often revolve around practical furniture designed for rooms that get a lot of use. Always consider how much care a furniture piece needs and how much you're willing to put into its upkeep before making a purchase. Factor shipping costs and potential post-purchase repair or redesign costs, such as reupholstering, steam cleaning, painting, and re-staining, into your eBay furniture budget. No matter how much use furniture gets, you can extend its life with a little tender loving care and attention."
Know Your Taste
"With such a wide range of brands and styles of furniture on eBay, it helps to have a clear idea of what styles you prefer, so get a handle on your decorating personality beforehand. Every piece of furniture has a functional or decorative purpose, so it's important to know which features are more important to you in the moment when you're shopping for home furnishings."
Evaluate Wood Furniture Carefully
"When buying wood furniture such as armoires, buffets, dressers, tables, desks, and bookcases, look for quality construction, materials, and finish. Wood comes in two varieties: hardwood and softwood. The first is strong and dent-resistant; hardwoods include ash, cherry, maple, oak, teak, walnut, and mahogany. Generally, more expensive furniture is made of fine hardwood. You'll find less expensive furniture made of softwoods such as cedar, cypress, fir, and pine. A good finish makes a piece of wood furniture even more appealing and determines how much care it will require long term. The better the finish, the longer the piece will maintain its appearance. Choose distressed finish furniture for high-activity rooms. The rough-hewn and rustic finish easily hides finger marks and scratches. To repair scratches and nicks on solid-wood furniture, sand down the blemishes and refinish the surface with a touch-up kit."
Be Discerning With Fabric
"Choose fabric based on how much you plan to use it, how long you plan to keep it, and style. Tightly woven fabrics made of durable fibres tend to wear best. Durable synthetic fabrics such as nylon, polypropylene, and natural fibres such as cotton twill, velvet, denim, and chenille are good choices for active households. More delicate and elaborate fabrics such as satins, damasks, and brocades make a good choice for decorative furniture pieces. When looking at item listings, examine any pictures of pre-upholstered items carefully, making sure fabric patterns and stripes match at the seams. Also, look for a tag to determine fire safety."
 
Remember – always shop smart on eBay…
1. Use categories & keywords.
Use the Categories list on the left side of the page to narrow listings to the specific product type you need. Also, let eBay find items for you by entering the keywords you want to find into the search box. For example, if you want a new IKEA mirror, type "new IKEA mirror" (without quotation marks) into the Search box.
2. Figure delivery costs into the final price.
If you spend a lot of money, make sure the seller will insure the item when it ships. If you want more information, ask by clicking the "Ask seller a question" link under the seller's profile.
3. Know your seller.
Research your seller so you feel positive and secure about every transaction. What is their feedback rating? How many transactions have they completed? What percentage of positive responses do they have? Most top eBay sellers operate like retail stores and have return policies. Do they offer a money-back guarantee? What are the terms and conditions?
4. Pay safely.
Never pay for your eBay item using instant cash wire transfer services as they're unsafe when paying someone you do not know. PayPal enables you to pay without the seller ever seeing your bank account or credit card numbers. In fact, PayPal protects buyers 100% against unauthorized payments from their accounts.
 
Visit eBay.co.uk
DISCLAIMER: We endeavour to always credit the correct original source of every image we use. If you think a credit may be incorrect, please contact us at info@sheerluxe.com.