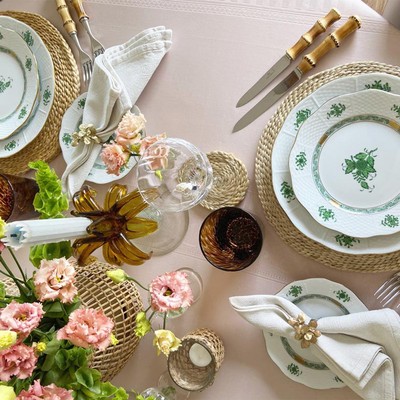 How To Set A Beautiful Easter Table

Laying the table for Easter celebrations offers a wonderful opportunity to use seasonal pastel palettes, floral designs and delicate blooms. From getting the basics right to adding show-stopping finishing touches, we asked the experts for their top tips on making your Easter table special…

All products on this page have been selected by our editorial team, however we may make commission on some products.
Start With The Essence Of Spring
"Easter is, in essence, a celebration of new life. We like to translate this into seasonal spring flowers as well as pretty painted eggs, gingham bows for napkins – and not forgetting, of course, sweet decorative bunnies and lambs." – Jemima Herbert, LAY London 
"We are now experiencing brighter and longer days, and I think Easter is when we start to see those beautiful spring colours coming onto our table via gorgeous tablecloths and table settings. Blossom branches, colourful eggs, patterned crockery are all things that come to mind when thinking of Easter tablescapes." – Alice Wilkes, ARW
Use Colour & Pattern Carefully
"I love using prints and patterns year round, but I tailor the amount I use according to the seasons. For spring, and Easter in particular, it's best to take a slightly more considered and pulled-back approach. Fresh ginghams and stripes herald the new season, and bring a jovial and innocent look to a tablescape. I like to pair these patterns with floral flourishes and subtly layer up table-scapes in this way." – Gemma Martínez de Ana, Bonadea
"At the moment I am obsessed with cornflower blue, so a light blue palette mixed with a pale yellow flower centrepiece sounds divine. I love to mix and match print. I always try and have a solid colour palette that I work with, choosing two or three colours so everything is complementary. I love a statement patterned linen, contrasting this with a delicate patterned napkin for the ultimate print-on-print aesthetic. This year I plan to experiment with prints even more. Another way to make sure you mix and match is to take the colours of the florals and use matching accessories to bring the table to life. Easter is the time of joyful colour and experimenting!" – Alice
"I am really drawn to my taupe gingham linens at the moment – they're calming and relaxed but still decorative. I'll be pairing them with bamboo cutlery, natural rattan chargers, white cabbage crockery and highlights of dusty pink in the ribbon, candles and flowers. It's relatively neutral but full of texture. My house is grown-ups only so it feels suitable! A good approach is to mix small and larger-scale prints to create contrast and to pair different styles of prints, such as stripes with floral, to avoid two different patterns competing. Pairing tablecloths and napkins of the same pattern with a layer or two in between (such as crockery and/or a placemat) can create a contrast." – Rebecca Udall
"I want my table to feel fresh so I'll use white, greens and spring yellow. I always use pretty patterned table linen and ceramic, and it doesn't all have to match exactly. Several patterns set in the same colour scheme works well." – Penny Morrison
"We will be going for a pastel palette this year, with pale violets, yellows and pinks offset by the wonderful freshness of apple green provided by the plants that we will have spilling out of vases and baskets down the table. When mixing prints on the table (different napkins to the tablecloth, for example), try and find a common denominator in the colour scheme. Pick a colour that runs through the different prints and that way they should 'talk to each other'. But my top tip is: the one item worth investing in is a wow-factor table cloth. Even if the china on the table isn't hugely colourful, or you're short on ornamental decor, start with a joyful and colour-infused base and you can't go too wrong." – Jemima
"I love to mix and match prints but to prevent your tablescape looking confused stick to the same colour palette for your prints and keep them grounded by using crisp white plates to give the eye a moment to pause." – Sarah Freeman, Beyond The Table 
Flowers & Foliage
"Beautiful, individual but cohesively designed glass bud vases look incredible, filled with just a few stems of camellia, scabious, narcissi, hyacinth, hellebores, freesia and catkins. The vibrant colours of yellow, ivory, pink and blue with lime green foliage will put a smile on even the most jaded face. For a bit of added fun, put a grass 'runner' along the centre of the table (remember to put a cut-to-size waterproof backing under the turf) for a truly 'spring is sprung' look." – Sue Barnes, Lavender Green Flowers 
"Striped parrot tulips are my favourite at this time of year. Apple and cherry blossom are so pretty too, and spring florals are so cheery. My finishing touch is a big centrepiece full of blossom in a tall cut-glass hurricane. This will add height to balance the intricacies of the smaller table settings details." – Penny
"I adore paperwhites. They are so delicate and very well suited for lower vases on a table. Hyacinths are also incredibly pretty. I tend to grow these in small pots and cover the soil with moss, which adds texture to your table." – Rebecca
"Hyacinths, tulips, daffodils, sweet acacia… Spring has sprung, bringing with it optimism and joy –which we need more than ever this year after what seems like a very long winter!" – Gemma
"Primroses and other wild flowers add a wonderful natural feel to the table, especially if they can be presented in wicker baskets and with plenty of green foliage. A seasonal Easter tip: pop some 'bunny tail' grasses (available online or at some flower markets) into bud vases of seasonal flowers for a thematic and textured addition to the table." – Jemima
"Walking down country lanes and seeing the wonderful florals growing at this time of year gets me excited about beautiful tables. Something foraged is a must for me. Lovely bunches of daffodils can pair with blossom branches for a less traditional take on Easter, and cow parsley is a must after coming home from a long country walk." – Alice
Decorations
"Eggs! No Easter tablescape is complete without them. Whether they are edible, felt, hand-painted, dip-dyed or marbled, I feel they are a must for Easter. I love to source accessories from antique fairs and vintage markets for something a little different and with personality. I always add two silver cockerels to my Easter table, either with a pile of painted eggs next to them or as menu holders – making them functional too!" – Sarah
"Blowing eggs is always fun to do, and a great Easter activity with children (poke a needle into both ends of the egg and make one hole larger than the other. With a bowl underneath, to catch the egg yolk and white, blow through the smaller hole until all of the egg has come out. Rinse it carefully under running water then leave to dry). Then you can have fun painting them, and once dry can thread a thin ribbon through with a needle, and hang them on branches of twisted willow or pussy willow for a pretty table centrepiece." – Sarah K 
"I am going to use natural dyes on eggs to marble them and then calligraphy on names of guests for a handmade yet chic way to decorate the table." – Alice
"Our egg-shaped baubles look gorgeous placed on plates or side plates on the table so every person can have a different colour. They look equally good clustered together in our bauble basket in the centre of the table or, if you have a pretty glass bowl, you could put them into that. Hanging the baubles in a sunny window is another lovely option, because they are hand blown and speckled with vivid colour they catch the light and refract it, creating gorgeous shadows and depth of colour." – Petra Palumbo 
"Sprigs of rosemary tied with pastel-coloured ribbon on napkins will tie in the food to the table but small pots of herbs would work the same. Seasonal flowers and some pretty foiled eggs in the colour palette of your table will add a further touch to Easter." – Rebecca
"We love pretty ornamental lanterns and glass tea-light holders. Not only do they add another texture and height (low or high) to the table, but if the lunch table turns into the dinner table, spark up some small candles and allow the table to transform as little glows start to appear nestled among the flora and fauna." – Jemima
 To help you create your own Easter tablescape, here's our edit of products we love…
DISCLAIMER: We endeavour to always credit the correct original source of every image we use. If you think a credit may be incorrect, please contact us at info@sheerluxe.com.