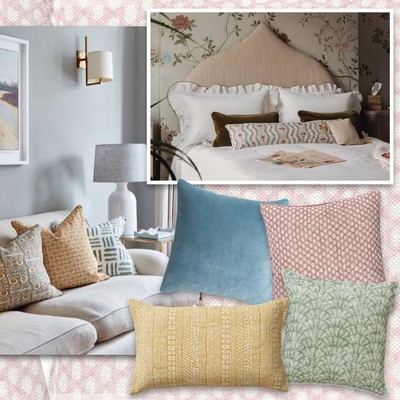 12 Tips To Style Cushions

Upgrading your living space doesn't have to involve new wall colours, flooring and sofas – they're all big-ticket items, when the transformative power of great cushions shouldn't be underestimated. Here, six designers share their rules for cushion styling – from ties, trims and tassels, to creating comfort or drama…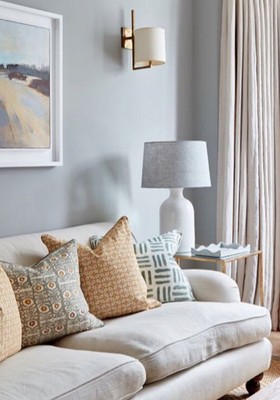 Anna Hewitson, founder of Anna Hewitson Design
Be generous with size. Small cushions can look mean and uncomfortable, so always go bigger and make sure they have a good filling, so they're soft and comfortable.
Have fun and take risks. The great thing about a cushion is you can swap it out if you tire of it, so don't worry about making bold choices. They're relatively inexpensive, and an easy way to add colour and pattern. Mix patterns and fabrics if they're going on a plain sofa or chair to add interest.
Follow @AnnaHewitsonDesign
Don't ignore cushion inners. The importance of the correct cushion inner should not be underestimated. Always use a down and feather filling to ensure cushions are plump and lightweight. 
Shape, size and quantity should vary by location. It's a good idea to style sofas with large 50cm x 50cm or 60cm x 60cm cushions in the same fabric at the back and play around with smaller cushions in contrasting fabrics or trims at the front. When it comes to styling beds, keep it simple with either a pair of rectangular cushions or a long bolster so you aren't taking too many cushions on and off twice a day. 
 
Follow @TroveByStudioDuggan
Sarah-Louise Marks, founder and creative director at No.17 House
Consider the colour palette. Either select shades that match the existing scheme, opting for complimentary hues to create a sense of calm and cohesiveness, or dare to be bold and play with vibrant pops of colour. Combining different textures adds depth – velvet is a particular favourite for its luxurious cosiness. Mix it with Mongolian sheepskin and floral prints.
Make them look lived in. Plump your cushions and add a 'karate chop' in the centre to create a crease – it will make them feel lived in and loved. 
Follow @No.17House
Nina Plummer, founder of Ingredients LDN
Use different combinations to create different moods. Cushions can create a relaxed and cosy atmosphere, but they can also be used to inject drama. Linen creates a timeless, relaxed and easy-going aesthetic while velvet exudes elegance. 
Remember consistency is key. Colour-wise, it's best to use colours that are close in tone. The alternative is to juxtapose a colour like green with a complementary colour such as pink. In this case, create cohesion by keeping the brightness of the colours consistent, either opting only for bright or only for muted. Also, treat stripes as neutrals – they go with almost anything. 
 
Follow @IngredientsLDN
Katharine Paravicini, founder & interior decorator at Katharine Paravicini
Placement matters. Cushions should be placed on their bottoms not on their corners, and always with their zips hidden. 
Upgrade cushions with piping or trims. You can finish off cushions with contrast piping, ruffles, or trims – all of which look fabulous and create a richer look. A cushion can also be a great way of bringing a more expensive fabric into a scheme if you're on a budget.  
Follow @KatharineParaviciniLtd
Emma Sims Hilditch, founder and interior designer at Sims Hilditch
Pick out accent colours. Cushions can brighten up any room and add a splash of colour to your scheme. Consider pairing bright accent cushions with the rest of your look. Choose similar shades to thosein your existing furniture and soft furnishings.
Introduce texture and interest. Using heavily patterned and printed materials paired with more neutral fabrics creates a pleasing contrast, and helps to inject some life into a room. If you're aiming for a luxurious aesthetic, adding decorative trims to your cushions is an easy way to add extra elegance. 
Follow @SimsHilditch