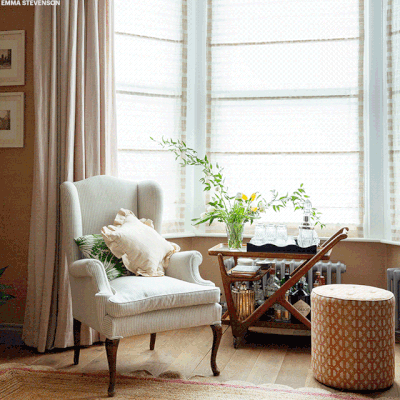 The Main Dos & Don'ts With Bay Windows

If you live in a Victorian house, there's a good chance you'll have some bay windows to work with. They offer so much potential in terms of both practicality and style – from storage solutions to light-filled workspaces, and one of our personal favourites, built-in seating areas. Here, we asked some of our favourite interior designers for their dos and don'ts when it comes to styling one.

DO Design The Room Around The Bay
"I always start designing a room bay first, working into the room, rather than room first. I make sure that I use every inch of a bay's width, to maximise its potential, rather than have the bay being this odd crescent where one sad chair lives." – Christian Bense 
DO Consider How To Dress The Window Itself 
"I'd suggest initially thinking about how to dress the window itself, whether that's with blinds or curtains, or both. If using curtains, you can opt for a pelmet or a custom pole. It's worth thinking about whether there's adequate space between the windows for several pairs, or whether you opt for a single pair." – Anna Hewitson
DON'T Hold Back With Treatments
"See the bay window as an opportunity to design unusual window treatments such as a half-height fitted fretwork, a laser-cut screen, or curtains and blinds with decorative details such as a scalloped edges." – Henry Prideaux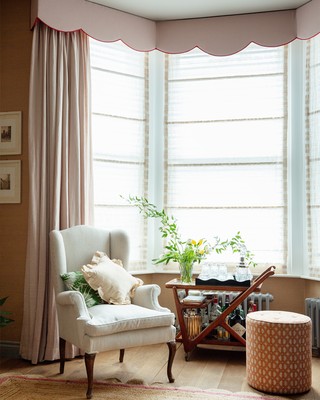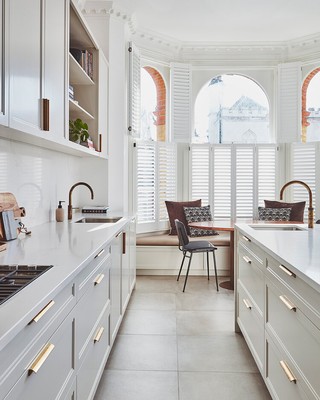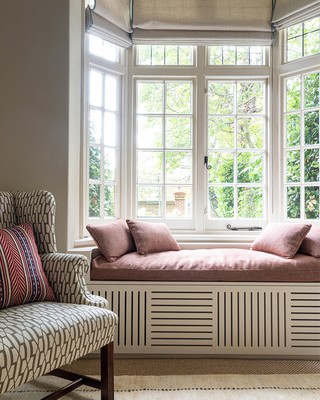 DO Furnish Generously
"If your bay is perhaps below average in size, a single armchair with a more substantial side table, to help fill the gap, is a better solution than a single undersized piece of furniture. Whatever the configuration, make sure that you try and fit as much into the bay as possible. Just don't treat the bay like untouched consecrated ground." – Christian Bense
DON'T Block Out The Light
"I prefer to use two chairs in a bay window rather than a sofa which tends to feel like it is blocking the light. If there is space, I will add a little cocktail table between them, this creates a nice seating area which is a bit more formal if guests don't want to slouch on the sofa." – Olivia Emery
DO Create A Dining Area
"A window seat is a popular option that draws the bay back into the room and gives it a clear purpose. If you're using the seat for dining do make sure that the seat cover is firm, ideally covered in a more practical fabric. Avoid a soft, squishy sofa style finish." – Hugh Leader-Williams, Lead designer, Blakes London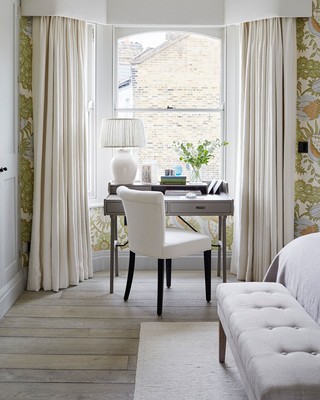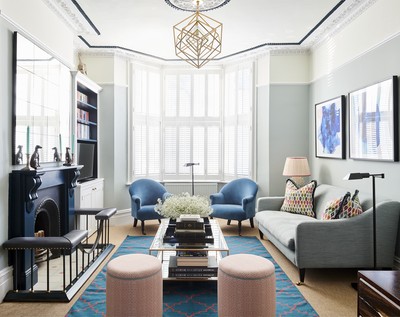 DON'T Forget The View 
"A round table can be a clever way to 'fill' the bay. Somewhere you could display a beautiful vase with flowers that can be enjoyed both inside and out." – Anna Hewitson
DO Create A Workspace
"We like to make use of the natural light by positioning a desk and desk chair in the space in front of a bay window. You can face outwards if there is a pleasant view, or back into the room if there isn't too much glare from sun onto your computer screen. That connection with the outside world can be reassuring and help to focus the mind." – Henry Prideaux 
DON'T Forget About The Practicalities
"It is also the obvious place to put your Christmas tree during the holiday season. Adding a floor plate with a power socket for fairy lights, and a central spotlight in the ceiling to showcase your tree, can be a good idea." – Henry Prideaux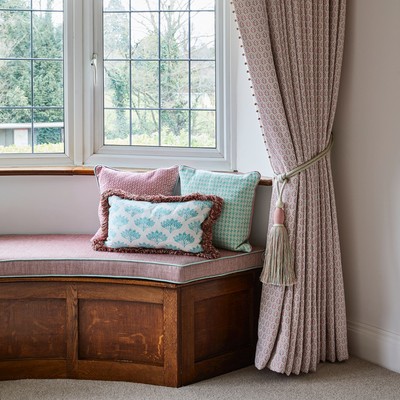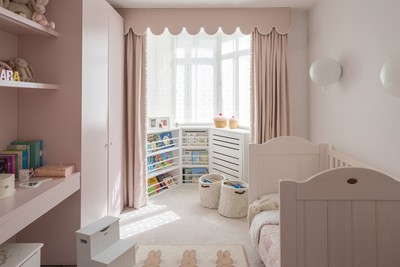 DO Indulge In A Bath
"Installing a freestanding bath in a bedroom brings a calming and relaxed element to the space. When placing your tub in a bay window, I would recommend hanging a sheer blind; this provides enough coverage to ensure adequate privacy without blocking the light. You might also consider installing half-height shutters." – Emma Sims Hilditch
DON'T Ignore The Storage Potential
"When designing for a family with young children, adding a hinged lid to the top of a window seat or creating a custom-fitted toy chest in a playroom setting is a great way to use the space." – Henry Prideaux
DO Create A Little 'Scene'
"If you are feeling creative and adventurous, creating a key area for one of your hobbies with several pieces of furniture can revive the room entirely. For example, a small vintage bar and comfortable chair to enjoy your evening wine. Or, if you are a book worm replace the bar with an interesting bookcase to display your favourite reading material. In your bedroom, have it as a mini dressing- room with a full-height mirror and a small dressing table with low level lighting. Set the mood and enjoy!" – Emma Stevenson
DISCLAIMER: We endeavour to always credit the correct original source of every image we use. If you think a credit may be incorrect, please contact us at info@sheerluxe.com.