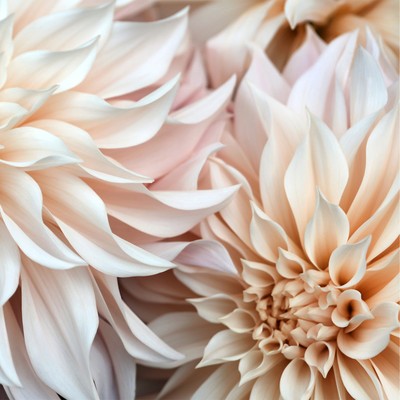 The Seasonal Flowers To Buy & Style Now

When it comes to flowers, it tends to be best to choose what's in season. Right now, hydrangeas, roses and dahlias are the ones to buy. To find out how to get the most out of early autumn's florals, we spoke to some leading florists. Here's what they said…

Hydrangeas
"Hydrangeas are available at various times of the year, but as we move into autumn, you'll start to notice the deeper, richer colours coming into bloom – think burgundies, amethyst purples and sultry pinks. They can be fairly sensitive flowers but with the correct care, they can last for many weeks (in some cases, they'll dry out naturally and last even longer)." – Holly Clemett, founder at Pollenet 
"Autumnal hydrangeas are one of the most impactful varieties, with their enormous spherical heads and rich, mottled colourings. It's important to cut the stems at a 45º angle (and place the stem vertically for maximal water absorption). Also, many people don't know hydrangeas drink from their heads, so a good soak will liven up fading blooms almost immediately." – Whitney Bromberg-Hawkings, co-founder at Flowerbx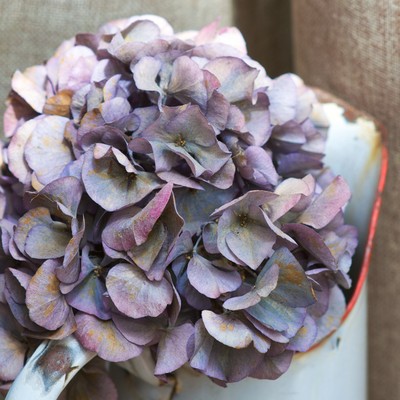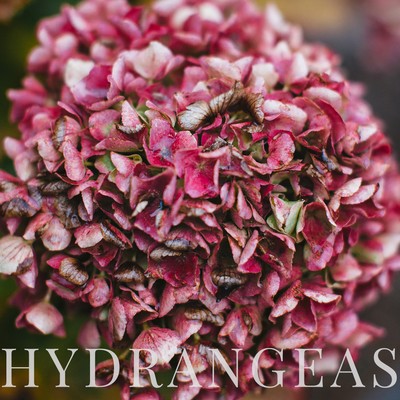 LILIYA RODNIKOVA/STOCKSY UNITED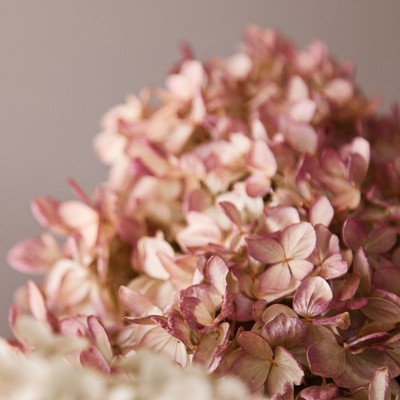 "Hydrangeas are a definite favourite of mine. Whether mixed in an arrangement or placed in a vase just on their own, they look amazing. The English variety is at its peak right now, while the deep reds are guaranteed to make any autumnal display stand out." – Laura Coll, senior florist at Lavender Green Flowers
"You can easily style hydrangeas into a professional looking arrangement, Just use the following method: get a large bowl or wide mouth vase and use clear floral tape to make a grid on the top of your container, spacing the rows an inch apart in both directions. Then, place two hydrangeas in the middle of the grid and work around the edges of the vessel to add more stems into the arrangement. Continue to fill any holes and take regular steps back to ensure the arrangement is balanced." – Nem Vorkapic, floristry manager at Floward
Roses
"When we think of roses, our minds often go straight to the standard bud roses, but nothing beats a beautiful garden rose. Made up of thick, ruffled petals and a very rounded head, they're in a league of their own. The scent is incredible and they're also easy to take care of, making them perfect flowers to have around the house. Keep them in a cool spot and out of direct sunlight to ensure they last as long as possible." – Holly 
"Roses are usually at their peak in June, however several types of roses will flower from late May through to early autumn. To ensure better longevity, cut 2cm off the end of each rose stem at an angle and place them in room temperature water mixed with some flower food. Carefully remove any leaves that fall below the waterline and any discoloured petals around the outer edge (they're usually left on by florists to protect the flowers during delivery). 
"From there, keep them out of direct sunlight and trim the stems by 2cm every two days or so. Roses have woody stems and like a drink, so keep an eye on the water level to make sure all the stems are submerged in fresh water every day." – Nem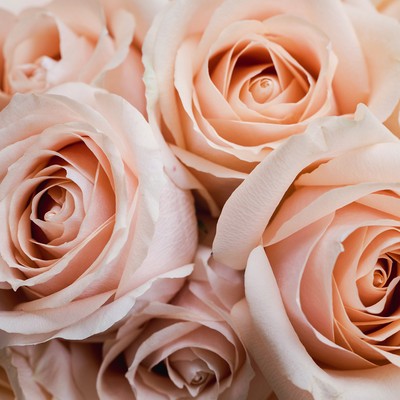 KELLY KNOX/STOCKSY UNITED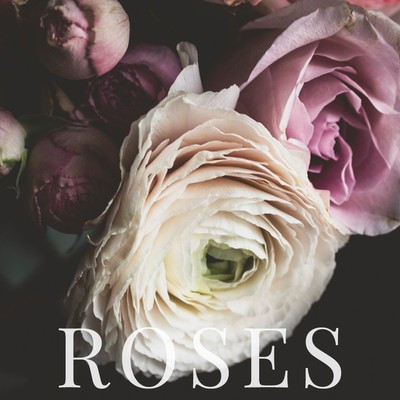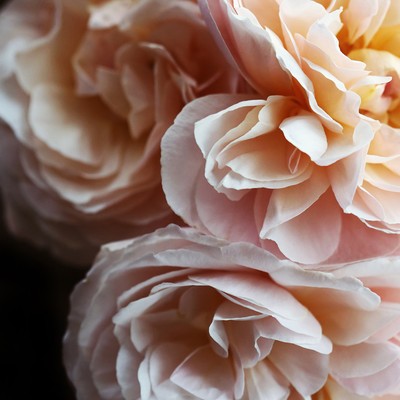 ALICIA BOCK/STOCKSY UNITED
"Keen gardeners can keep some garden rose varieties blooming until the first frosts of autumn/winter – especially if they are the repeat-flowering type and regularly dead headed." – Rosebie Morton, founder at The Real Flower Company
"We're huge fans of garden roses – they look beautiful incorporated into arrangements or as a singular variety en masse, which is the epitome of understated elegance. Be careful when handling rose heads, as the petals bruise easily. Always pick them up from the stems and recut the blooms to make them last." – Laura Coll, senior forist at Lavender Green Flowers
"If you are keen to add more foliage, try mixing in some herbs with your arrangement. We use lots of textural foliage to frame our flowers – think purple basil, scented geranium, chocolate mint and oregano. We also like to use trailing foliage, such as jasmine, to give some extra movement to the flowers." – Rosebie 
Dahlias
"Dahlias are arguably some of the most beautiful late-summer flowers, and they arrive right at the end of peony season. Their warm tones segue nicely from summer to early autumn and their different shapes make them interesting to look at when they're arranged loosely in small vases. They can be quite delicate, so they need to be kept in temperate conditions and the water needs to be changed daily." – Whitney
"Dahlias come in many varieties and often with petals that look too perfect to be real – if you fancy an early wake-up call, pay a visit to Covent Garden Flower market to explore the many varieties on offer at this time of year. 
"Our favourites include Café Au Lait and Wizard of Oz dahlias. Just be aware they can be tricky to care for – so keep them in a cool spot and trim the stems once every other day so they drink as much water as possible." – Holly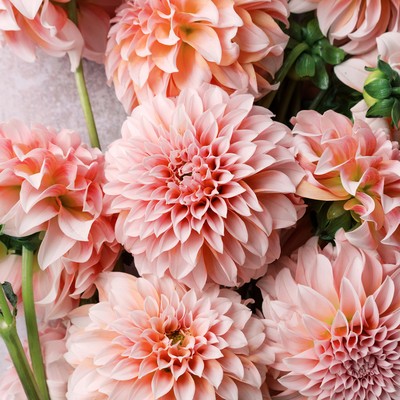 ALI HARPER/STOCKSY UNITED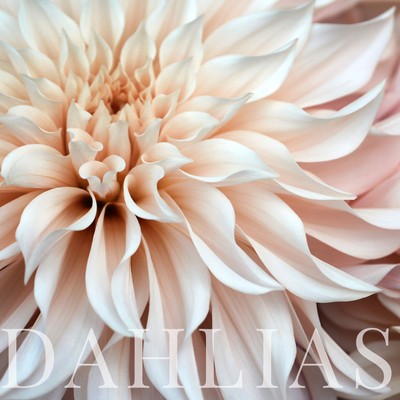 ALICIA BOCK/STOCKSY UNITED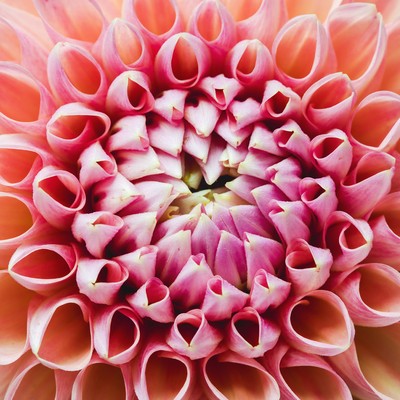 KELLY KNOX/STOCKSY UNITED
"We agree – the Café Au Lait Royal variety is such a showstopper. The huge blooms, which can grow up to a staggering 8-10 inches wide, are visually stunning. In season from midsummer until the first frost, this particular dahlia grows up to 120cm tall and is the perfect choice for a vibrant pop of colour. Great for at-home arrangements, you'll only need to choose a few stems to create a statement look. Team them with lots of foliage and a selection of smallers blooms for an exquisite display." – Nem
"I love how dahlias come in so many different shapes, sizes and colours. While most people prefer the larger-headed Café Au Lait, I like the deeper tones of the Red Fox. The layers of toothy-shaped petals make any combination look really luxe. Try to be as careful as you can with the heads – the petals can fall off really easily." – Laura
 
For more information visit PollenetFlowers.co.uk, FLOWERBX.com, LavenderGreen.co.uk, Floward.com & RealFlowers.co.uk. 
DISCLAIMER: We endeavour to always credit the correct original source of every image we use. If you think a credit may be incorrect, please contact us at info@sheerluxe.com.