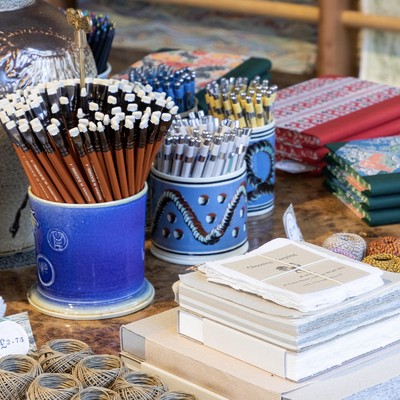 Shop Front: Choosing Keeping

In this series, we meet the people behind some of our favourite places to shop. This month, we spoke to Julia, proprietor of stationer Choosing Keeping, an independent store that's already earned cult status thanks to its selection of high-quality, beautifully-designed stationery products…

Can you tell us what Choosing Keeping is?
First and foremost, Choosing Keeping is a brick-and-mortar shop, specialising in niche stationery goods. We're based in the West End, in Covent Garden – or Seven Dials more precisely. We offer carefully curated items sourced from small, mostly family-owned businesses, all of which have historical meaning and are beautifully made. As is true with many smaller independent shops, we want to benefit a vast network of deserving and passionate manufacturers, rather than be one nameless conglomerate.
How did you design the shop?
The shop itself as designed to nod to the past. Being French, I'm often nostalgic for the small, charming shops of Paris, which is why I decided to recreate my own version of a Victorian shopfront. It's a fantasy and not historically accurate, but I wanted to imbue the experience of visiting Choosing Keeping with a bit of romance. A lot of care and attention to detail has gone into the design and its execution. Most of the furniture is custom made using materials like burr oak, figured elm, bronze, salt-glazed ceramics; just like people love to touch paper and the scent of sharpened pencils, I wanted to create an environment rich in sensory experience. A long-time friend, potter Steve Harrison, also contributed many of the fixtures and fittings, and we used a retired V&A display vitrine to house our most delicate materials and decorations. Just like our products, our shop is the product of many skilled and talented people.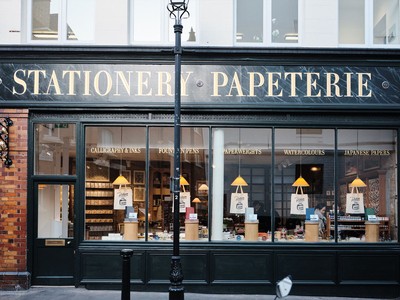 Where did the name come from?
The name reflects the values of the shop. For a while, I worked in the contemporary art world and the name Curation-Conservation was floated. Choosing Keeping is the more prosaic, less pretentious version of this. Nevertheless, the values behind it are the same – to be more considerate and exacting about the purchases you make and to pay respect to the people who made them and the world you live in by looking after them properly. Ultimately, we want to give the retail experience a deeper cultural meaning, and sidestep blatant consumerism and marketing. 
Where did it all start?
Back when the shop opened on Columbia Road – in 2012 – it was very much a one-woman show. The weekly Flower Sunday market brought in many tourists, but also architects, film and fashion people. Year on year we became better known and eventually we outgrew the premises. We also realised we needed to move closer to our customers, who were flocking to us from all parts of the city. In 2018 we took a big leap forward, closed the shop and moved into what used to be The Bead Shop in Covent Garden. I spent many weekends shopping there as a teenager, so it feels a bit like fate. 
Sourcing is at the heart of what we do, and we invest lots of time and energy to find the most unusual items for our customers.

What does Choosing Keeping sell?
In a nutshell, anything you might find on a desk. It could be anything from writing implements to archive storage and technical tools such as Japanese cutters or bookbinder's glue. We also sell wax seals to protect your correspondence, lots of Swiss ribbon, paper – the common thread is that everything is selected because it's well made, functional and beautiful, as well as produced by honest and authentic companies. Most suppliers we know by name, many we have visited personally, so we can vouch for what's on offer.
Where do you source the pieces?
Choosing Keeping is all about research and development – sourcing is at the heart of what we do, and we invest lots of time and energy to find the most unusual items for our customers. On-site visits to factories are often the catalyst for special productions or ideas. There's always a story behind what we sell. We import a lot from Japan and Germany, but there are so many excellent UK suppliers too. Paper marbling hails from Italy, but I've found British-made papers are also among some of the best ones made worldwide. We have some beautiful Welsh paperweights and natural paint supplies from Wallace Seymour, which are made in the UK, too. 
What's been your favourite discovery?
My favourite things are the ones I've had to work the hardest to source. I've had grumpy factory owners turn me down five times, but I always persevere. I also enjoy putting our own stamp on standard products. For example, we designed four paint palettes depicting the seasons, picking out the best colours to reflect the leaves, trees, flowers, and feelings of autumn, spring, summer and winter. Each box is handmade using precious Japanese papers and includes a locally hand letterpress printed swatch sheet.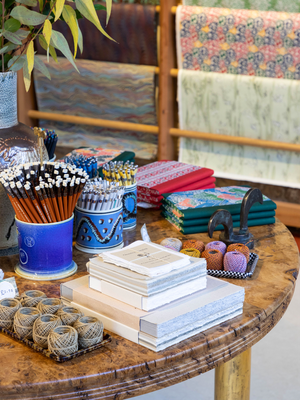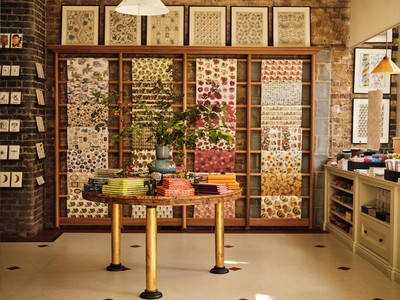 What are some of your bestselling products?
Our composition ledgers are very popular. They're a real celebration of beautiful paper – Japanese silk screen Chiyogami papers or mid-century Italian papers for covers and hand sponged mottled page edges. Equally, our watercolour paints are extremely popular. The Covid-19 crisis has prompted many people to take up painting. We recently released series of eight-pan watercolour sets called Decades. Each one echoes a decade of style, reflecting the fashion, art, film and politics of the time. It's been a fun and creative thing to do. 
So, finally, do you sell mainly online or in store?
I feel passionately about the power of a brick-and-mortar shop. It's important to celebrate what shops contribute to the cultural and social fabric of a place – especially a big city. People don't always appreciate what it takes to run a shop, both in terms of stamina and financially. It's a huge responsibility. But the upside is huge: having a physical space, creating displays, getting to know regular customers. Often e-commerce is a process-driven slog and so we do try to impress on customers that each parcel has been prepared and sent out by real people – the same people who will serve you at the shop. We don't use standardised wrapping paper, either. Each parcel will look different, and for a long time we wrote every address out by hand. Sadly, time doesn't allow us that luxury anymore, but I still hope each customer will feel the care and love that went into preparing their order.
DISCLAIMER: We endeavour to always credit the correct original source of every image we use. If you think a credit may be incorrect, please contact us at info@sheerluxe.com.