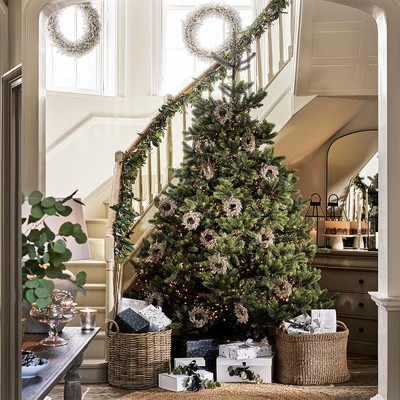 What You Need To Know About Buying An Artificial Christmas Tree

Mess-free, longer lasting and reusable year after year, these days more and more people are choosing to go for artificial Christmas trees over the real thing. Here's what to consider before making your choice…

All products on this page have been selected by our editorial team, however we may make commission on some products.
"When it comes times to buy artificial tree, make sure you're choosing the right size for your home. Measure the space and think about how the size of tree will affect set-up. Larger trees will be harder to maneuvre and might require more than one pair of hands to assemble and decorate. The bigger the tree, the more difficult it will be to store once Christmas is over, too, so before making a decision, make sure you have adequate storage space set aside." – Sylvia James, interior designer at HomeHow.co.uk 
"Before buying a Christmas tree, decide where you want it – more so than just the room, think about whether or not it will be a centrepiece. Will it fit into a corner, along a wall, in front of a window or next to a doorway? How much space can the tree fill? Also, look for a tree that is six inches lower than the ceiling height. A 7.5 ft tree is best for a standard 8-9 ft ceiling. It means the tip of the Christmas tree does not hug the ceiling and allows space for a tree topper. As for the diameter, make sure you measure the very widest point of the tree. The true space occupied by the tree will be about six inches less than the stated diameter. If you don't have much space to work with, there are narrow trees out there which still maintain a natural-looking shape. There also are pencil trees that have less of a traditional shape but are designed to fit into tight spaces. Alternatively, try a three-quarters tree, such as our Balsam Hill Chelsea Flatback, against a wall if you are truly tight on floor space." – Mac Harman, CEO of Balsam Hill
"Artificial trees are typically made from either PVC or polyethylene needles, both of which have their advantages and disadvantages. For example, the colour of a PVC tree won't fade over time. This type of tree is also fire-resistant, so it's usually a safer option to have in your home. However, PVC needles are wired to the branches, so they tend to look a bit more fake. The main benefit of a polyethylene artificial tree is that the needles mimic the appearance of a real tree much better. To combine all these benefits, try to buy a tree made from both materials. Not only will it look real, it'll also be more durable." – Sylvia  
"Christmas tree lights are one of the biggest considerations you need to make when it comes to artificial trees. These days, you can often buy a pre-lit tree already decorated with lights to save you time when it comes time to set it up. However, lights can be a real personal preference and you may not like the 'bright' white light which pre-lit bulbs often emit. To ensure you get the perfect level of warmth and glow for your setting, you may want to opt for an unlit artificial Christmas tree instead." – Sylvia
"Just bear in mind that if you do prefer to string your own lights, you'll usually need at least 100 lights per foot of tree. Double or triple the amount if you love brighter, more intense  light – and make sure you go for energy-efficient lights that won't too quickly." – Mac
Depending on the species, real trees come in all sorts of different shades of green and the same goes for artificial trees

"Depending on the species, real trees come in all sorts of different shades of green and the same goes for artificial trees. For instance, our Blue Spruce has blue-green needles while the Noble Fir has a grey-ish tint to it. Some trees are also multi-toned, like the Fraser Fir with its dark green tips and silver undersides. White or flocked trees are the second most popular colour of tree after green. A white tree can really enhance colourful ornaments or look more styled when decorated with textured ornaments made of feathers, shells, glass, flowers and other materials." – Mac
"Sometimes, a drawback of an artificial tree over the real thing is missing out on that traditional Christmas tree scent. To mimic the effect, try tying a scented star pomander to the branches. Not only does it look pretty, but it'll also help you capture the scent of the season and enjoy it for longer." – Mark Winstanley, chief creative officer, The White Company
 
For more information visit HomeHow.co.uk,BalsamHill.co.uk and TheWhiteCompany.com.
 
Shop our tree edit below...
DISCLAIMER: We endeavour to always credit the correct original source of every image we use. If you think a credit may be incorrect, please contact us at info@sheerluxe.com.