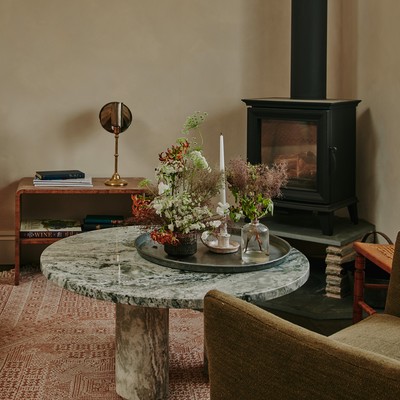 What You Need To Know About Buying A Wood Burning Stove

A wood burning stove is the efficient, eco-friendly alternative to a traditional fire – no wonder it's a popular choice among those in the know. Here, Phil Wood of stove specialist Contura explains all – from safety specs to installation considerations…

All products on this page have been selected by our editorial team, however we may make commission on some products.
Can you put a wood burning stove anywhere?
Pretty much, so long as there's a chimney or flue. In addition, thanks to sectional steel flue systems, you can now position a stove in many places that weren't feasible previously. That said, with so many different stove models available, it's important to consider what will suit your interior style and heating requirements.
What should you consider first?
There are a number of factors to consider before selecting and installing a wood burner. While aesthetics are, of course, important, it's essential to look at the size of the stove, its heat output, and the technology of the stove model (that includes convection and clean burning systems, efficiency, practicality, ease of use and overall performance). 
Can you have a wood burner if you live in a Smoke Control Area?
Customers often believe they can't, but so long as you opt for a Defra Clean Air Act exempt model, the appliance will be approved for use in these zones. It's also important to future proof your purchase by looking for products that comply with Ecodesign legislation, which is due to come into force from 1st January 2022. 'Ecodesign Ready' wood burners significantly reduce emissions (by up to 90% compared to a traditional open fire) and improve efficiency. Try to look out for a stove that features a Clean Burn system too – this means it burns more efficiently and for longer periods of time, resulting in a combustion with very low particle concentrations.
Why do you need to account for the size of the room?
It's important to consider stove size and heat output to ensure maximum efficiency and minimise energy waste. This will depend on the size of the space you are looking to heat. For a 25-40sq m space with average insulation, for example, you would need to go for a stove with an output of approximately 5kW, whilst for a larger space of up to 120sq m, you'll need a model with a bigger chamber that provides an output of 7-9kW.
For large or particularly cold spaces, soapstone-clad stoves or those equipped with heat-retaining bricks work well in terms of efficiency, as the materials retain heat over a longer period of time – even after the fire has been extinguished.
What ventilation do you need?
Any combustion process requires an air supply to function, although no additional ventilation is necessarily required below 5kW output. Many stoves now have air kits that provide direct air to the stove, from outside the property, eliminating the issue of draughty wall vents.
Can a wood burner be free standing or should it go in a fireplace?
A free-standing wood burning stove can be placed almost anywhere in a room, so long as the flue has a way out via the wall, ceiling and roof. More traditional 'insert' style stove models can be fitted inside an existing fireplace or chimney breast.
What goes under it?
A wood burner will generate a lot of heat, so all materials used around and under the appliance need to be able to withstand high temperatures. Suitable hearth materials include granite, slate, marble, tempered glass, or durable porcelain tiles.
What should you burn in it – are there more eco-friendly fuel choices?
Purchase the best seasoned, dry or kiln-dried wood you can afford from a recommended supplier. You can be sure of the wood's quality and origin by buying it from accredited British suppliers. The UK's wood fuel accreditation scheme, Woodsure, issues a 'Ready to Burn' certification mark to wood suppliers that can demonstrate their logs have an optimum moisture content (12-20%).
Using kiln-dried wood or wood with a moisture content below 20% will generate the correct heat and the correct flame, ensuring maximum efficiency from your wood-burning stove and, crucially, minimising smoke. Never burn wet, treated, polished, varnished or oiled woods, or waste woods such as pallets, furniture or fencing. Also avoid mixed wood products (commonly found on building sites) as these will tend to give off unpleasant fumes, can damage the stove flue, and will produce a lot of black or grey smoke. 
Good-quality hardwood species such as ash, oak, beech or birch will burn the cleanest and longest with the brightest flame. Avoid soft woods such as pine, firs and cypress, which burn too quickly and produce more smoke.
Do stoves always come with a window for visibility?
Woodburning stoves always feature a beautiful glass window, allowing people to see in and enjoy the flames.
Do they get hot to touch?
Stoves do get hot to touch – they're designed to radiate and convect heat out into the room, so care should always be taken around them. Most newer models will have a cool-touch handle to make it easier to reload the fire.
Are they safe for kids and pets?
Yes, woodburning stoves are safe for use in homes with young children and pets as the flames are enclosed, however they do get hot to touch. As with any form of fire in the home, guards should be used, and care taken when a stove is in use around young children or pets.
How can you ensure it's safe?
For maximum safety beyond the other measures already listed, a carbon monoxide detector needs to be placed half a metre away from your appliance. 
How often should get it serviced and by whom?
The chimney, flue and stove should be swept professionally at least once a year. An annual check is crucial to troubleshoot any issues, check all parts are functioning correctly and remove any soot and blockages that may be affecting the efficiency and emissions of your stove. Set a yearly reminder to get your annual chimney sweep appointment booked in well ahead of the winter season.
Should you clean it and how often?
Most wood burning stoves only require cleaning out weekly, provided the fuel being used is dry and the correct temperature is achieved in the firebox. The ash residue will then be very low as combustion will be complete, and the next fire can be built directly on the small amount of leftover ash.
What are the warning signs a stove might be failing?
An annual maintenance check from an approved sweep or installer is the best way to maintain the stove's operation, but regular checks on the rope seals and gaskets can be done by you to ensure they are still in good working order. A lack of control when burning and a fire burning too fast are usually signs the seals need maintenance. 
Are there any extra tools worth investing in?
Heat-resistant gloves are essential for handling the stove and for protection when reloading. An ash bucket, shovel and brush are useful to have to hand when clearing out the chamber. Dedicated hearth sets will include these tools and more, and will look aesthetically beautiful beside a stove.
 
 
Visit Contura.EU
DISCLAIMER: We endeavour to always credit the correct original source of every image we use. If you think a credit may be incorrect, please contact us at info@sheerluxe.com.